Nick Vujicic hails Operation Care helping 15,000 homeless in Dallas, washing feet, sharing Gospel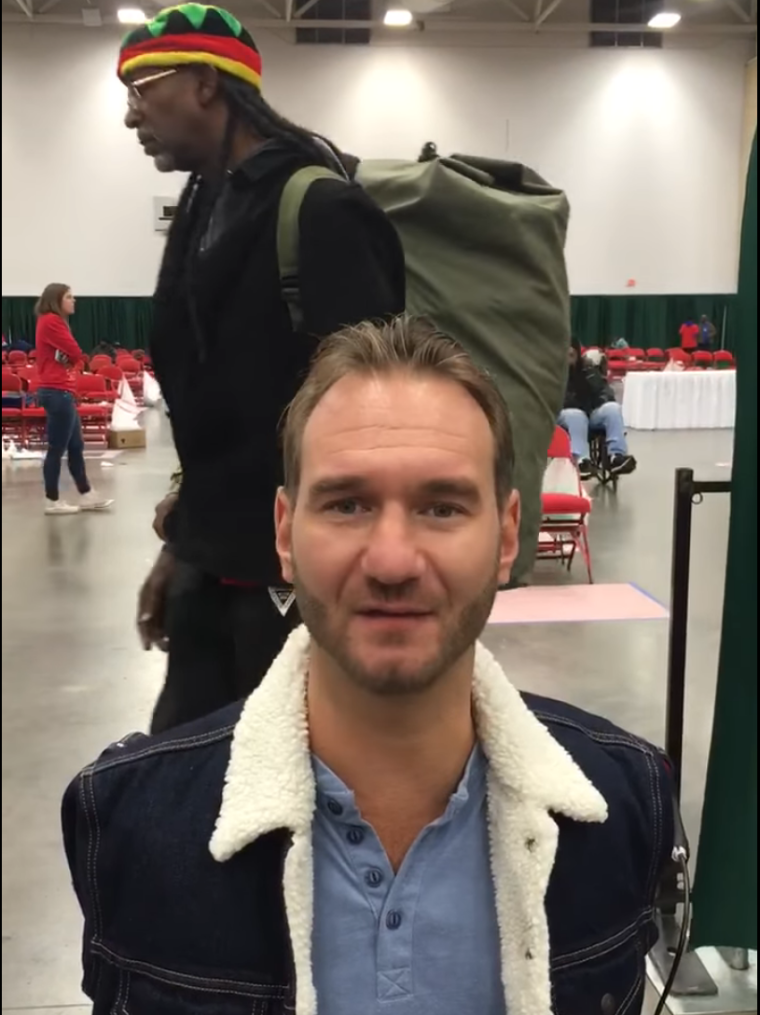 Evangelist Nick Vujicic has hailed the work of a ministry which helped 15,000 homeless people in a single day in day in Dallas, Texas.
Vujicic, known around the world as the "limbless evangelist," said in a Facebook video that when it comes to quantity, Saturday was "the single most impactful day for homeless people in the country here in Dallas.
He added that "a thousand homeless veterans came through" to be served.
"They get their feet washed, massaged, all the homeless people hear the Gospel of Jesus Christ, and the reason for Christmas."
"They get optical, they get medical, they get other information," he added.
"It is so incredible we are here and sharing the Gospel of Jesus Christ with so many people. Fifteen thousand people were impacted here in one day in Dallas, Texas," he emphasized.
Fox News reported that the 15th annual Christmas Gift celebration by Operation Care was one of the largest Christmas events for homeless people.
The homeless people, including families, spoke of their gratitude at receiving gifts, such as brand new shoes, they otherwise would not have been able to offer their children.
Connie Brown, one of the volunteers, revealed that four years ago she was a homeless person receiving care at the event.
"I found myself in a situation that I never thought I would be in," Brown recalled.
She has since opened up her own business as a bakery, and is looking to give back.
"A lot of people think about homeless living under a bridge or on the streets, but homeless can be somebody at work and you never know that they're homeless. So when they leave their 9-5 you don't know where they go. That's what happened to me. So when I talk to the people here at this event, I have a chance to have a face, I have a chance to talk to them as a human being," the woman added.
On its website, Operation Care says that it seeks to share the Gospel and to help people get the vital services that they need so they can leave their desperate situations and build a better future for themselves.
When it comes to its foot washing offer, the ministry explains:
"Servanthood is the hallmark of Operation Care International. We are called to follow in the footsteps of Jesus, whose leadership was characterized by serving others. Before he went to the Cross, Jesus washed his disciples' feet, a wonderful picture of how He washes away our sins. We emulate our Servant Leader by making this simple act the trademark of this ministry."
Christian speaker Staci Wallace also thanked Vujicic and the many others who helped make the Christmas Gift celebration a success.
"God did it! He helped us stage the world's largest birthday party for Jesus in the world through Operation Care International! Wow! What a day. What an honor to serve so many of God's favorites!" Wallace wrote on Facebook.
"Thank you Nick Vujicic for being so generous and thank you Orville Rogers for serving our country in WWII. (101 years young) And thank you Susie for Dreaming big and never giving up!" she added, referring to Susie Jennings, Founder and President of Operation Care International.