Nick Vujicic: The Prosperity Gospel Has Disabled 2 Continents, Africa and Latin America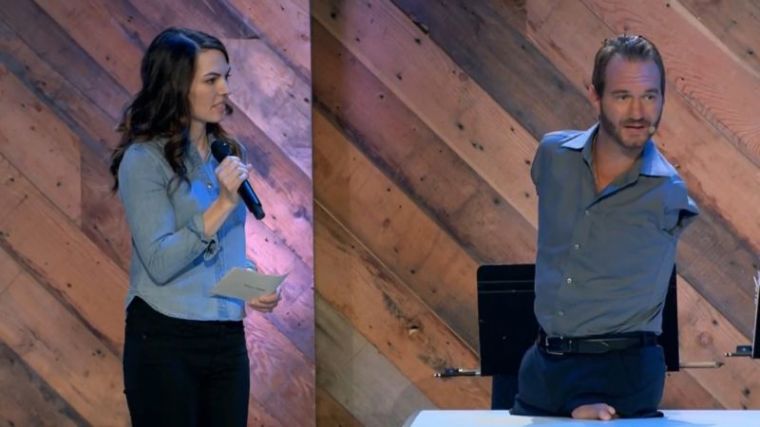 Evangelist Nick Vujicic warned that the prosperity gospel has "disabled" two entire continents, namely Africa and Latin America, in a recent message urging people to go back to the basics of the Gospel.
Vujicic, known as the limbless evangelist because he was born without arms and without legs, answered several questions on the importance of evangelism when interviewed by Hannah Schuller, the wife of pastor Bobby Schuller, at Shepherd's Grove church in California.
The preacher argued in a video posted to Facebook on Sunday that evangelists need to go back to focusing on the "original Gospel," without "adding or subtracting" from it.
"The prosperity gospel has disabled two continents as we speak — Africa and Latin America," Vujicic warned.
"It is time that we go back to the basics."
A number of nations in South America, especially Brazil, which is experiencing a growing evangelical movement, have also seen a rise in prosperity gospel preaching, with charismatic leaders offering hope to people with economic troubles.
A Washington Post article from October 2017 featured experts on Pentecostalism in Latin America, such as sociologist Paul Freston, who positioned that prosperity preaching is moving through poor neighborhoods, where it is seeing opportunities due to the record 13 percent unemployment rate in the country.
Pastor Bob Robbins of the evangelical English-speaking Sampa Church in Sao Paulo told The Christian Post in an interview in November that the lack of hope and the struggling economy are the biggest factors that influence the prosperity gospel.
"If a charismatic person can say that they have a solution for people's struggles they can get an audience. I am not sure that I can say the prosperity gospel is on the rise, but it is present and has a pretty large influence," Robbins told CP.
Back at Shepherd's Grove church, Vujicic, who last year was called by pastor Schuller "our generation's Billy Graham," said that ministries need to get people "plugged in" living out the Gospel and reaching out to others.
He said that there are many big questions facing evangelists, such as:
"How do I talk to someone who has been hurt by the church? How do I talk to someone who has never been to church? Or just tells you 'I think all roads lead to Heaven.'"
The evangelist warned that there is an entire generation that is "kind of illiterate" when it comes to the Gospel, and people struggle to explain what has changed inside them after they've become a Christian.
Vujicic said that according to Scripture, every follower of Christ "must always be ready to give an account as to why you believe what you believe."
Speaking of his ministry goals, he continued: "I want people to get saved, to get transformed; but how will they be transformed until they hear about the Gospel, and how will they hear about the Gospel unless someone tells them?"
He talked about his latest book, Be the Hands and Feet: Living Out God's Love for All His Children, which comes out on Feb. 13, and explained that as an evangelist, he wants to see the American church "wake up" and change some things about its mentality.
Vujicic offered that there are a number of reasons why people are not Christian, including some big issues and questions that evangelists don't know how to address well.
"How can a loving God let famine exist? I am not a Christian because I know Christians; the church hurt my family," he positioned as some big objections people have.
The preacher offered that the key for evangelistic ministries is "finding, identifying, equipping the two or three evangelists" that he said are in every single church, as a means to see real positive movement.