Nigeria's Boko Haram Says Abducted Schoolgirls Converted to Islam, Married Off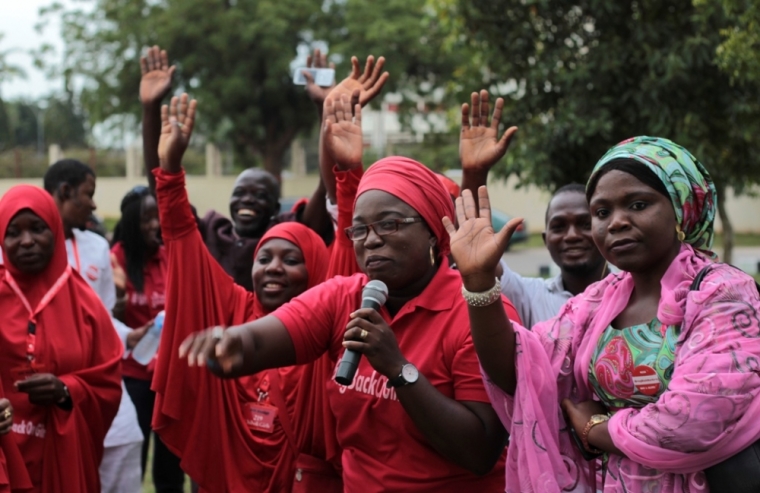 Terror group Boko Haram has denied that it has a ceasefire agreement with the Nigerian government or is engaged in negotiation with it to release the over 200 Chibok schoolgirls abducted in April. The Islamist group claims the girls have been converted to Islam and married off.
"Don't you know the over 200 Chibok schoolgirls have converted to Islam?" Boko Haram's leader Abubakar Shekau says in a video released Saturday. "They have now memorized two chapters of the Quran."
Shekau denied they were to be released. "We married them off. They are in their marital homes," he said, according to CNN.
"If you knew the state your daughters are in today, it might lead some of you ... to die from grief," he added.
About a fortnight ago, the government claimed it was involved in striking a deal with a Boko Haram negotiator. However, Shekau said that the "negotiator" doesn't belong to his group. "We will not spare him and will slaughter him if we get him," Shekau said.
"In this war, there is no going back," Shekau added. "You people should understand that we only obey Allah, we tread the path of the Prophet. We hope to die on this path ... Our goal is the garden of eternal bliss."
On the night of April 14-15, Boko Haram gunmen stormed the Government Girls Secondary School in the town of Chibok in eastern Borno State and commanded the hundreds of students to gather outside. Then they went into a storeroom and took all the food.
"They then moved all of us to the main gate and brought their cars where they loaded the food they had taken and asked us to get in," one of the girls was earlier quoted as saying by Al Jazeera. "The girls that had no shoes on and were not wearing veils were told to go and fetch them as they started to set the school on fire." The girls were then taken by the Boko Haram men.
Shekau had earlier threatened to sell the girls "in the market."
"I abducted your girls," Shekau had said in a 57-minute video obtained by Agence France Presse. "I abducted a girl at a western education school and you are disturbed. I said western education should end. Western education should end. Girls, you should go and get married. I will repeat this: western education should fold up. I abducted your girls. I will sell them in the market, by Allah. I will marry off a woman at the age of 12. I will marry off a girl at the age of nine."
Boko Haram, which translates as "Western education is sin," has killed thousands of civilians in three states in northeast Nigeria.
Boko Haram is designated as a foreign terrorist organization in the United States and the European Union.
The terror outfit was formed by an Islamic cleric, Mohammad Yusuf, about a decade ago to fight Western education, which he claimed was behind moral and political corruption in the country. Yusuf was from the Salafi movement, which has promoted jihadist terrorism in several countries.
Boko Haram has also killed numerous Christians and attacked several churches. It is apparently seeking to create an Islamic state in the Muslim-majority northern Nigeria. It is believed that it gained technical sophistication and weaponry with help from groups like al-Shabaab in southern Somalia and al-Qaida in the Islamic Maghreb in Mali.