Nike Foamposite Galaxy Sneakers Auctioned for $70,000; 'Pandemonium' Over Shoe Release
A pair of the Nike Foamposite Galaxy sneakers, supposed to be released Friday, just in time for the NBA All-Star Game, has been auctioned off for over $70,000 on eBay.
The limited-edition Nike Foamposite Galaxy sneakers are actually named the Nike Foamposite Ones, but the "Galaxy" moniker was added for the outer space theme. The rare design has caused pandemonium among Nike fans clamoring to get a pair of the sneakers – the price tag has zoomed to astronomical levels as a result.
The sneakers were first bought by eBay user kheaven for $750, which is much higher than the original $220 price tag. Only 13 minutes later, the first bid was in for a mere $755. The bids, which are still going at the time of this article, have reached $70,000 over the course of three days.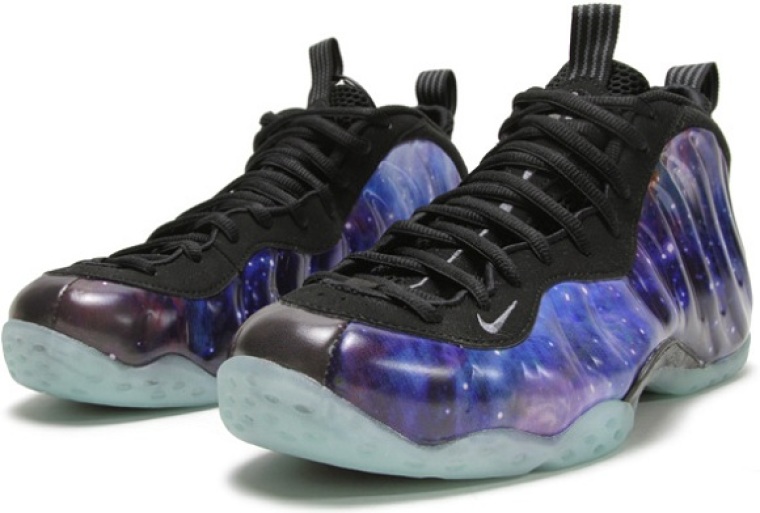 "This is the Nike Foamposite One 'Galaxy,'" reads the description beneath the popular shoe. "Once rumored to never release but now we are lucky enough to anticipate the release of the most anticipated Foamposite model ever … Nike Store is releasing very limited qualities and many who go hunting for these will be disappointed."
The wild popularity of the Galaxy Foams comes partially from the hype, which started when they were first seen on the feet of Gentry Humphrey, the NSW Category Footwear Leader.
While at the Sole Collector x Nike Las Vegas Zoom Rookie LWP launch event, he unveiled the Galaxy Foams, although they were more rainbow in their coloring, as opposed to the deep blue of Galaxy shoe released Friday.
In addition, Jeremy Lin is rumored to be wearing the Nike Foamposite One Galaxy All-Stars during the Rookie Challenge for All-Star Weekend. The "Linsanity" surrounding his recent performance has only boosted the popularity of the shoe.
The eBay auction method for obtaining the Galaxy sneakers has become a viable way to access the footwear, as shopping in person can be potentially dangerous.
In Orlando, Fla., a riot broke out over the midnight release of the sneakers at around 9:45 p.m. Police used riot gear to hold back the crazed shoppers, who rushed a Foot Locker store in a "pandemonium," according to a shopper. They also threatened the rioters with pepper spray to no avail.
"I saw hundreds of people running toward me," Amanda Charles, a shopper who drove 150 miles from Jacksonville, Fla., told the Orlando Sentinel. "I thought I was going to get trampled."
"It's unfortunate it happened over a shoe event, but we were proactive in our response and lucky it ended well," an Orange County Sherriff's Office representative told WOFL News.
Riots were also reported in Seattle, Wash. Four were arrested in Atlanta, Ga., over the sneakers, and fights were reported in Louisville, Ky.
SEE VIDEO INTERVIEWS OF PEOPLE WHO CAMPED OUT FOR THE NIKE FOAMPOSITES ONES