Nikki Haley urges Republicans to stop 'demonizing', find consensus on abortion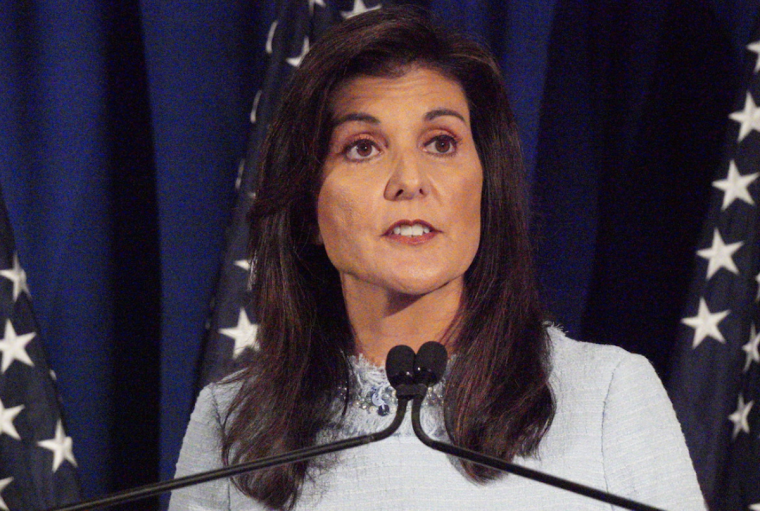 Republican presidential candidate and former South Carolina Gov. Nikki Haley said Republicans need to stop "demonizing" opponents on the abortion issue and criticized bills in some states seeking put women who get abortions in jail. 
In an interview with Shannon Bream on "Fox News Sunday," Haley, who is one of several declared GOP candidates for the 2024 election, was asked her thoughts about former Vice President and presidential candidate Mike Pence's call for all GOP contenders to support a nationwide ban on abortions at 15 weeks as a "federal minimum standard."
"First of all, Shannon, we do have to be honest with the American people, and I don't think that they've been honest with them on that," said Haley. 
Describing herself as "absolutely pro-life unapologetically," Haley added that she supports life not as a Republican talking point but because of her own life experience, citing the fact that her husband was adopted and her own struggles with pregnancy.
"Having said that," she added, "I don't judge anyone for being pro-choice any more than I am pro-life. I think that we have to humanize this situation and stop demonizing it."
Instead, Haley suggested, Republicans should work towards a consensus among voters on some interim steps in the controversial and divisive issue of abortion, and encourage "good quality adoptions."
"I think that we should find consensus on saying let's not have late-term abortion, consensus on the fact that if doctors and nurses don't believe in abortion, they shouldn't have to perform it," she said.
"Consensus on the fact that let's encourage more adoptions that are good quality adoptions. Consensus on the fact that we should have contraception should be available." 
She also took aim at legislative efforts in states like South Carolina and Texas to charge both women who abort their babies and doctors who perform the procedures with either assault or homicide, which is punishable by death in those states.
Haley said such laws have little chance of passing, with only an estimated 45 lawmakers in the Senate who oppose abortion.
"No state law should put a woman in jail or give her the death penalty for having an abortion," she said. "Let's start there, and whatever 60 Senate votes come to, whether that's 15 weeks, I absolutely would sign it."
Haley has sought to position herself as a consensus leader on her record of signing pro-life legislation when she was governor of South Carolina, including the Born-Alive Infant Protection Act, which protects babies who survived botched abortions, and "a law protecting unborn babies from the moment they could feel pain." 
In a speech to a crowd of pro-life activists at the headquarters of Susan B. Anthony Pro-Life America in April, Haley said that "as a state legislator, I voted for every pro-life bill that came before me" including a measure that "made it easier for women to get ultrasounds" and established a 24-hour waiting period for abortions.
"My goal as president will be the same as it was when I was governor and ambassador. I want to save as many lives and help as many moms as possible," she proclaimed. Noting that the Dobbs decision enabled the American people to "forge consensus once again" on abortion, Haley stressed the need for the next president to "find national consensus" in order to meet the goal of "saving as many lives as possible."
The Real Clear Politics average of Republican nomination polling shows Haley in fourth place with 3.6% support as of Tuesday afternoon. 
Abortion is a major campaign issue ahead of the 2024 presidential election, as Republican candidates debate how to address the issue following the U.S. Supreme Court's decision in Dobbs v. Jackson Women's Health Organization. The court determined that the U.S. Constitution does not contain a right to abortion. The decision, handed down last year, has given states the ability to regulate abortion once again. 
Since the Dobbs ruling reversed the Roe v. Wade decision that legalized abortion nationwide, data compiled by Susan B. Anthony Pro-Life America shows that 15 states have established total or near-total bans on abortion. Similar laws in five additional states are tied up in court.