Ninth Circuit upholds block on Trump admin's religious exemption to HHS' contraceptive mandate
Ninth Circuit upholds block on Trump admin's religious exemption to HHS' contraceptive mandate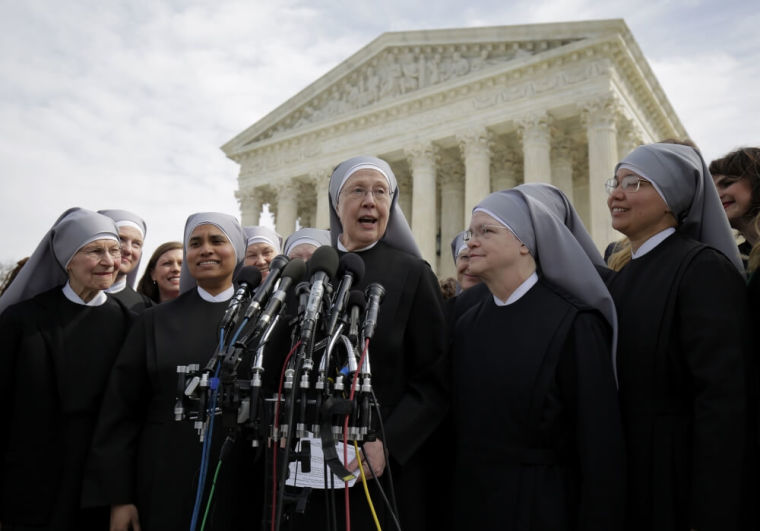 A three judge panel of the U.S. Court of Appeals for the Ninth Circuit has upheld a block against the Trump administration's religious exemption to the HHS's contraceptive mandate.
In January, Judge Haywood Gilliam of the U.S. District Court for the Northern District of California issued an injunction against the new rules on contraception coverage, which allowed employers to opt out of providing birth control and abortion-inducing drugs in their health insurance plans if it violated their religious or moral beliefs.
In a 2-1 decision released Tuesday, the majority decided to uphold Gilliam's injunction banning enforcement of the religious exemption in several states.
Circuit Judge J. Clifford Wallace wrote the court's opinion and was joined by Circuit Judge Susan P. Graber, with Circuit Judge Andrew J. Kleinfeld authoring a dissent.
Wallace rejected the argument that religious groups such as the Little Sisters of the Poor were unjustly burdened by the current exemption process to the HHS mandate, which requires an objecting organization to submit a form explaining their objections to authorities.
"Once the organization has taken the simple step of objecting, all actions taken to pay for or provide the organization's employees with contraceptive care is carried out by a third party," wrote Wallace.
"Viewed objectively, completing a form stating that one has a religious objection is not a substantial burden. … The burden is simply a notification, after which the organization is relieved of any role whatsoever in providing objectionable care."
Wallace also concluded that the district court injunction was necessary because the states suing the federal government over the new exemption rules "will likely suffer economic harm from the final rules, and such harm is irreparable because the states will not be able to recover monetary damages flowing from the final rules."
"We affirm the preliminary injunction, but we emphasize that our review here is limited to abuse of discretion," concluded Wallace.
"The injunction only preserves the status quo until the district court renders judgment on the merits based on a fully developed record."
In his dissenting opinion, Kleinfeld argued that the California district court injunction was "moot," given that another district court in Pennsylvania already issued an injunction in the case.
"We are racing to shut a door that has already been shut," wrote Kleinfeld. "Were we to reverse, and direct that the district court injunction be vacated, the rule would still not go into effect, because of the Pennsylvania injunction."
Montse Alvarado, executive director of Becket, the law firm representing the Little Sisters in their ongoing litigation over the new exemption, took to Twitter to denounce the panel's decision.
"A 2016 #SCOTUS victory, a 2018 trial court victory, and a 2018 #HHS rule protect the Little Sisters of the Poor from having to provide abortifacients like the week-after pill in their healthcare plans. But CA, PA, and 19 other states sued to take away their religious exemption," tweeted Alvarado on Tuesday.
"The Little Sisters never wanted this fight and have spent eight years trying to focus on caring for the elderly poor instead of fighting senseless legal battles. The states in these lawsuits should leave the nuns alone."