No Agreement Yet on House Immigration Reform Bill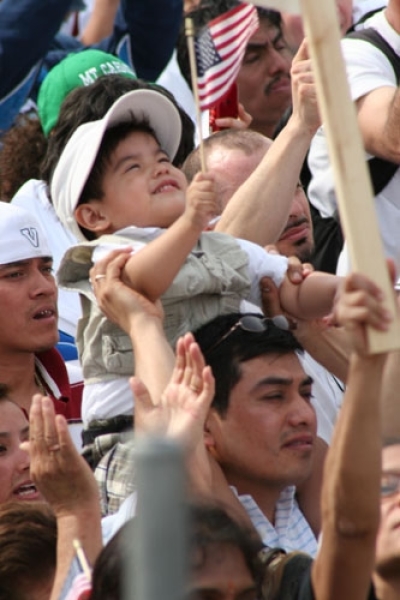 Members of an eight-member bipartisan group in the U.S. House of Representatives praised the recently unveiled immigration reform proposal of their counterparts in the Senate on Wednesday and said they expected to release a "reasonable, common-sense plan" of their own in a matter weeks.
In a joint statement, a first for the group, the congressmen said they are focused on developing an immigration bill that will help America stay strong.
"This week, a bipartisan group of Senators stepped forward to introduce their proposal, and we applaud their effort," they said. "We are also working on a good faith, bipartisan effort in the House. We believe we will soon agree on a reasonable, common-sense plan to finally secure our borders and strengthen our economy, with a tough but fair process that respects the rule of law so immigrants can contribute to our country."
The group includes Reps. Xavier Becerra (D-Calif.), Zoe Lofgren (D-Calif.), Mario Diaz-Balart (R-Fla.), Raúl Labrador (R-Idaho), Luis Gutiérrez (D-Ill.), John Yarmuth (D-Ky.), Sam Johnson (R-Texas) and John Carter (R-Texas).
"Americans want to see the nation's broken immigration system fixed, and they know it will take bipartisanship to solve this problem in a sensible and rational way … While we have made substantial progress, we continue to work diligently towards a bill that keeps America strong, competitive and true to our values," they said in the statement.
In a follow-up discussion on Wednesday, Congressman Gutierrez' director of communication, Douglas Rivlin, told The Christian Post that while there are some differences in the two proposals, they both follow the same basic structure.
"The basic structure is very similar, in that there is border security, e-verify, legalization, the Dream Act folks are gonna be treated pretty well," said Rivlin.
"Other folks it might take longer for them to get full permanent status. There are some differences in terms of being able to get permanent status if you're coming here initially as a temporary worker but for the most part the basic outlines of the Senate bill is similar to what the House is contemplating," he added.
He said the group is trying to agree on aspects of their proposal that cover questions like what is the right mix of family and work visas and backlogs in the current immigration system.
"They are meeting every day and think that in the next couple of weeks, maybe three or four weeks, they may be able to introduce a bill and as the congressman said in looking at the summary of the Senate bill, we are all on the same planet," said Rivlin.
In a sweeping overhaul representing the most significant change to immigration law in at least the last 26 years, key features of a bill crafted by the bipartisan group of eight senators revealed a 13-year pathway to citizenship for almost 11 million undocumented immigrants this week.
President Barack Obama endorsed the proposal on Tuesday.
"I urge the Senate to quickly move this bill forward and, as I told Senators Schumer and McCain, I stand willing to do whatever it takes to make sure that comprehensive immigration reform becomes a reality as soon as possible," Obama said in a statement, after meeting two members of the Senate group, Sen. John McCain, a Republican from Arizona, and Charles Schumer, a Democrat from New York.
"This bill is clearly a compromise, and no one will get everything they wanted, including me," said Obama. "But it is largely consistent with the principles that I have repeatedly laid out for comprehensive reform."