No Malice Exclusive: Rapper Talks Blasphemy in Rap, REinvision for Entertainment in Christ
Two brothers from Virginia entered the world of hip-hop 12 years ago, gaining popularity with what many refer to as "coke rap." Yet, three critically acclaimed albums were not enough for Gene "No Malice" Thorton, who decided to part ways from the successful Clipse rap duo to follow Jesus Christ while bringing a new vision to the world of rap.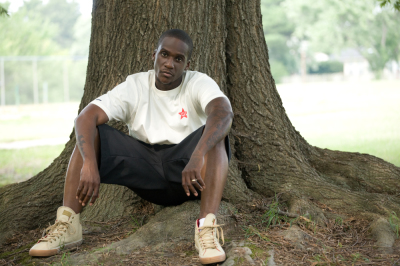 The Clipse, the Thorton brothers consisting of Gene and younger sibling Terrence or "Pusha T" as he is commonly known by music fans, debuted with a number one album on Billboard's Top R&B/Hip-hop charts in 2002, garnering a Grammy nomination. However, Gene admits that he began a transition in 2008 that ultimately led to his salvation and compelled him to stop glorifying the drug life that gained him notoriety.
As he watched a number of friends and family members lives being negatively affected by the same happenings in the streets that he rhymed about, Thorton began to make changes. He told The Christian Post that his faith was always evident throughout his rhymes, but God compelled him to get off of the path he was traveling on.
"As I listen to all of the music that I've ever done, I've always made a reference to my faith. I think that kind of helped ease the transition. But this was a thing of I didn't even have a choice," Thorton told The Christian Post. "I was called to do it and once you are aware of the truth … it's no way that you can continue to keep going down the path that you were going."
Thorton walked away from Clipse in 2009 after the album "Til the Casket Drops," focusing his energy on penning the book "Wretched, Pitiful, Poor, Blind and Naked," about his spiritual awakening instead. Although Thorton was once known as "Malice" in the Clipse rap duo with his brother, he took to his Twitter account last year to publicly announce that he would like to be referred to as "No Malice," symbolically killing off his old rap persona.
Terrence, or Pusha T, decided to take another direction and continue with his success in the rap game by signing with G.O.O.D Music mogul Kanye West, where he gained more Grammy nominations and released projects like "Fear of God," "Fear of God II: Let Us Pray" and "Wrath of Caine." While the titles of the works may seem to illustrate Christian content, some of Pusha T's lyrics could be deemed blasphemous by faithful listeners.
"Y'all gotta beg my pardon on it / But this (expletive) sound like God don't it," Pusha T rhymes in his song "Millions." "Y'all gotta pay your tithes, (expletive) / Call my Phantom the holy ghost, church on chrome wheel tires."
At one point in time, Malice may have been exchanging rhymes with his brother on the song. However, No Malice does not agree with anything less than glorifying God on his records.
Still, he told The Christian Post that his brother does not need condemnation from his former rap group member or others.
"Well blasphemy is blasphemy. You can't disguise it. God is to be worshipped in spirit and in truth. As far as everything that my brother does I am very careful to articulate my standpoint on it because I have to remember that I too was at one time beside him," Thorton told CP.
"It would only delight the enemy for me to just take a stance against him and say, 'Everything that you're doing is wrong,'" he added.
Instead of chastising his brother, Thorton said he prays for Pusha T and attempts to lead by example. Thorton said he understands that each individual comes to Jesus at different times but says he has faith that God is taking control of the matter.
"So I put my faith in the blood and know that God is going to work it out for his glory. I definitely pray on behalf of my brother," said the rapper. "Anybody that wants to point the finger or wants to critique, if you're not praying for him then I'm not concerned with anything anyone has to say."
Still, Pusha T is not the only emcee using the name of God in their lyrics in questionable ways. As a rapper who decided to change his direction to glorify God, Thorton said he understands why more rappers seem to be using God's name alongside profane lyrics.
"I think all of the references that the emcees do to God is because the truth cannot be denied. When you want to be recognized as the best, when you want to be recognized as number one when you want to be comparable to the most elite the only name that you can come up with is God," the emcee explained. "That's what leads them to say God out of their mouth. After that comes the perversion of it. But a lie always has to ride on the coattails of the truth."
Despite the reports from MTV, The Los Angeles Times, and XXL magazine about a Clipse reunion coming in the near future, fans probably shouldn't expect to see the duo reunite anytime soon unless it is for the purpose of glorifying God. Thorton does not plan to cloud his message about Jesus Christ by bringing Clipse back to life.
"Jesus is very real to me ... He has just done so many miraculous wonders in my life that that will not be compromised. … God is going to get all his glory," Thorton said. "If there is a way that Clipse can glorify Jesus and make great records that help people and inspire people to do better and give the glory to God than I am all for that. But only time will show that."
Still, all hope may not be lost for Clipse fans. Thorton told CP that he gifted his brother with a Bible that the G.O.O.D Music rapper shared on Instagram.
While the older Thorton sibling said his younger brother admitted to accepting Jesus Christ as his savior, he also said it is God's job to complete his transformation. While Pusha T continues to work with West and on his own personal projects, Thorton has a new vision for entertainment.
He recently launched REinvision films, which consists of a video company and recording studio that seeks to give people an outlet to create positive content.
"REinvision basically is a video company and I just was blessed with a recording studio so we just named it all REinvision. What we do is cater to people who have a positive message and just want to contribute to the industry anything that is pertaining to life. … Just something inspirational and uplifting," Thorton said of his new venture. "I glorify Christ, there's no way to sugar coat that. … I know what I've been called to do and I know I just want to be able to influence people and point the finger at Christ."
While Thorton is sharing scriptures with over 40,000 followers on his @NoMalice757 and sharing his book on mademylifechange.com, he is also busy at work creating his first complete solo album, "Hear Ye Him."
"I am handcrafting this thing. It is spirit led from beginning to end," the rapper told CP about the project. "I believe that's the gift that God has given me ... In my lyrics, I find the parallel between my lifestyle and God's word. Had I read the bible and knew his word earlier a lot of the pitfalls could have been avoided."
While Thorton insists that the support he has received from fans has encouraged him to lead a Christ centered life in the world of entertainment, he said that he wants to make sure that other people are doing more than just watching his transformation.
"When your eyes finally shut for the last time, are you going to be in heaven or hell? Because hell is a very long time," Thorton said. "People tell me all the time, I appreciate what you're doing and I appreciate the message and I appreciate the music and it's positive and all of that. But I mean if you do not give your life to Christ, then to me it's all in vain."
Rapper No Malice Won't Condemn Pusha T, But Pray