Gov. Kristi Noem issues executive orders after refusing to sign women's sports bill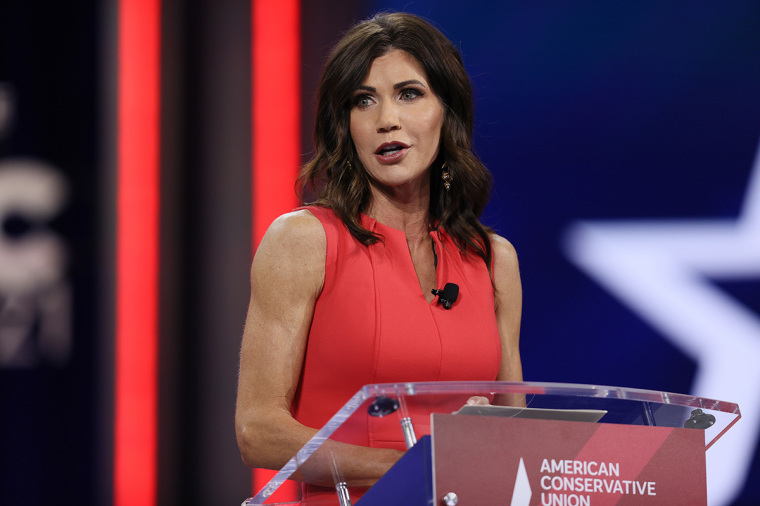 After facing backlash for refusing to sign a bill banning biological males who identify as female from competing in women's sports, South Dakota Gov. Kristi Noem has signed executive orders designed to ensure that "only girls" will "play girls' sports."
The Republican-controlled South Dakota legislature passed House Bill 1217, which banned trans-identified females from competing in women's sports at both the K-12 and collegiate level. While Noem, also a Republican, initially expressed support for the legislation, she ended up asking the legislature to make "style and form" revisions to parts of the bill, including the portion banning trans-identified males from competing in girls' college athletics.
Noem elaborated on her concerns with the bill in a lengthy March 19 Twitter thread, wherein she asserted that "the approach House Bill 1217 takes is unrealistic in the context of collegiate athletics."
According to Noem, "South Dakota has shown that our student athletes can compete with anyone in the country, but competing on the national stage means compliance with the national governing bodies that oversee college athletics," referring to the National Collegiate Athletic Association.
In a March 22 press conference, Noem expressed concern that the NCAA would take action against her state for passing such a law, adding that legal experts told her that "South Dakota's chances of winning a lawsuit against the NCAA are very low." At the press conference, she announced the creation of a multi-state coalition focused on "protecting women's sports," maintaining that "Once we have enough states on board, a coalition … big enough where the NCAA cannot possibly punish us all, then we can guarantee fairness at the collegiate level."
Following Noem's request for style and form revisions, the South Dakota legislature had the option to accept her revisions or accept that the governor would refuse to sign the bill.
As the socially conservative Family Research Council noted in a press release Monday, "the South Dakota House of Representatives by an overwhelming vote of 67-2 soundly rejected Governor Noem's 'style and form' veto of HB 1217, the Fairness in Women's Sports Act. ... Noem quickly responded today by again refusing to sign HB 1217, effectively killing the bill." 
After the legislature failed to adopt her revisions Monday, Noem took to Twitter to announce her executive orders. "Given the legislature's failure to accept my proposed revisions to HB 1217, I am immediately signing two executive orders, one to protect fairness in K-12 athletics, and another to do so in college athletics," she said. 
The first executive order declares that "In South Dakota, only females, based on their biological sex, as reflected on their birth certificate or affidavit provided upon initial enrollment … shall participate in any girls' or women's athletic sanctioned by a public school" or a school district. The second executive order mirrors the first, but it applies to any "women's athletic event sanctioned by an institution of higher education under the control of the Board of Regents." 
In addition to providing links to the executive orders, Noem indicated her plans to work with legislative leaders to "schedule a special legislative session in late May or early June" to "address this important issue." Conservative groups, including the Family Research Council, did not react favorably to her veto of House Bill 1217.
"Governor Noem had another opportunity to sign this bill and stand with the citizens of South Dakota and the legislature," said FRC President Tony Perkins. "Instead, she failed to listen to South Dakotans and is siding with big business, the NCAA, and the rest of the woke mob on the Left." 
"When the state Legislature rightly rejected Noem's changes ... she was left with a final choice: back up her claim to be a defender of girl athletes by signing the bill or complete her capitulation to the woke NCAA and activist business interests by letting it die," said American Principles Project President Terry Schilling in a statement. "Unfortunately, she chose the latter, making her the only Republican governor to date to refuse to sign legislation protecting girls' sport when given the opportunity." 
The push to prevent trans-identified males from competing in women's sports in South Dakota, as well as other states, comes as congressional Democrats look to pass the Equality Act, a sweeping legislative initiative that conservatives fear will force schools across the country to allow biological males who identify as females to compete in women's sports because of its prohibition against discrimination on the basis of sexual orientation and gender identity.
While the future of the Equality Act remains uncertain, President Joe Biden has already issued an executive order banning discrimination on the basis of sexual orientation and gender identity, arguing that "children should be able to learn without worrying about whether they will be denied access to the restroom, the locker room, or school sports."