North Korean Defector Shot by Border Guards Is Fighting for His Life, Infested With 11 Inch Worms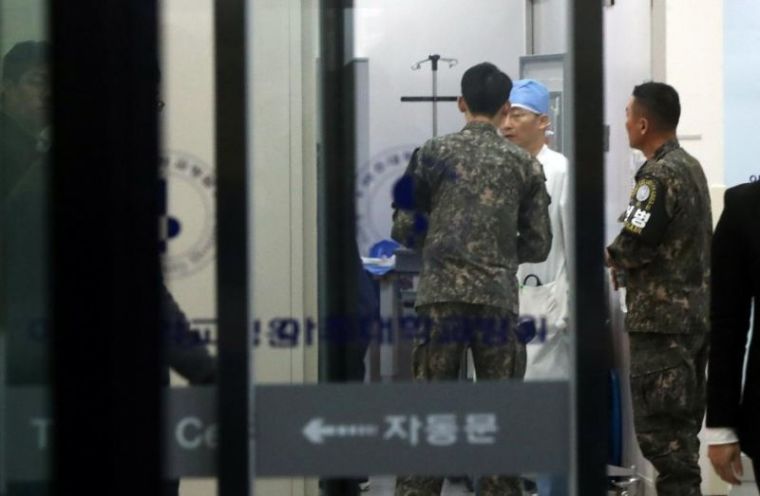 Enormous 11 inch parasites have been found inside the body of a North Korean soldier who was recently shot by border guards as he fled across the border, revealing clues as to the poor health conditions inside the secretive regime.
"I've never seen anything like this in my 20 years as a physician," South Korean doctor Lee Cook-jong told reporters, noting that the longest worm removed from the patient was 11 inches long.
BBC News reported that defector, who crossed the border zone into South Korea on Monday, is battling for his life. The parasites, which have been inside his body for a significant amount of time, are slowing down his ability to recover from the gunshot wounds.
"Humans can get parasites through eating contaminated food, by being bitten by an insect or by the parasite entering through the skin," BBC noted, adding that the defector likely ate such food.
"The North still uses human feces as fertilizers. If these feces are untreated and fertilize vegetables that are later eaten uncooked, the parasites get into the mouth and the intestines of the person," the BBC added.
Professor Andrei Lankov of Kookmin University in Seoul said that like many impoversihed countries, North Korea has serious health problems.
Other North Korean defectors who have been examined have shown high rates of chronic hepatitis B, chronic hepatitis C, tuberculosis and parasite infections.
"I don't know what is happening in North Korea, but I found many parasites when examining other defectors," professor Seong Min of Dankook University Medical School noted.
Surgeon Lee Cook-jong said the North Korean soldier has suffered contamination of the wounds due to parasites and feces, and medical staff are attempting to prevent possible complications.
Other defectors have also talked about the starvation crisis in North Korea, such as 26-year-old Grace Jo who now studies at Montgomery College in Rockville, Maryland, who told Fox News in October that her two younger brothers died under the Kim regime due to the lack of food.
Jo revealed that her family was once forced to eat soup made of six mice they found in a field after going 10 days without food.
In November, dozens of other defectors reported different health problems in North Korea, namely babies being born deformed near the Punngye-ri nuclear site, where bomb tests are being carried out.
"I heard from a relative in Kilju that deformed babies were born in hospitals there," one unnamed defector told Research Association of Vision of North Korea.
Another stated, "I spoke on the phone with family members I left behind there and they told me that all of the underground wells dried up after the sixth nuclear test."
The nuclear tests carried out by leader Kim Jong Un have been strongly criticized by human rights groups and world leaders, including U.S. President Donald Trump.
Speaking about the various human rights abuses going on inside the isolated regime, Trump recently called North Korea a "Hell" that no person deserves.
"Yet despite every crime you have committed against God and man, you are ready to offer — and we will do that — we will offer a path to a much better future. It begins with an end to the aggression of your regime, a stop to your development of ballistic missiles, and complete, verifiable, and total denuclearization," Trump said in a message to Kim.