Obama Laments 'Inexcusable' Treatment of American Muslims at Mosque Visit; Marco Rubio Accuses of 'Pitting People Against Each Other'
Obama Laments 'Inexcusable' Treatment of American Muslims at Mosque Visit; Marco Rubio Accuses of 'Pitting People Against Each Other'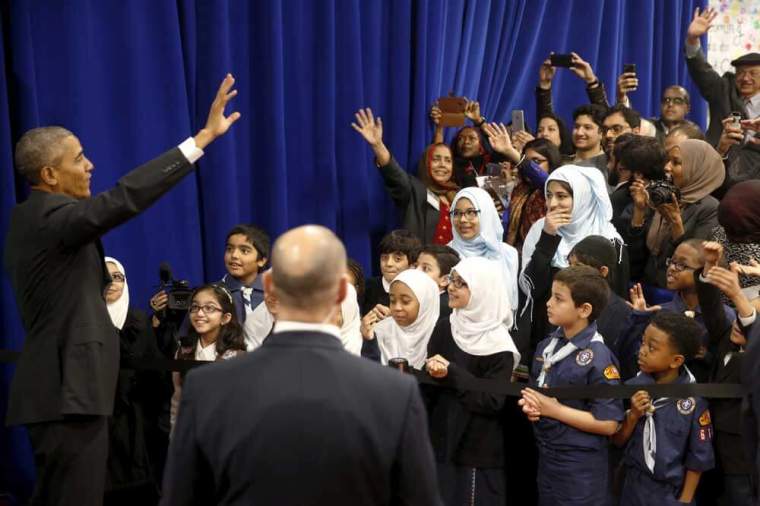 While President Barack Obama spoke out against the "inexcusable political rhetoric against Muslim-Americans" during his first visit to a mosque on Wednesday, Republican presidential candidate Marco Rubio slammed Obama's suggestion that Muslims are being uniquely discriminated against.
Obama visited the Islamic Society of Baltimore to deliver a speech against what he sees as the problematic treatment of American Muslims, and said:
"Let me say as clearly as I can as president of the United States: you fit right here."
He added: "You're right where you belong. You're part of America too. You're not Muslim or American. You're Muslim and American."
Obama insisted that Americans cannot be "bystanders to bigotry," according to CNN.
"Together, we've got to show that America truly protects all faiths. As we protect our country from terrorism, we should not reinforce the ideas and the rhetoric of the terrorists themselves," he continued.
Some Republican presidential candidates, such as Donald Trump, have argued for a ban on all Muslims coming to America, due to security concerns on terrorism.
Obama, who condemned the suggestion, said that he is "heartbroken" by the "worries and anxieties" of the Muslim community.
"Some of them are parents, and they talked about how their children were asking, 'Are we going to be forced out of the country? Are we going to be rounded up? Why do people treat us like this?' Conversations you shouldn't have to have with children. Not in this country," the president insisted.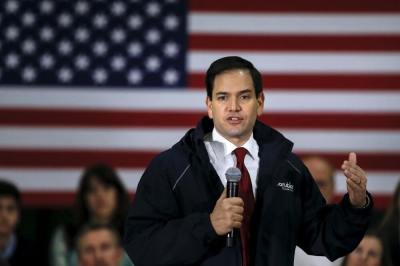 Rubio, speaking at a town hall in New Hampshire, shot down suggestions that American Muslims are being discriminated against, however.
"I'm tired of being divided against each other for political reasons like this president's done," Rubio said, according to The Guardian. "Always pitting people against each other. Always."
Rubio continued: "Look at today: he gave a speech at a mosque. Oh, you know, basically implying that America is discriminating against Muslims. Of course there's discrimination in America, of every kind. But the bigger issue is: radical Islam. And by the way, radical Islam poses a threat to Muslims themselves."
Obama pointed out at his ISB speech, however, that Islamic leaders at the mosque he spoke at, and across the world, have stood up against terrorism.
"Here at this mosque, and across our country and around the world, Muslim leaders are roundly and repeatedly and consistently condemning terrorism," the president insisted.
"And around the globe, Muslims who've dared to speak out have often been targeted and even killed So those voices are there; we just have to amplify them more."
Other presidential candidates, such as former Florida governor Jeb Bush, suggested that Obama's visit to the mosque was "appropriate."
"If it was a good speech, I'm happy, because I think it's important for the president to lead in this regard," Bush told conservative radio show Hugh Hewitt, noting he he hadn't heard the actual speech yet.
Some organizations representing American Muslims, who make up around 3.3 million people in the country, praised Obama ahead of his official mosque visit.
"Many organizations, including ours, have been calling on Obama to visit a mosque, specifically to address the anti-Muslim sentiment that we see more recently," said Zainab Chaudry, the Maryland representative for the Council on American Relations.
"His visit has been the subject of many dinner table conversations," he added. "The local Muslim community is extremely excited."