Obama Calls Americans 'People of Faith' at National Prayer Breakfast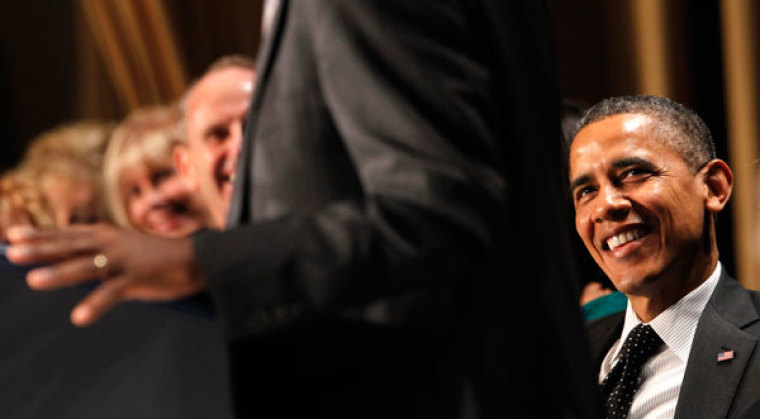 President Barack Obama delivered a strong Christian message to the nation during the 2013 National Prayer Breakfast on Thursday, held at the Hilton Washington International Ballroom in Washington, D.C, stressing that leaders need to continue praying even after such events are over.
"We are united in the knowledge of a redeeming savior whose grace is sufficient," Obama said in his speech. One of the worries he shared, however, is that even though America's leaders come together in prayer over national policy and the right direction to lead the country in, such talk is often forgotten after the event.
"I'd go back to the Oval Office and turn on the cable news networks – and it's like we didn't pray!" the president said.
Obama, whose administration has faced several religious freedom lawsuits this year over the HHS birth control mandate that requires even religious-based employers to offer health insurance that includes abortifacients, has maintained that he is a man of strong Christian faith who prays on a daily basis.
"As Christians we place our faith in the nail-scarred hands of Jesus Christ," Obama said at the prayer breakfast. "Without faith it is impossible to please God," he added, quoting Hebrews 11:6.
The president also reminded the audience that the U.S. comes together because Americans are a people of faith. "We come together because we're a people of faith. We know that faith is something that must be cultivated."
Obama mentioned in last month's inaugural ceremony, when he took the oath of office with two different Bibles, one belonging to former President Abraham Lincoln and the other to slain civil rights hero Martin Luther King, Jr., that as the Civil Rights movement faced angry and violent clashes in the 1950s and 1960s, Dr. King "found faith in Scripture."
In his address, Obama also revealed that Joshua DuBois, the head of the Office of Faith Based and Neighborhood Partnerships, will hold his last day in office on Friday.
Dubois, who is a Pentecostal minister, served as religious affairs director for Obama's 2008 presidential campaign.
During last year's National Prayer Breakfast, Obama took a more political tone and addressed public policy stances, including barring health insurance companies from rejecting people with pre-existing conditions and reducing tax breaks for the wealthy, which he tied in with some popular Bible verses.
"[S]o when I talk about our financial institutions playing by the same rules as folks on Main Street…or making sure that unscrupulous lenders aren't taking advantage of the most vulnerable among us, I do so because I genuinely believe it will make the economy strong for everybody," Obama said on Feb. 2, 2012.
"But I also do it because I know that far too many neighbors in our country have been hurt and treated unfairly over the last few years, and I believe in God's command to 'love thy neighbor as thyself.'"