Obama Insists US Will Not Fight Another Ground War in Iraq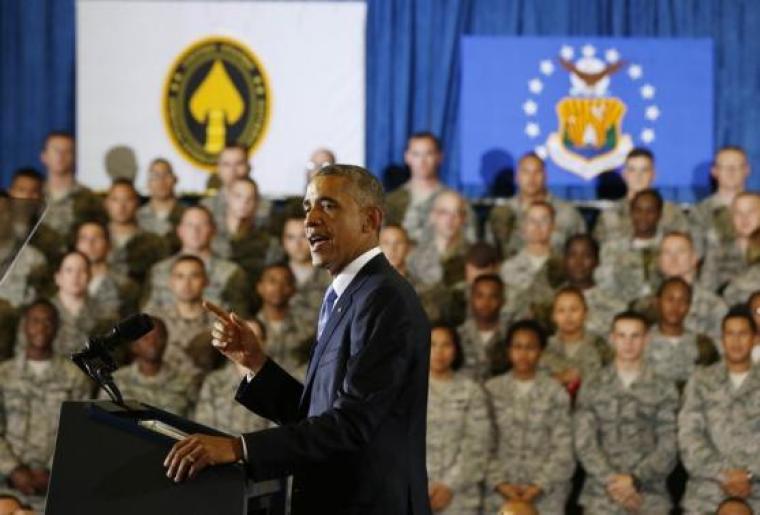 A week after announcing that the U.S. will be leading a broad coalition of "friends and allies" to fight Islamic terror group ISIS, also known as ISIL, President Barack Obama quieted speculation that ground troops will eventually become necessary in that fight by insisting Wednesday that America will not fight another ground war in Iraq or Syria.
Addressing troops at the MacDill Air Force Base in Tampa, Florida where the U.S. Central Command (CENTCOM) is headquartered, President Obama promised them that he will not be sending them to fight another ground war.
"Whether in Iraq or Syria, these terrorists will learn the same thing that the leaders of Al Qaeda already know. We mean what we say. Our reach is long, if you threaten America you will find no safe haven, we will find you eventually," said Obama to massive cheer from the troops in his televised address.
"As your commander-in-chief, I will not commit you and the rest of our armed forces to fighting another ground war in Iraq after a decade of massive ground employment," said Obama who had met earlier with his top military commanders who oversee military operations in the Middle East as well as his national security team.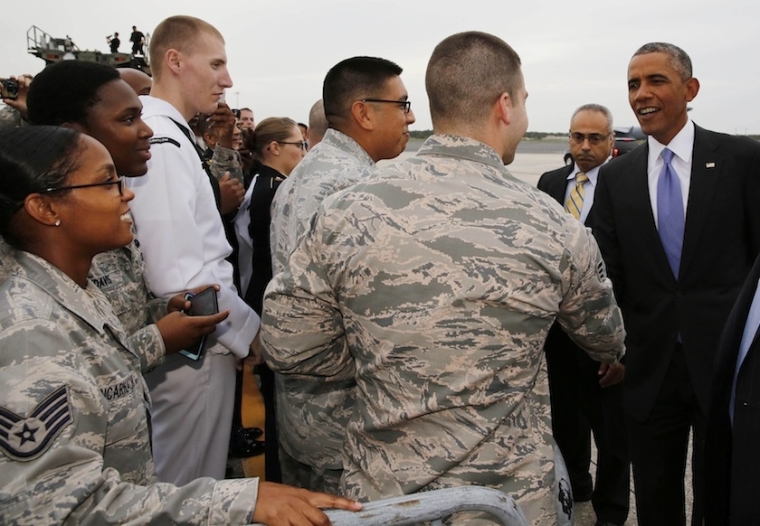 "It is more effective to use our unique capabilities in support of partners on the ground and make them secure their own country's future. That's the only solution that will succeed over the long term."
Obama's assurance comes a day after Gen. Martin E. Dempsey, chairman of the Joint Chiefs of Staff and the president's top military adviser, sparked headlines when he said ground troops my eventually become necessary in Syria where ISIS holds its power base if airstrikes were insufficient to defeat the terrorists.
On Wednesday, however, President Obama insisted that ground forces will not be a part of the strategy to defeat ISIS and proceeded to highlight that strategy in a bit more detail.
"We'll use our air power, we'll train and equip our partners, we will advise them and we will assist them. We will lead a broad coalition of countries who have a stake in this fight because this is not simply America versus ISIL. This is the people of the region fighting against ISIL. It is the world rejecting the brutality of ISIL in favor of a better future for our children and our children's children," said Obama.
He highlighted that the global rejection of ISIS is now reflected in the more than 40 countries that have joined the coalition to defeat the terror group currently being led by the U.S.
"Overall, more than 40 countries so far have offered assistance to the broad campaign against ISIL. Some nations will assist from the air. Already France and the United Kingdom are flying with us over Iraq, with others committed to join this effort," he said.
"Some nations will help us support the forces fighting terrorists on the ground. And already Saudi Arabia has agreed to host our efforts to train and equip Syrian opposition forces. Australia and Canada will send military advisers to Iraq. German paratroopers will offer training. Other nations have help resupply arms and equipment," he explained.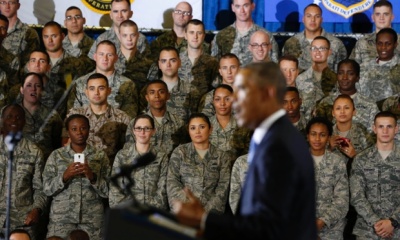 He noted that other allies would focus on cutting funding and stemming the flow of foreign fighters into the Middle East. Some 30 countries have also volunteered to provide humanitarian relief to religious minorities and others displaced by the war.
"This is not and will not be America's fight alone," said Obama. "One of the things we learned over this last decade is America can make a decisive difference, but I want to be clear. The American forces that have been deployed to Iraq do not and will not have a combat mission. They will support Iraqi forces on the ground as they fight for their own country against these terrorists."