Obama Laughs at 'Crazy' Birth Certificate Scandal; Says Document 'Still Up On a Website Somewhere' (Video)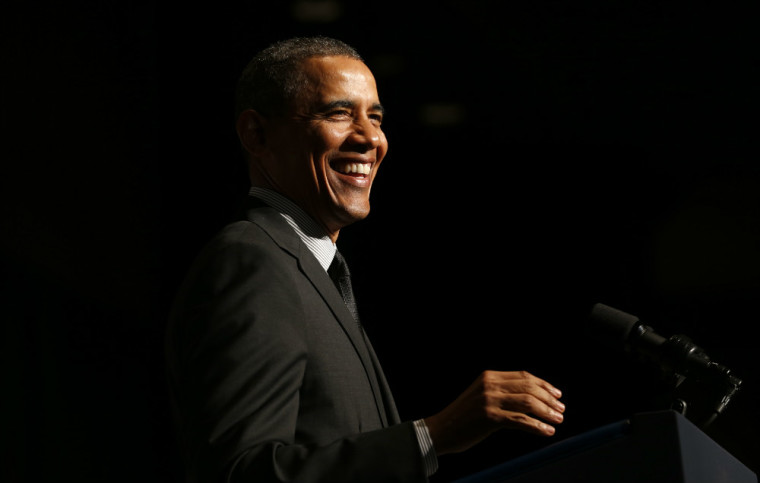 NEW YORK — President Barack Obama, lashing out at Republican-led efforts to strengthen voter ID requirements, poked fun at critics who have hounded him since the start of his first term about his birth certificate and the validity of his office.
While suggesting that "folks may learn that without a document like a passport or a birth certificate [that] they can't register," Obama recalled Friday at the National Action Network's 2014 convention at the Sheraton Times Square hotel the controversies he faced over his own birth certificate.
"And just to be clear, I know where my birth certificate is but a lot of people don't. A lot of people don't," he said to laughter and applause. "I think it's still up on a website somewhere."
"You remember that? That was crazy. That was some crazy stuff," the president added, laughing along with his audience. "I hadn't thought about that in a while."
Although a copy of the president's Hawaii long form birth certificate remains on the White House's website, critics have persisted since he first took office in 2009 that he was not born a U.S. citizen, and presumably had been born in Kenya, his father's homeland, thus making him ineligible to hold office.
Obama pressed in his remarks Friday at the 16th annual NAN convention, "The stark, simple truth is this: the right to vote is threatened today, in a way that it has not been since the Voting Rights Act became law nearly five decades ago."
Speaking specifically on identification requirements that could potentially disqualify millions of Americans from voting, the president noted the trouble married women or senior citizens might run into.
"Across the country, Republicans have led efforts to pass laws making it harder, not easier for people to vote," said Obama. "In some places, women could be turned away from the polls just because they're registered under their maiden name but their drivers' license has their married name. Senior citizens who've been voting for decades, may suddenly be told they can no longer vote until they come up with the right ID."
Obama went on to emphasize that lawmakers should be working to allow more Americans to exercise their right to vote, not implementing roadblocks to prevent them from the polls.
"I want to be clear, I am not against reasonable attempts to secure ballots. We understand there has to be rules in place. But I am against requiring an ID that millions of Americans don't have. That shouldn't suddenly prevent you from exercising your right to vote," he said.
**Read more about Obama's remarks on the Voting Rights Acts: President Obama Pledges to Fight Attacks Against Voting Rights; 'We Should Not Be Having an Argument About This'
Watch President Obama laugh at "crazy" birth certificate scandal in the video below: