Obama's Military Transgender Enlistment Deadline Delayed by Pentagon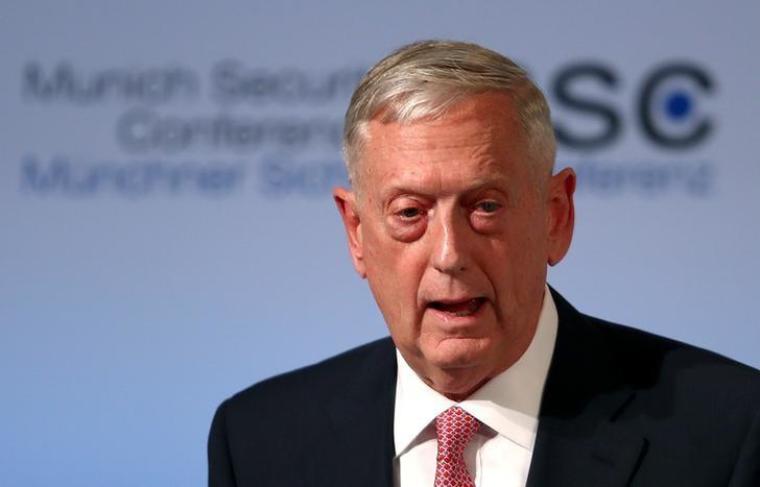 The Pentagon announced on Friday that Defense Secretary James Mattis has approved military leaders' request to delay the July 1 deadline set by the Obama administration for the armed services to begin accepting openly transgender applicants.
"After consulting with the service chiefs and secretaries, I have determined that it is necessary to defer the start of accessions for six months," Mattis said in a memo that was sent service chiefs on Friday, the Associated Press reports. "We will use this additional time to evaluate more carefully the impact of such accessions on readiness and lethality."
The memo added that each policy decision should be measured against "one standard." That is standard is whether transgender enlistment will impact the military's readiness to defend the nation.
The previous deadline of Saturday was established by former Defense Sec. Ash Carter last year when he ended the ban on transgender individuals openly serving in the military. The deadline has been extended to Jan. 1, 2018.
Last month, military leaders worked out an agreement to ask Mattis for a six-month delay after the Army and Air Force initially wanted a two-year delay.
The delay of the deadline has been praised by social conservative advocates.
"The Pentagon is right to hit the brakes on a policy that will fail to make our military more capable in performing its mission to fight and win wars," Lt. Gen. (Ret.) Jerry Boykin, former U.S. Army Delta Force commander and current Family Research Council executive vice president, said in a statement shared with The Christian Post. "It's good that the nation's military leadership realizes what the American people realize, this policy makes no sense."
Aaron Belkin, the director of the LGBT think tank Palm Center, told AP that the delay is "denigrating the value of military service by transgender troops."
"Service Chiefs are pressuring Secretary Mattis to continue the transgender enlistment ban despite having no new arguments or data to back up their long-discredited assertions," Belkin said. "Stonewalling on full inclusion will, just like 'don't ask, don't tell,' compromise military readiness."
The deadline does not completely halt the transgender policy, as the Pentagon began allowing transgender service members who are already serving to openly identify as transgender and change their military identification last October.
As the Department of Defense is expected to cover the health costs of service members who wish to transition from one sex to another, the pro-LGBT think tank The Williams Institute has estimated that there are currently about 7,300 biological males and 1,500 biological females serving on active duty with gender dysphoria.
Using data from pro-LGBT The Williams Institute and the National Transgender Discrimination Survey, the Family Research Council has estimated that the military's transgender policy could cost about $3.7 billion over 10 years.
"To put it in perspective, over the next 10 years America would be spending roughly half of our annual ballistic defense budget on elective sexual reassignment surgery!" FRC President Tony Perkins wrote in an op-ed published by CP. "While our troops are literally scavenging museums for jet parts, which would you rather pay for: hundreds of gender transitions or 22 F-35 Joint Strike Fighter Planes? Obama's extreme transgender agenda or 3,700 tomahawk missiles?"
In an analysis, FRC senior fellow Peter Sprigg criticized a 2016 RAND Corporation study that found that the cost for transgender health care would be between $2.4 million and $8.4 million per year.
"However, these estimates were drawn from actuarial data based on the estimated increase in insurance premiums for private employers who adopted coverage for gender transition. Since the military pays for the healthcare of active duty service members directly, it is more logical to look at the direct costs of such procedures," Sprigg wrote. "In addition, the Rand study made estimates of lost time due to recovery from gender reassignment surgery, but placed no dollar value on this indirect, but very real cost to the armed forces."
Although the move to allow transgender Americans to openly serve in the military was done under the Obama administration, Perkins argues that "this will no longer be a mistake we can hang around the neck of President Obama if General Mattis doesn't act."
"The Trump administration will be the sole owner of this catastrophe unless the Pentagon steps in and repeals the change," Perkins wrote in the op-ed.
A recently conducted survey of 1,000 Americans by Rasmussen Reports found that just 48 percent of Americans "favor" the armed services' request for delay to transgender enlistment, while only 23 percent think the transgender enlistment is "good for the military." Only 31 percent of respondents said that transgender enlistment is "bad" for the military.