Trump Justice Dept. Honors Transgender Student Gavin Grimm, NC Bathroom Bill Opponents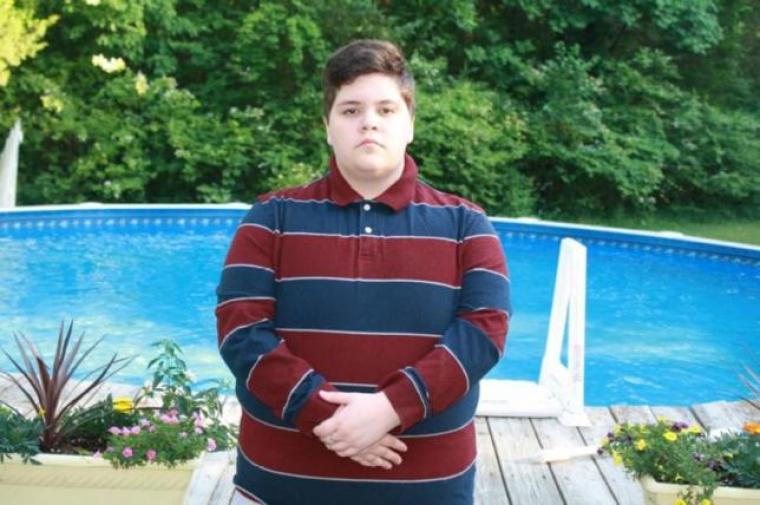 The Department of Justice hosted an Wednesday event honoring a transgender high school student who sued a Virginia school district for the right to access the boy's bathroom. Lawyers who worked on a lawsuit against the state of North Carolina's controversial bathroom bill were also honored.
The event was hosted by a pro-LGBT Justice Department employee group called DOJ Pride and was held in the Great Hall in the Robert F. Kennedy Department of Justice Building in Washington, D.C. According to the Associated Press, the event recognized transgender student Gavin Grimm for his "outstanding contributions to the LGBT community."
Grimm, a biological female who began to identify as male after freshman year, sued the Gloucester County School Board for the right to use the boy's bathroom after the board adopted a policy that students must use bathrooms and locker rooms that correspond with their biological sex.
After the U.S. Fourth Circuit Court of Appeals ruled in favor of Grimm, the school board appealed the case to the Supreme Court last year. However, the court decided not to hear the case in March after the Trump administration rescinded an Obama-era guidance cited by the lower court that instructed schools to allow transgender students to use restrooms and locker rooms consistent with their gender identity.
BuzzFeed reports that Grimm was scheduled to receive DOJ Pride's Gerald B. Roemer Community Service Award.
"Given that today's administration is largely hostile to LGBT people and especially dangerous to LGBT youth, the gravity of receiving an award from DOJ itself, specifically the pride alliance within it, is not lost on me at all," Grimm told AP following the ceremony. "It's beautifully symbolic of the fact that there are still people working for equality in every corner of the world, and they will continue to do so no matter what happens."
According to AP, Civil Rights Division attorneys who were involved in the Justice Department's lawsuit against the state of North Carolina's House Bill 2 passed last year were also honored at the event.
The law gave North Carolina businesses and places of public accommodation the right to establish their own bathroom rules and forced transgender individuals to use state-operated bathrooms consistent with their biological sex. The North Carolina law has since been repealed and replaced, and the Trump administration has dropped the lawsuit.
BuzzFeed notes that Justice Department lawyers who fought HB 2 and lawyers who brought a discrimination case against Southeastern Oklahoma State University were scheduled to receive awards to recognize their contributions to the work-life environment for LGBT employees.
"There are good people in the DOJ, they've always been here, and always will be here, no matter what kind of administration comes above them," Grimm said, according to AP.
Attorney Gen. Jeff Sessions was reportedly absent from Wednesday's event due to scheduling conflicts. However, Session praised the event honoring Grimm last Thursday when he was asked about the White House's failure to recognize LGBT Pride Month.
"We are going to have a pride group in this very room, I think next week I believe it is," Sessions said, according to a video recording. "And so that's perfectly appropriate and we will protect and defend and celebrate that — and protect the rights of all transgender persons."
Sessions also mentioned how he ordered a review into recent killings of transgender individuals.
"I received a letter expressing concern about the sudden transgender persons who had been killed... and so I, first thing, directed the civil rights division to look into those ... to see if there was any uniform attack, or if there was just a uniform hostility that would result in these murders, and to review each one of those cases that were sent to me," Sessions said. "And they have done that, and I think it's possible that they're going to re-open one and solve it as a result of that."
Thursday morning, Sessions gave an address at the Justice Department's Hate Crimes Summit.
"We have and will continue to enforce hate crime laws aggressively and appropriately where transgendered individuals are victims," he said, according to his prepared remarks. "Last month, Joshua Brandon Vallum was sentenced to 49 years in prison for assaulting and murdering Mercedes Williamson. This is the first case prosecuted under the Hate Crimes Prevention Act involving the murder of a transgender person."
The DOJ Pride event comes after the Department of Education hosted an event in March where Education Sec. Betsy DeVos met with transgender students, advocates and parents, who complained about the fact that she and Sessions rescinded the Obama-era transgender student guidance.