Obama's Safe-Sex Ed Policy Leads More Teens Into Poverty, Abstinence Activists Tell Congress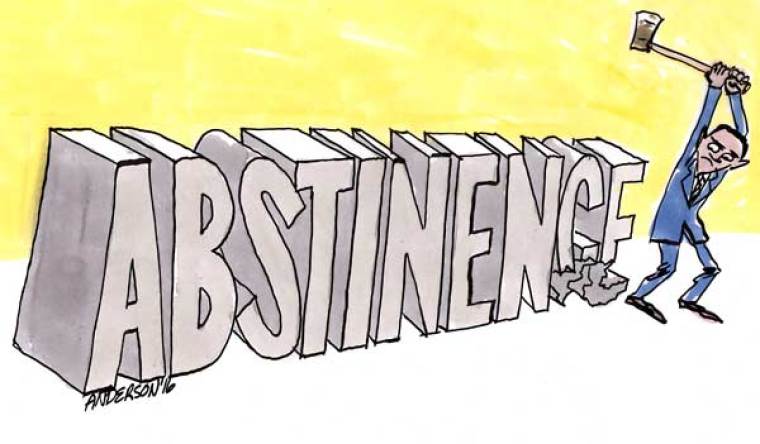 WASHINGTON — Several abstinence education advocates, lobbyists and students from all over the United States gathered on Capitol Hill Thursday to encourage Congress to create more parity in the country's lopsided sexual education funding and reject the president's proposal to cut funding for sexual risk avoidance education.
After President Barack Obama submitted his proposed budget for fiscal year 2017 that cut $10 million in federal grants for abstinence-only education programs, the abstinence education advocacy group Ascend, along with the Family Research Council, held a briefing for congressional staff members explaining why defunding abstinence education programs will be damaging for American children.
Although this is not the first time that Obama has proposed cutting federal grants for sexual risk avoidance programs, the cuts come after Congress increased funding for SRA programs from $5 million to $10 million in an omnibus bill that was passed last December.
When Obama took office in 2009 he cut over $100 million in SRA funding. While only $10 million in federal grants are going to SRA programs in fiscal year 2016, $100 million in funding is supporting Obama's Teen Pregnancy Prevention Program.
Advocates pointed out that although critics of SRA programs claim that abstinence-only is unrealistic and ineffective, research shows that teens who wait to engage in sexual activity tend to have greater chances of living above the poverty line and contribute more to society.
According to a 2009 report by the Brookings Institution, people who complete high school, wait until they are 21 to have kids and get married, and work full-time, have only a 2 percent chance of living in poverty, while it gives them a 74 percent chance of living in the middle class or above.
Although contraceptive use is highly effective in preventing pregnancies, research shows that early sexual initiation will increase the likelihood of negative life outcomes that often persist into early adulthood, such as less educational attainment and an increased likelihood of living in poverty and going through divorce.
Additionally, the advocates cited research done by the Center for Disease Control that finds that despite the left's insistence that safe-sex and comprehensive sex education is more effective than abstinence education, teenagers' use of contraception has decreased over the last 20-plus years.
"Here is something that is kind of counterintuitive about the president's programs that normalize teen sex and primarily focus on contraceptive negotiations. One would expect that contraceptive use would be increasing since that is where so much time and energy is spent in classes," Ascend CEO Valerie Huber told The Christian Post. "It's moving the wrong direction. You would think with all that contraceptive education, you would see more use of contraception."
After the briefing, a number of advocates and even students from various colleges around the nation met with a number of representatives, senators and their staffs to urge them to support the Healthy Relationships Act, which would create more parity in the federal sexual education spending and would not require more funding than what is already being provided to sexual education programs.
"Even at its Apex under the Bush administration, there were more communities and schools that wanted this education than there were funds available," Huber said. "With this dramatic decrease, you can just imagine."
Corey Tabor, who represents the Austin LifeCare pregnancy resource center and met with staffers from Texas Sen. John Cornyn's office, explained how Obama's cuts have prevented his pregnancy center from being able to supply the demand of Austin-area parents for SRA education for their children.
"Parents need to have the option to choose what type of human sexuality education they want and when the funding is not comparable, we don't get the chance to compete at the same level even when the parents have already told us that is what they want," Tabor told CP. "We have districts in our area that want us but we can't afford to go to them because we don't have the funding to pay enough people to be there."
"We are training other people and trying to find ways to make it work but we had the grant prior to the administration change and were able to have twice as many staff and were able to reach more students than we are able to reach now," he added. "That funding change made a huge difference."
According to a study conducted by the Barna Group, 40 percent of 18- to 19-year-olds say they felt pressured by their sex education classes to have sex.
Landis Brown, a senior at University of North Carolina Greensboro and the student president of the Greensboro Pregnancy Care Center's outreach on UNCG's campus, told CP that children need to be given the opportunity to make the right choices in life.
"The reason we do it, we want people to make the best lifestyle choices and sexuality is a huge part of who you are and it affects a lot," Brown said. "We are teaching kids now to make decisions that are healthy and include critical thinking. You are giving them an opportunity to think for themselves and that is going to perpetuate into their future."
George Jackson, who traveled from South Central Colorado, told congressional staffers that if he had the opportunity to take part in SRA education as a teen, that could have prevented him from making some poor decisions in his adolescent years.
"Having made some bad decisions as a teenager, as I started my education in this field, the statistical research of surveys presented to teenagers stating that they felt pressured by the sex education in schools to have sex, the negatives associated with that I found to be very true — bad choices leading to other bad choices, which led to low self-esteem, depression even thoughts of suicide," Jackson explained.
"My background, my history, my bad choices have built up this passion in me because I so much wish that I would have been presented the risk avoidance message when I was a teenager, maybe I wouldn't have fallen into some of those hardships, maybe I wouldn't have made some of those bad decisions."