Obama Says NATO Allies Ready to Join US Efforts to Destroy ISIS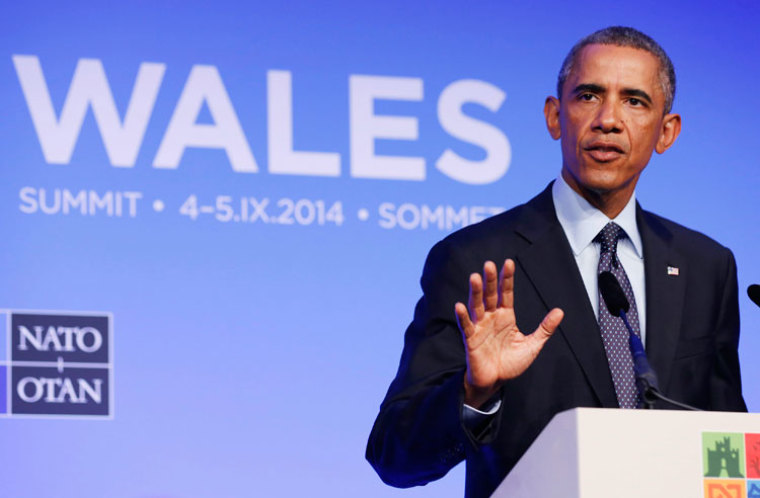 U.S. President Barack Obama announced Friday that key NATO allies are prepared to "degrade and ultimately destroy" the Islamist terror group ISIS in Iraq, after U.S. Secretary of State John Kerry's meeting with diplomats from 10 countries on the sidelines of a NATO summit in Wales.
"Key NATO allies stand ready to confront this terrorist threat through military, intelligence and law enforcement as well as diplomatic efforts," Obama told reporters Friday, the last day of the summit.
ISIS, or the Islamic State of Iraq and Syria, is an al-Qaeda offshoot which has gained control over vast swaths of Syria and Iraq. Also known as the Islamic State and ISIL, the group is aiming to form an Islamic emirate in the Levant, a region also known as the Eastern Mediterranean, through "jihad." Its men have killed hundreds of people in Iraq as well as beheaded two American journalists, James Foley and Steven Sotloff.
Obama's announcement came after Kerry got together with diplomats from 10 countries, including Britain, France, Germany, Canada, Turkey, Italy, Poland, Denmark and Australia, at a NATO summit Friday and convinced them to jointly fight ISIS, according to Reuters.
U.S. Defense Secretary Chuck Hagel was beside Kerry at the meeting, which was aimed at forming a "core coalition."
"We have the technology, we have the know-how," Kerry was quoted as saying. "What we need is obviously the willpower to make sure that we are steady and stay at this."
Obama noted that allies have already "joined us in Iraq where we have stopped ISIL's advances, we have equipped our Iraqi partners and helped them go on offence."
"Our goal is to act with urgency but also make sure that we're doing it right, that we have the right targets, that there's support on the ground … that we have a strong political coalition," Obama added, according to The Los Angeles Times.
"It is absolutely critical that we have Arab states, and specifically Sunni-majority states, that are rejecting the kind of extremist nihilism that we're seeing out of ISIL, that say, 'That is not what Islam is about,' and are prepared to join us actively in the fight," Obama added. "You initially push them back. You systematically degrade their capabilities. You narrow their scope of action. You slowly shrink the space, the territory that they may control. You take out their leadership. And over time, they are not able to conduct the same kinds of terrorist attacks as they once could."
Kerry and Hagel issued a joint-statement after the meeting Friday.
"This morning we had a meeting with some of our key allies and partners on the serious threat that [ISIS] poses to Iraq, the entire region, and the international community," the statement said. "We and the Ministers agreed here today that there is no time to waste in building a broad international coalition to degrade and, ultimately, to destroy the threat posed by [ISIS]."
The formation of a new and inclusive government in Iraq will be a critical step in this effort, Kerry and Hagel underlined. "We are hopeful that this process can be completed over the coming days, and we discussed in detail how NATO allies can extend immediate support to a new government in its efforts to unify the country against ISIL."
They said an international coalition should provide military support to America's Iraqi partners, stop the flow of foreign fighters, counter ISIS financing and funding, address humanitarian crises and de-legitimize ISIS ideology.
Hundreds of members of the Christian and Yazidi minorities have been killed, and tens of thousands of them have fled their homes in Iraq.
ISIS exploited the growing tension between the Sunni minority and Shia-led government in Iraq earlier this year by capturing the predominantly Sunni city of Fallujah in west Iraq. It also gained control of many parts of the city of Ramadi and has its fighters in many towns near the Turkish and Syrian borders, and other cities.