Officer Greg Abbott Who Said 'We Only Kill Black People' Offers to Resign After Firing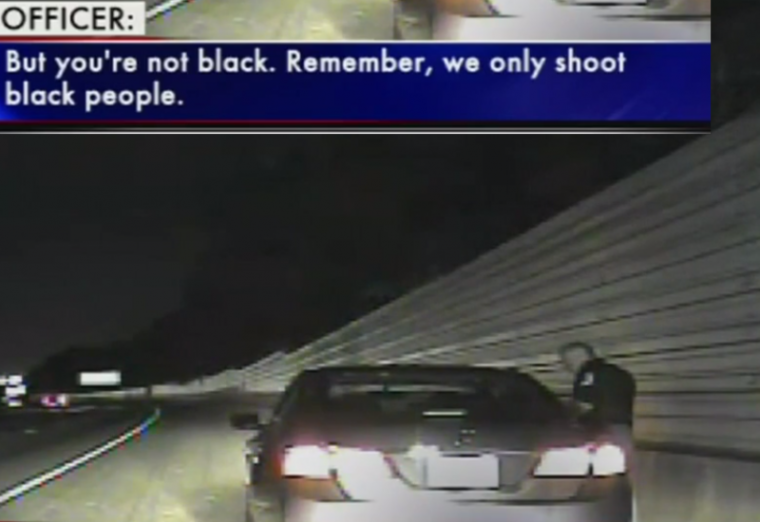 Lt. Gregg Abbott, a Georgia police officer who made headlines this week after a dash cam video from 2016 was released showing him telling a nervous woman during a DUI traffic stop that she didn't have to worry about getting shot because "we only kill black people," offered to resign shortly after his bosses announced Thursday that they would be firing him.
"I have known Lieutenant Abbott for years and perceive him as honorable, but he's made a mistake. I don't know what is in his heart, but I know what came out of his mouth. We recommend that he be terminated and we are moving forward on that," Cobb County Police Chief Mike Register said at a press conference Thursday, according to The Atlanta Journal-Constitution.
"Remember, we only kill black people. We only kill black people, right?" Abbott, a 28-year veteran of the force is heard telling the woman in the video after she expressed concerns about being shot if she put her hands down to pick up a cellphone.
The DUI stop took place at about 3 a.m. July 10, 2016, on Interstate 75 near Marietta, the county seat, according to The New York Times. This was just four days after Philando Castile, a 32-year-old Minnesota man was fatally shot by an officer during a traffic stop.
Abbott was informed of the decision to fire him on Thursday morning. As county officials announced the decision Thursday evening, Abbott sent an email to the county saying he was retiring from the force.
Cobb County Commission Chairman Mike Boyce said he wasn't sure how that move would affect Abbott's firing but noted that the county had to send the right message to the nation.
"Not only is Cobb County watching, but America is watching what we do to respond to these events," Boyce said at the news conference. "What we told America today is that we are different. We believe in the rule of law. We believe in equal justice. We have a long way to go, but our journey is forward."
County officials agreed that even if what Abbott said was made in jest, it was not the right thing to do at a time when racial tensions are high.
"In this environment, with sensitivities running high, it is inappropriate, for any police officer, but especially one of our leaders," Register told The Atlanta Journal-Constitution.
Ben Williams, president of the Cobb Southern Christian Leadership Conference and Deane Bonner, president of the county's NAACP chapter, told the publication that they were pleased with the decision to fire Abbott as it's a sign of hope.
"Police misconduct is not news," Williams said. "The real story here is the behavior of this police chief in Cobb County. ... To be here today and stand with Chief Register as he pulls the shades up and exposes the sunrise ... is news."