Ohio School Shooting Suspect TJ Lane Appears in Court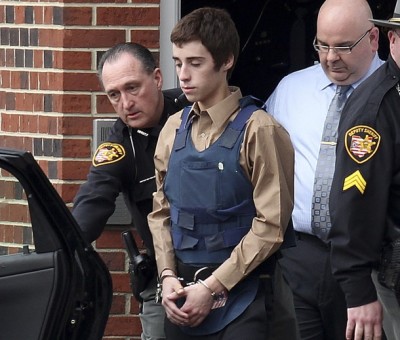 T.J. Lane, the 17-year-old Ohio teen who allegedly went on a shooting rampage Monday morning that left three students dead, appeared in court Tuesday as the prosecution claimed that the teen has confessed to the killings.
Lane admitted to bringing a .22-caliber pistol and a knife with him to Chardon High School Monday and shooting without a specific aim.  
"[Lane] confessed to taking the pistol and admitted he went into the cafeteria and shot 10 rounds. He did not know the students, but chose them randomly," prosecutor David Joyce told reporters at a news conference following Lane's initial appearance.
Joyce said that the prosecution would attempt to try Lane as an adult.
The 17-year-old will remain in detention during proceedings "due to the serious nature of the allegations and charges," Judge Timothy Grendell told the court. While in court, Lane said little more than "yes, sir" to Judge Grendell.
The teen allegedly went on his shooting rampage at Chardon High School at around 7:30 a.m. in the school cafeteria that was occupied by about 100 students, according to onlookers. He was finally chased away from the scene by assistant football coach Frank Hall.
Three teens have died from the shooting, including 17-year-old Russell King Jr. and 16-year-old Demetrius Hewlin, who both were pronounced dead on Tuesday. Daniel Parmertor, 16, died from his wounds on Monday just hours after being shot.
Nick Walczak, 17, remains under hospital care, and a fifth victim, 18-year-old Joy Rickers, has been released from the hospital.
The town held an emotional vigil at a the Church of St. Mary to honor the victims Tuesday evening and hundreds of mourners came out to pay their respects to those lost.
"It's all about love. It's all about reaching out to people who you never thought about reaching out to before. It's about making everyone feel special for who they are," Ohio Gov. John Kasich told mourners.
A motive for the killing has not been disclosed and Lane's lawyer Bob Farinacci said that his family is trying to come to terms with the devastating tragedy.
"This is something we could have never predicted. T.J.'s family has asked for some privacy while they try to understand how such a tragedy could have occurred and while they mourn this terrible loss for their community," Farinacci said.
Students and staff will be allowed to return to the school Thursday.