Oklahoma Pastor Defends 'Beer and Hymns' Church Night After Event Draws Protesters; Says 'Jesus Drank Wine With Hookers' (Video)
An Oklahoma pastor has defended his decision to host the very first "Beer and Hymns" night at his local church, following a successful turnout last weekend.
Pastor Evan Taylor, of East Side Christian Church in Tulsa, said his controversial decision to serve ice cold beers at church attracted a large crowd and succeeded in getting people talking. The event, which featured Portland-based religious author Christian Piatt, was part of an outreach weekend program providing the community with a forum to discuss the future of the local church. Approximately 100 people attended, and although there were a few protesters, the event was a huge success.
"It went really good, we had between 80 to 100 people turn out. Half were members of our church and half were just visitors, or people wanting to see what it was about, or people from other churches," Pastor Taylor told The Christian Post exclusively.
Congregants, who were given a two drink limit, sipped on fresh beer and sang church hymns at what Taylor described as "a church camp for grown ups."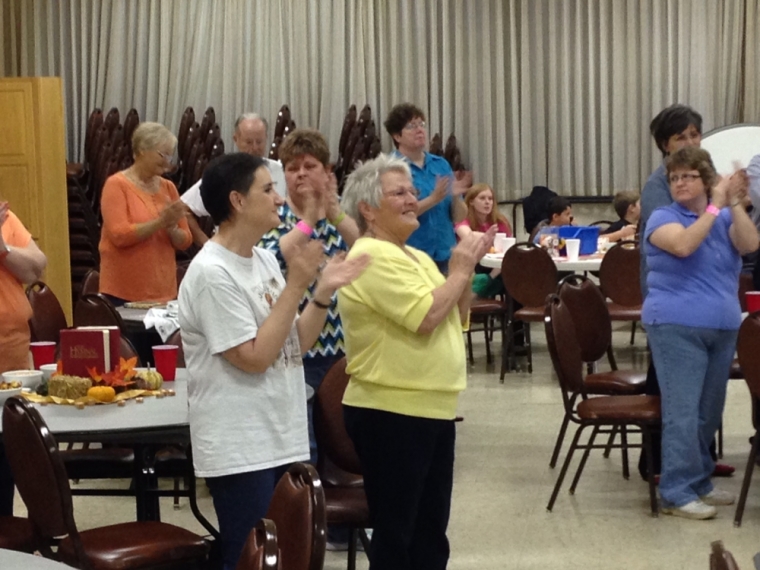 Kids were also encouraged to take part by singing along, drinking root beer and doing arts and crafts at the family-friendly event.
"We sang a bunch of old classic hymns that people love and there was a two beer limit. We checked IDs and we had all the legal stuff in place," he said. "It was just a great time. No one got drunk."
East Side Christian Church is one of four (as well as a local seminary) that took part in hosting events for Piatt. Others included First Christian Church of Downtown Tulsa, Harvard Avenue Christian Church, Phillips Theological Seminary, and Oklahoma Disciples Foundation.
"We all partnered up to bring [Piatt] to town and there were different events each day throughout the weekend," said Taylor. "He's written a book called Post Christian which talks about the future of the church. Can we save it? Is it worth saving? It's a real progressive book."
Church goers were met with half a dozen hecklers at the front of the church who blasted Taylor as the "devil" for holding the event. This number later grew to about a group of 20 protesters, which likened themselves to renowned hate group Westboro Baptist church "but better."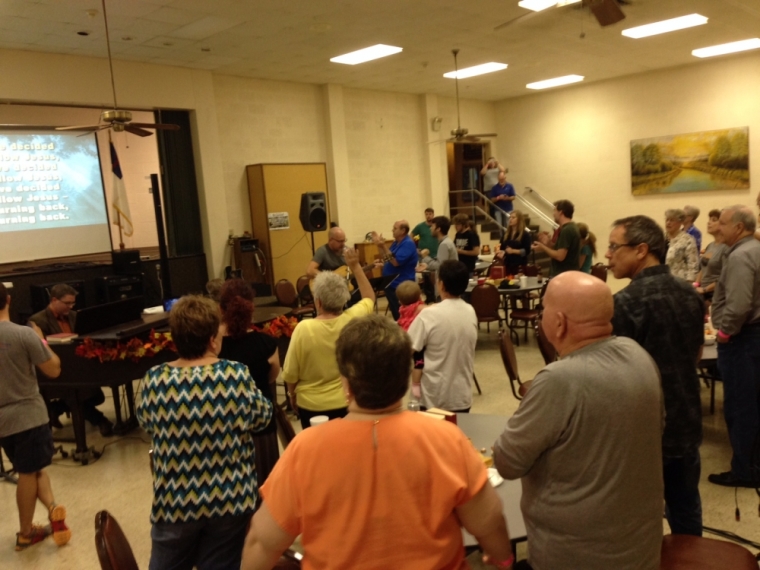 "We did have some protesters up front. It started with about six, then they left for a while and came back after the event with 20 people," he recalled. "They were just shouting at us that we're 'going to hell.' They compared themselves to Westboro church but said they were 'better than Westboro' because they believe they can save people. I was being called a 'devil outreach pastor' and the senior minister here was called 'pastor sissy pants.'"
Critics have openly questioned the need to serve alcoholic beverages at church particularly since alcohol alters one's judgment. The church is also a venue for a local AA group which meets there daily and this has also added to the criticism.
"I totally see people's side on that and I hear what they're saying and I hear their concerns [but] historically, Luther wrote hymns in pubs and Jesus drank wine with hookers," Taylor explained. "To people that don't like it, it might not be for you and not every church service is for everyone, which is why there are 1,000 different churches on every street corner you look at. We reach people, we had many people come through that said they have never felt comfortable enough to come into a church until they saw that sign and they're not alcoholics, or drunks, they're just people that like to have a beer every now and again."
Taylor said they sought feedback from the AA group prior to the event, and it did not object to the "beer and hymns" night.
"We do have an AA group that meets here at our church everyday and we asked them because that's been the main thing that we've heard is 'how can you support an AA group at the church and also have [the event]?,'" he said. "If you look at the Facebook comments from the event, [the] majority of them are really nice and people are like 'oh finally' and then some of our friends who are Catholic and Episcopalian are like 'we've had alcohol in our churches for years. It's not a big deal.'"
Taylor said the church is planning to hold another "beer and hymns" night early next year due to popular demand.
"Next time we're hoping to have home brewed craft beer to really promote local breweries," he said.
This is not the first time a church has served beer to congregants. Last year reports attributed the growing "experimental" trend to an attempt to improve church numbers.
Would you attend a "beer and hymns" night at your church? Let us know below.