Old Column Claiming Women Fantasize About Being Gang-Raped a 'Dumb Attempt at Dark Satire,' Bernie Sanders Campaign Says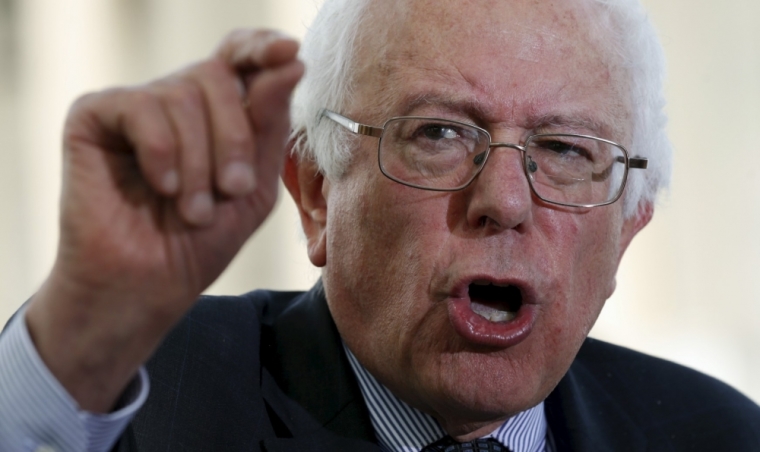 Bernie Sanders' campaign for president said a 1972 column by the candidate claiming that women fantasize about being gang-raped was a "dumb attempt at dark satire."
Sanders officially announced on Tuesday he is running for the Democratic presidential nomination. On the same day, a Mother Jones profile of Sanders briefly mentioned "a stream-of-consciousness essay on the nature of male-female sexual dynamics."
Other outlets then reported on details in the essay wherein Sanders claimed that women fantasize about being sexually assaulted.
"A man goes home and masturbates his typical fantasy. A woman on her knees, a woman tied up, a woman abused," wrote Sanders over 40 years ago.
"A woman enjoys intercourse with her man — as she fantasizes being raped by 3 men simultaneously."
Michael Briggs, spokesman for the Sanders campaign, emailed The Christian Post a statement Friday morning calling the 1972 essay a "dumb attempt at dark satire."
"Over 40 years ago Bernie Sanders wrote an article that in no way reflects his views or record on women," stated Briggs.
"This was a dumb attempt at dark satire in an alternative publication intended to attack gender stereotypes in the 1970s, and it looks as stupid today as it was then."
Briggs also stated that the bringing up of the satire piece was a way of distracting voters from the real issues the campaign wants to address in the 2016 presidential election.
"When Bernie got into this race he understood that there would be efforts to distract voters and the press away from the real issues confronting the nation today," continued Briggs.
"He's determined to run a campaign that takes on the big problems facing the American people, and not a campaign of salacious gossip and innuendo."
Published by the Vermont Freeman when Sanders was in his early thirties, the story was picked up by other media outlets including The Blaze and NewsBusters.
Tim Graham of NewsBusters argued that if a cconservative Republican had written what Sanders had written, mainstream media would talk about it excessively.
"But 'freakish' Bernie Sanders? Don't count on the networks going there ... unless Hillary Clinton's advantage really evaporates," wrote Graham.
"Even then, no elite journalist would let Bernie's unique sexual theories cloud the "progressive" image of the Democratic Party on women."