Hillary Clinton Says She Will Back Path to 'Full and Equal Citizenship' for Illegal Immigrants, Accuses Republicans of Treating Illegals as 'Second Class'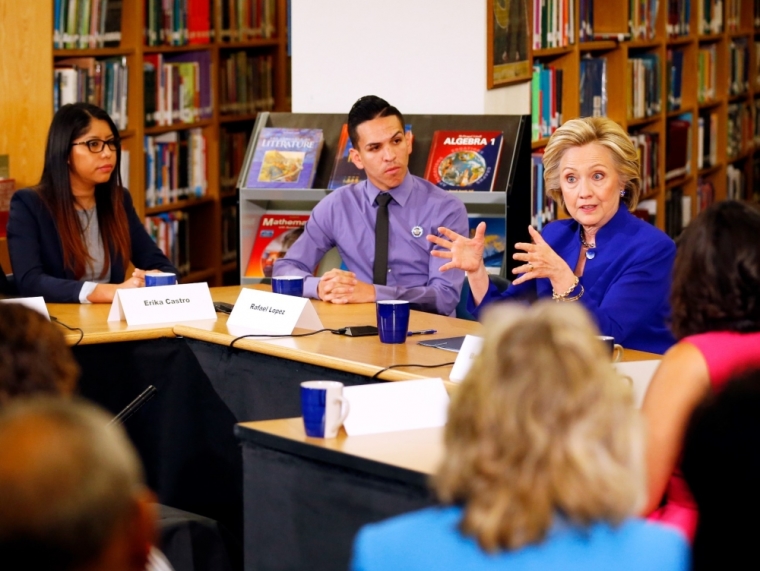 Democratic presidential candidate Hillary Clinton has promised to back a path to "full and equal citizenship" for illegal immigrants, and has accused Republicans of treating illegals as "second class."
"This is where I differ with everybody on the Republican side. Make no mistake, not a single Republican ... is clearly and consistently supporting a path to citizenship. Not one," Clinton said during a campaign stop in Nevada on Tuesday, according to The Associated Press. "When they talk about legal status, that is code for second-class status."
Clinton further said that she backs President Barack Obama's executive actions that allow some with an illegal status to temporarily stay and work in the U.S. The president has also sought to expand a program that protects people from deportation if they were brought to the U.S. illegally as children.
"I don't understand how anyone can look at these young people and think that we should break up more families or turn away young people with talent," she said about young people who've benefited from Obama's executive actions. "So I will fight for comprehensive immigration reform and a path to citizenship."
Republican leaders have generally opposed Obama's executive actions on immigration, and have emphasized the need for stronger border security first before any changes to the immigration system are implemented.
Back in January Breitbart released a report on the various positions potential Republican presidential candidates hold on immigration reform.
The report noted that while some, such as Sen. Ted Cruz, R-Texas, have been outspoken against plans to make a pathway to citizenship for illegal immigrants, others, such as former Arkansas Gov. Mike Huckabee, have said that finding a pathway to citizenship is a more rational approach than deporting or locking away 12 million people.
AP noted that former Florida Gov. Jeb Bush and Florida Sen. Marco Rubio have opposed Obama's executive moves on the issue, but at the same time have courted Hispanics and have talked about ways to improve America's immigration system.
Clinton has been accused of flip-flopping on immigration policy before, however. For example, in the 2008 primaries she changed her stance and refused to support illegal immigrants being allowed to obtain drivers licenses in the U.S.
"Obviously she's pretty good at pandering and flipping and flopping and doing and saying anything she needs to say," Republican National Committee Chairman Reince Priebus said of Clinton's position.
The former first lady announced her plans to enter the 2016 presidential race in April, becoming the first Democrat to enter the race.
"Americans have fought their way back from tough economic times but the deck is still stacked in favor of those still at the top," Clinton said in her campaign video.
"Every day Americans need a champion, and I want to be that champion so you can do more than just get by, you can get ahead and stay ahead, because when families are strong, America is strong. So I'm hitting the road to earn your vote ... because it's your time and I hope you'll join me on this journey."