70-year-old Supreme Court ruling may hold key to reintroducing Bible education in public schools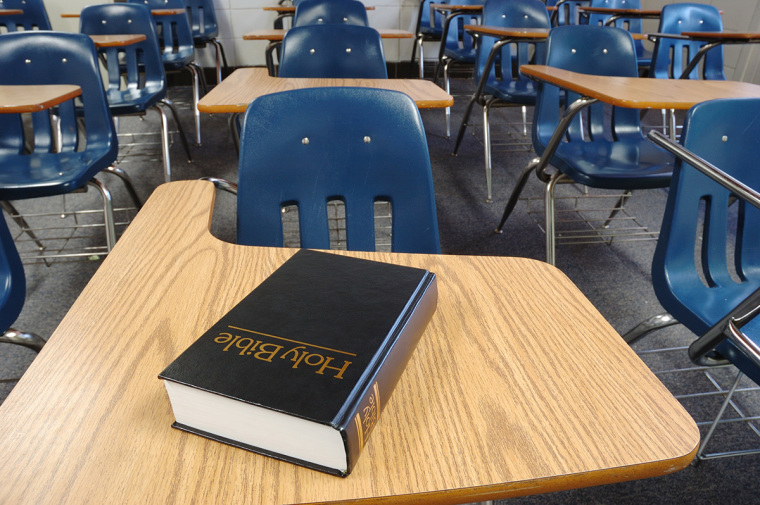 It might sound like something from a bygone era, but a nearly 70-year-old United States Supreme Court ruling allows public school students to participate in Bible study classes during school hours.
In his new book, appropriately titled During School Hours, Joel Penton, author and founder of LifeWise Academy, takes an in-depth dive into why religious education was removed from America's public schools and how his group is using this little-known Supreme Court decision to further the preaching of the Gospel for students.
It all started in 2018 when Penton was in full-time ministry at public schools when he was asked to look into what is known as "released time religious instruction" or "released time" for short.
"I talk to people like yourself every single day that are in the know and never heard of this. That's how I was," Penton told The Christian Post in an interview. "The truth is, for most school officials, this is news for them as well, meaning they've never heard of released time."
In essence, Penton summarized released time as the practice of students being released from public school during school hours to receive religious classes, provided the program is conducted off school property, privately funded and with parental permission.
A 1952 U.S. Supreme Court ruling in the case Zorach v. Clauson held that released time did not violate the U.S. Constitution because it did not amount to an establishment of religion.
In the 6-3 decision, the court noted that public facilities were not being used for religious instruction and no students were being compelled to attend the instruction, thus upholding the legality of released time programs.
At the time, Penton explained, the ruling went largely unnoticed due to what he described as an "onslaught of crackdowns on religion in schools."
Penton noted that Christianity was initially the driving force behind the American education system, telling CP that "One of the reasons we wanted to educate so broadly was so that kids could read the Bible." He said the growth of different Christian denominations and thus more religiously diverse populations ended up pushing the Bible out of schools.
"As the school system became more systematized and uniform across regions, Bible education was marginalized more and more," he added. "Soon you started seeing the Bible no longer used as a curriculum."
Penton explained to CP that before the Zorach ruling, religious instruction programs in U.S. public schools had been on the rise, starting first in 1914 in Gary, Indiana. By 1950, there were released time programs in 46 states.
Like most Americans, Penton was unaware of released time until people in his hometown of Van Wert, Ohio, started a program, which eventually saw over 95 percent of elementary students participate.
"There's this incredible opportunity that people don't realize that came out of these court rulings in the '40s and '50s, an opportunity for religious education during school hours that we just need to pick up and take advantage of," he said.
Part of the reason Penton became involved, he said, was after folks in Van Wert reached out to ask why these programs had not spread after 70 years — and part of the reason, he said, was the prohibitive startup costs.
"We became convinced that it's because of all the barriers to entry," he said. "You basically have to start a private school to get one of these off the ground because you gotta figure out facility and transportation and curriculum, payroll, all those things."
LifeWise launched its first two schools in 2019, continued working through the COVID-19 pandemic, and is currently serving 133 schools across four states. As indicated on the LifeWise Academy website, students typically attend LifeWise once a week for a class that lasts from 45 minutes to an hour. The curriculum teaches students about the entire Bible over five years. 
While it's not quite as straightforward as simply getting parents to walk into their child's school office and ask to start their own program, Penton stressed that the effort really needs to be "community driven."
In response, LifeWise Academy developed a 10-step launch process to help get local initiatives implemented, including how to gather at least 50 signatures from the community in support, which Penton said is key.
"That shows us there are people that want to do it, that shows the school, 'OK, the community really wants to do this … this isn't just one parent talking to the superintendent,'" he said. "It's easy to say no to that."
When asked whether he has concerns that exploiting the released time "loophole" might lead to the teaching of other religions and belief systems besides Christianity, including the controversial satanic after-school clubs, Penton said, "go for it."
"We say, that's fine, because we believe the Gospel is true and powerful and changes hearts," he said. "And the Gospel can compete and stand on its own two feet in the marketplace of ideas."
"The only danger is people not hearing the Gospel. The only danger is silence."