'One Million Moms' Fights Against JC Penney's Same-Sex Father's Day Ad
J.C. Penney has released a Father's Day advertisement that features a same-sex couple consisting of two fathers playing with two children, which has outraged the American Family Association's One Million Moms who feel the company is "promoting sin."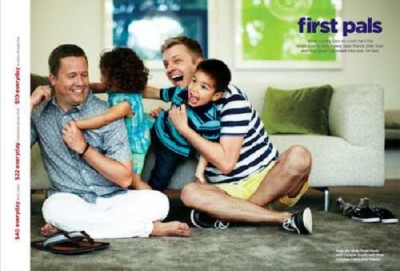 In the advertisement that appears in J.C Penney's June catalog, two children are showed hugging their two fathers next to a headline that reads, "First Pals -- What makes Dad so cool? He's the swim coach, tent maker, best friend, bike fixer and hug giver -- all rolled into one. Or two. Real-life dads Todd Koch and Cooper Smith with their children Claire and Mason."
One Million Moms is calling for people to stand against the advertisement.
"One Million Moms (OMM) is disturbed that JC Penney's (JCP) is continuing down the same path of promoting sin in their advertisements," a statement read on the One Million Moms website. "In JCP's June catalog, there is another homosexual ad, but this time with two dads celebrating Father's Day."
The men featured in J.C. Penney's latest ad said they were approached in February to be included in the Father's Day catalog and that a variety of families had been sought for the issue.
"The photo is just a one-second photo of our life. It's a candid moment of how we interact with each other," Smith told the Dallas Voice.
He added, "They were just trying to present a wholesome gay family and I guess we fit the bill for that. They're really trying to represent what America looks like, and that's not just heterosexual white people."
The homosexual advertisement is not the first time that J.C. Penney has showcased a same-sex family. For Mother's Day last month, the department store featured an advertisement with a lesbian couple and their two daughters in the May catalog that appeared in mailboxes across the country. One Million Moms also spoke out about the catalog, calling on concerned members of the public to boycott the retailer.
Now, One Million Moms is looking for people to take action against the June catalog that many people are receiving in their mail boxes.
"OMM will continue to avoid shopping at JCP until they take a neutral stand," the statement from the organization's website reads. "If you receive their advertising booklets or catalogs in the mail, OMM recommends you write 'REFUSED...RETURN TO SENDER.'"
In the campaign against J.C. Penney, the mothers said they are fighting a culture war and attempting to uphold biblical values.
"It is obvious that JCP would rather take sides than remain neutral in the culture war. Our persistence will pay off," the OMM website reads. "We must remain diligent and stand up for Biblical values and truth. Scripture says multiple times that homosexuality is wrong, and God will not tolerate this sinful nature."
One Million Moms is a group of mothers who work with decision-makers to ensure that children are not exposed to what they consider to be negative messages in society.