Only 1.5 Percent of Syrian Christians Fleeing ISIS Given Refugee Status in US, UK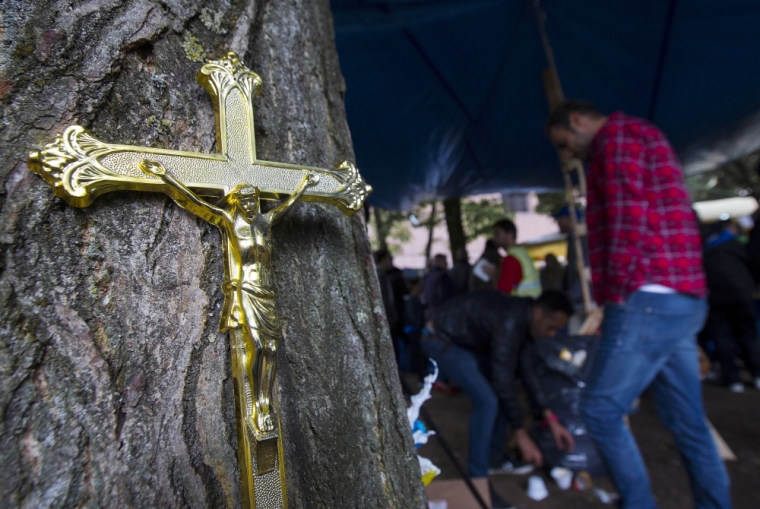 The United Nations has "failed miserably" when it comes to protecting Christians from genocide, a charity has said, noting that a mere 1.5 percent of Syrian refugees accepted by Western nations in 2016 were followers of Christ.
"This is shocking behavior by the U.N. and U.K. officials," said Barnabas Fund's Martin Parsons in an interview with Express published Tuesday.
"In 2005 the U.N. adopted the responsibility of states to protect citizens from genocide and crimes against humanity. These statistics show that it has failed miserably in this. Christians and other minorities have been treated shamefully by the U.N. And the U.K. has outsourced its own responsibilities in spite of repeated representations."
The intentional aid agency has released a number of figures recently highlighting the problem, and last week pointed out that although Christians make up roughly 10 percent of Syria's population, only 1.5 percent of Syrian refugees accepted in New Zealand, the U.K. and the United States [under the Obama administration] last year were Christians.
Breaking down the U.K. figures, it found that the government sheltered 8,136 refugees in 2015 and 2016, but only 70 of them were Christians.
The Yazidis, another religious minority that has faced genocide at the hands of the Islamic State terror group, were also underrepresented, with only 22 refugees from the group taken in.
Barnabas Fund added that of the 10,801 resettled by the U.N. High Commissioner for Refugees between October 2015 and September 2016, only 56 were Christians.
The U.S. figures were not any more encouraging, with only 125 of the 15,479 Syrian refugees admitted in 2016 having a Christian identity.
The charity said the only Western government to have resettled a significant numbers of Middle Eastern Christians was Australia.
"It should not be assumed that the threat to Christians has ended with the fall of Raqqa. Western governments need to take urgent action to address this issue," read a letter to The Times last week, referring to the recent recapture of the key Syrian city that served as IS' de facto capital.
The U.K.'s Home Office responded to the claims that it is failing Christian refugees by issuing a statement on Tuesday, saying, "We are clear that our scheme will prioritize the most vulnerable refugees, and that is why under the Vulnerable Persons Resettlement Scheme, the U.N. High Commissioner for Refugees  identifies people using established vulnerability criteria."
It added, "We are working with the UNHCR and other partners to reach groups that might be reluctant to register for the scheme for fear of discrimination and unaware of the options available to them. These groups include all religious minorities."
The American Center for Law and Justice, a conservative law group fighting to get the U.N. to recognize the genocide of Christians, said in September that there have been some positive developments in that regard.
The ACLJ said that it received a letter from Adama Dieng, special adviser to the secretary-general on the Prevention of Genocide, who spoke of his shared passion in holding IS responsible for its crimes.
The law group described Dieng's letter as a "profound and unprecedented acknowledgment by the U.N." of the plight faced by Christians.
Still, Christians have for years been saying that despite Western promises, aid is not reaching suffering believers on the ground in Iraq and Syria.
"We don't see anything. It's not happening," William Hollander, who partners with persecution watchdog Open Doors in Iraq, told The Christian Post in October.
"The big frustration for the Christians and everybody at the moment is that [they] are being betrayed by the political powers," and again are in a situation where they have to run to refugee camps, he added.
Last week The Christian Post reported that Vice President Mike Pence promised Christian leaders from the Middle East that their days of receiving little to no help from the U.S. government to rebuild their ancient communities "are over."
"While giving the keynote address at an annual solidarity dinner sponsored by the international advocacy organization In Defense of Christians, Pence announced that President Donald Trump has ordered the State Department to enable U.S. aid funding to go directly to faith-based organizations actively supporting Christians and other religious minorities displaced by the Islamic State.
The announcement comes as human rights advocates have urged the administration to make a change to a previous policy that required all U.S. humanitarian and reconstruction aid funding for Iraq to be funnelled through the United Nations. Displaced Christians and other religious minorities, however, have not received much help to rebuild their destroyed ancient communities even though the U.S. has given more than $1 billion in humanitarian aid and hundreds of millions in reconstruction aid.
During his speech, Pence slammed the U.N. for too often failing "to help the most vulnerable communities" and leaving "countless people [to] continue to suffer and struggle needlessly."
"Here is the sad reality," Pence explained. "The United Nations claims that more than 160 projects are in Christian areas. But for a third of those projects, there are no Christians to help. The believers in Nineveh Iraq have had less than 2 percent of their housing needs addressed and the majority of Christians and Yazidis remain in shelters. Projects that are supposedly marked finished have little more than a U.N. flag hung outside an unusable building, in many cases a school."
Frank Wolf, distinguished senior fellow at the 21st Century Wilberforce Initiative who recently returned from Iraq and has since testified before both the House and the Senate about the dire situation, said the Trump administration's policy change "should impact humanitarian aid for those living as Internally Displaced Persons and refugees and stabilization assistance for the Christians and Yezidis returning to areas seized from them by ISIS."