Only 39% of voters want Kamala Harris to be Biden's 2024 running mate: poll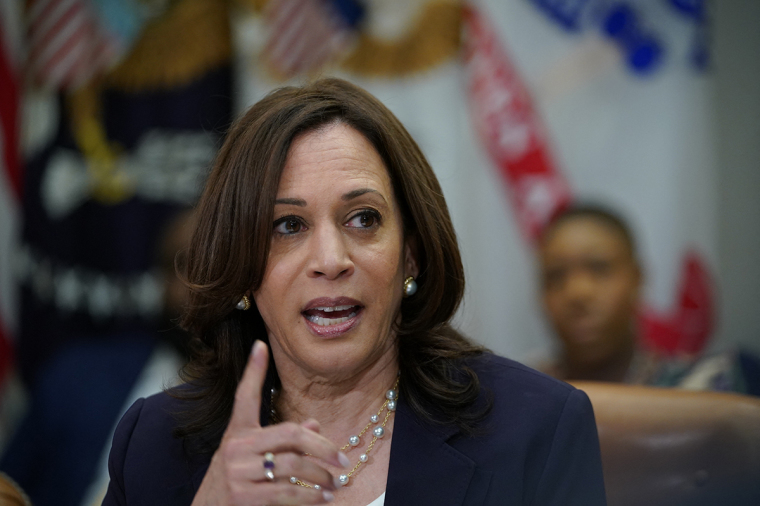 If President Joe Biden runs for reelection in 2024, only 39% of voters want to see Vice President Kamala Harris be his running mate, according to a recent poll from Rasmussen Reports.
Rasmussen found that 39% of likely voters polled think Harris should be Biden's running mate in 2024, versus 48% who said she shouldn't be and 13% who said they don't know.
There was a difference among political party affiliation, however, as 68% of Republican respondents said they believe she shouldn't be his running mate, while 26% of Democrat respondents said the same and 11% of Democrats said they were unsure.
Data for the report came from a survey of 900 U.S. likely voters conducted Jan. 31-Feb. 2, with a margin of error of +/- 3 percentage points with a 95% level of confidence.  
The survey also found that 43% of likely U.S. voters have a favorable opinion of Harris, while 55% have an unfavorable view of Harris, including 45% who have a "very unfavorable" impression.
Additionally, the survey found that 56% of respondents did not believe that 80-year-old Biden should run for reelection, while 39% said he should and 12% were not sure. Among Democrat respondents, only 53% said Biden should run again in 2024.
Last week, The Washington Post reported that some Democrat strategists and party leaders had expressed concern about Harris' ability to be electable, especially if Biden steps aside and she becomes the presidential nominee in 2024.
"Every fiber in my body wants her to be president; everything I've ever fought for is for someone like her to be president," said one unnamed strategist based in South Carolina to The Washington Post. "But I don't know that the people who have to make that happen feel that way right now. I don't know that she has what it takes to get over the hump in our present environment."
Douglas MacKinnon, an opinion contributor for The Hill, wrote in a recent piece warning that one "might find more and more Democrats who don't think Harris has the gravitas to occupy the Oval Office, though they might be reluctant to express that publicly."
"Some Democrats have told me they don't think either Biden or Harris would give their party the best chance in the next election," wrote MacKinnon.
"More than that, several worry that Democrats will have a dilemma if they try to move away from Harris, since she is the first woman and first person of color to be elected vice president — a special place in American history. As one Democrat told me, 'You have to be very careful moving against living American history.'"