Open Doors Sends Vital Help to Thousands of Christian Families Fleeing Iraq Violence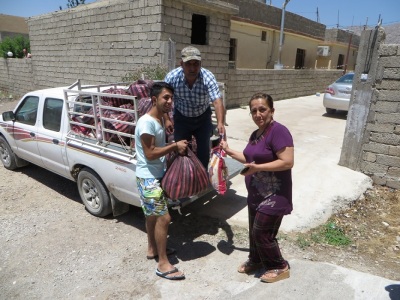 Persecution watchdog Open Doors is sending food, water and humanitarian aid to close to 3,000 Christian families that have fled the Iraqi city of Mosul, which was recently taken over by Islamic extremists looking to enforce Sharia law.
"The immediate needs were very obvious – water and food," an Open Doors field worker said.
"Because many of the refugees were placed in schools or empty buildings, they were sleeping on a piece of cardboard; there were no mattresses and pillows. And with temperatures reaching 113 degrees during the day, a third need made itself known – air coolers, especially important for families with young children or the elderly."
Open Doors workers have been ministering to persecuted refugees in Iraq for years now, and are helping the families that have fled to the safer northern Kurdish area.
Jihadists from the Islamic State of Iraq and the Levant group captured Mosul and much of the Nineveh province earlier this month, and have set sights on Iraq, attacking the capital with car bombs and other explosives. As much as half a million people are said to have fled the violence.
On Friday, Human Rights Watch reported that insurgents had executed at least 160 captives in the northern city of Tikrit. The discovery came after an analysis of satellite imagery and graphic photos released by the militants.
"The photos and satellite images from Tikrit provide strong evidence of a horrible war crime that needs further investigation," said Peter Bouckaert, emergencies director at Human Rights Watch.
The militants have also reportedly taken control over much of the Baiji oil refinery, the largest in Iraq, which is 130 miles north of Baghdad.
The U.S. government has said it will not be sending troops to engage in direct battle with the Islamic extremists, but has beefed up security forces at the embassy in Baghdad and other American assets.
Watchdog groups including International Christian Concern have expressed concern for the Christian community in the country, which shrank from 1.5 million to an estimated 200,000-400,000 in the past decade.
An Iraqi Christian believer described the "nightmare" on the streets of Mosul, saying, "There were lots of families walking; everyone was moving. It was crowded in the streets in the middle of the night."
The man, who wasn't named, added that he, his wife and four small children fled while two houses on their street were hit by bombs and set on fire.
The Open Doors field worker commented, "When you hear that people are arriving without any food or water, having walked for half a day or longer with only a plastic bag with their belongings, you just want to provide help. People can live a day without water, but in this heat, of course, it was imperative that we needed to act immediately."
Open Doors CEO Dr. David Curry spoke with The Christian Post earlier in June about the ISIS violence and the vulnerable Christian Community in Iraq.
"It (ISIS) has been fighting against the Syrian government in Syria and so it's part of this string of countries that is fighting Islamic terrorists. The goal of this group, as with other groups, is to set up Sharia law. Now Sharia law has already been proclaimed by the group in the northern parts of Iraq in Mosul that they've taken over and their agenda is clear," Curry told CP.
"They want to set up a regime that forces Islamic faith and its most extreme tenants on people and this is going to directly affect Christians who choose to practice and wish to practice their faith in Iraq."