Oscars 2018: Ashley Judd, Salma Hayek, Annabella Sciorra Bring Spotlight on #MeToo Movement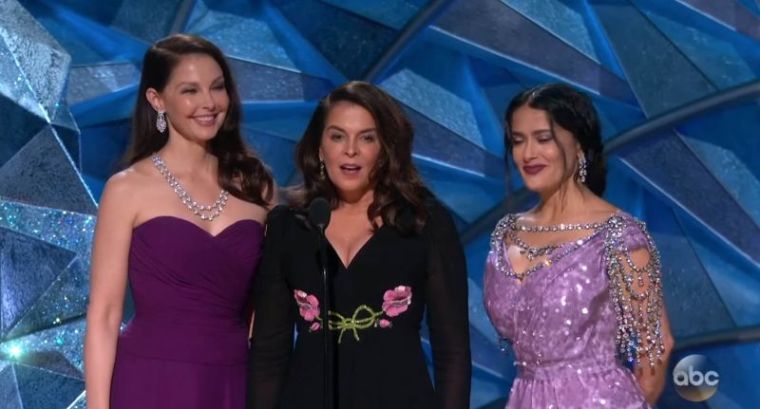 Hollywood's leaders of the #MeToo and Times Up movements Ashley Judd, Salma Hayek and Annabella Sciorra condemned sexual misconduct in the workplace and presented a video montage on the issue at the 90th Academy Awards Sunday night. It's the first Oscars since sexual abuse allegations were made against film producer Harvey Weinstein.
"The changes we are witnessing are being driven by the sound of powerful new voices, of different voices, of our voices, together in a mighty chorus that is finally saying 'time's up,'" said actress and political activist Judd, who was the first to publicly accuse Weinstein of sexual misconduct.
"And we look forward to make sure that the next 90 years empower these limitless possibilities of equality, diversity, inclusion, intersectionality. That's what this year has promised us," she added.
Standing next to Judd, actress Sciorra told the audience, "This year, many spoke their truths, and the journey ahead is long. But slowly, a new path has emerged."
Actress Hayek, another Weinstein accuser and one of the three hosts of the montage Sunday night, added, "So we salute those unstoppable spirits who kicked a** and broke through the biased perceptions against their gender, race and ethnicity to tell their stories."
The video they presented featured several actors and directors, including Mira Sorvino, Sarah Silverman, Dee Rees, Barry Jenkins and Lee Daniels, among others.
Actress Sorvino, who also accused Weinstein of sexual abuse, says in the video, "Everyone is getting a voice to express something that has been happening forever, not only in Hollywood, but in every walk of life."
Jimmy Kimmel, who opened the Oscars with his monologue, jokingly called the Oscar statuette the perfect man for the moment, alluding to the #MeToo movement, which has led women across the world to speak up against sexual misconduct.
"Oscar is the most beloved and respected man in Hollywood, and there's a very good reason why," he said. "Just look at him. Keeps his hands where you can see them, never says a rude word, and most importantly, no p**** at all. He is literally a statue of limitations.
"And that's the kind of men we need more of in this town."
Frances McDormand, who won this year's Oscar for Best Actress for her role in "Three Billboards Outside Ebbing, Missouri," highlighted the importance of "inclusion riders," or requirements in actors' contracts that provide for diversity.
"If I could have all the women stand up with me in this moment," McDormand told the crowd. "Look around, everybody, look around, ladies and gentlemen, because we all have stories to tell, and we all have projects we need to finance … I have two words to leave with you tonight: 'inclusion rider.'"
While presenting the award for Best Director at the Sunday night ceremony, Emma Stone, who won the award for best actress in 2017, highlighted the fact that only one nominee was female, Greta Gerwig.
"These four men and Greta Gerwig created their own masterpieces this year," she said.