Ousted Fire Chief Kelvin Cochran Attends Court Hearing: 'I'm Here Today to Vindicate God-Given Freedoms'
Ousted Fire Chief Kelvin Cochran Attends Court Hearing: 'I'm Here Today to Vindicate God-Given Freedoms'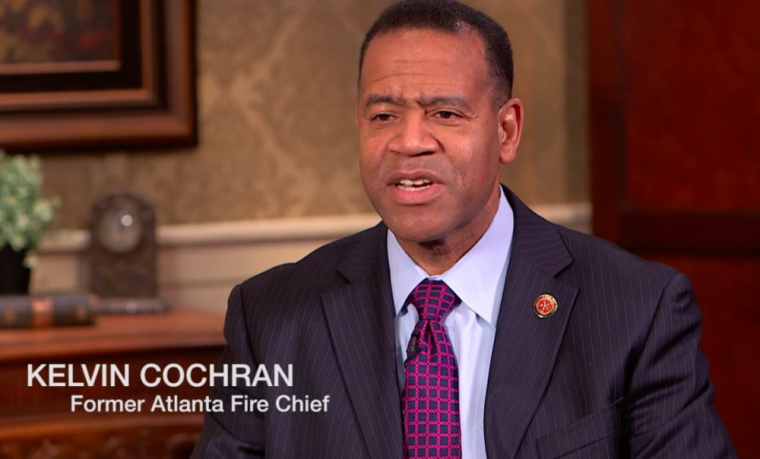 Ousted Atlanta Fire Chief Kelvin Cochran, who was in court on Wednesday for a hearing in his religious discrimination case against the City of Atlanta, said he was fighting for the rights of all religious Americans to not live in fear of getting fired.
Attorneys for Cochran made oral arguments before the U.S. District Court for the Northern District of Georgia today, more than six months after The City of Atlanta asked a Federal court to dismiss his lawsuit.
"We're cautiously optimistic we're going to be able to continue forward," ADF Attorney Matt Sharp told The Christian Post after the hearing.
"What really emerged at the hearing today was what we have been saying all along, this is about the City's disagreement and oppositions to the Chief's religious beliefs and so time and time again the City kept referring back to what he wrote in the book and that those are beliefs that are unacceptable to the City ... and I think the judge picked up on that."
Depositions will likely begin in the near future although a trial date has not yet been set.
Cochran, who served as fire chief for seven years, says the City violated his constitutional rights when he was terminated in January for espousing his Christian views on sex in a self-published book and sharing it with employees. The city stands by it's controversial decision to terminate the married father of three, claiming that the views he expressed in his 2013 book, Who Told You That You Are Naked?, "caused at least one [fire department] member enough concern to complain to a city council member."
In a statement released after Wednesday's hearing, Cochran reiterated his beliefs and said the issue of religious freedom is one that affects many Americans.
"I'm here today not just for myself, but for every religious person in America who does not want to live in fear of facing termination for expressing their faith," he said. "I'm here today to vindicate the God-given freedoms every American is guaranteed under the United States Constitution and federal law."
In the Christian devotional book, Cochran calls homosexuality and lesbianism "sexual perversion" and "vulgar" and likens both to "bestiality" and "pederasty." He says that his biblical views on sex ultimately provoked unjust and potentially illegal treatment by the City.
"In my free time, I wrote a book to help Christian men in their walk with God. But because Mayor Reed and the City of Atlanta didn't like my book and the religious beliefs I expressed in it, I was fired," he said.
In November last year, city officials said Cochran, who first served as Fire Chief in 2008, had violated city policy by self-publishing his book and then handing out copies to employees. Subsequently, he was suspended without pay by Mayor Reed and forced to undergo sensitivity training.
The book was brought to their attention when an AFRD member complained about Cochran distributing copies in the workplace. A city investigation determined Cochran had not discriminated against LGBT employees but he was fired earlier this year anyway.
"The only one engaged in discrimination here is the city," said ADF Senior Legal Counsel Jeremy Tedesco. "The city exonerated Chief Cochran from any discrimination, but then it cited the need to tolerate diverse views as the reason for firing him. That demonstrates the city's hypocrisy as well as the true reason for why it fired the chief: it simply didn't like his religious beliefs, an unjustifiable reason for firing any public employee."
Reed said previously that Cochran was not fired for his religious beliefs but rather "because he displayed bad judgment." He added that Cochran did not follow the correct protocol prior to writing the self-published book even though the former fire chief has said otherwise.
The city's ethics code requires a commissioner to get approval from the board of ethics prior to engaging in private activity for pay.
"I had legal permission to write the book from the city's ethics officer [Nina Hickson]," Cochran previously told The Christian Post in an exclusive interview. "[It] was through a verbal conversation, there was no documentation. … She said it was legal and I was authorized to write it and that she wanted a copy when I finish, after I told her what the book was going to be about."
Cochran said he was authorized to write the book during a five-minute phone conversation with Hickson.
"I had legal authority to write the book; however, she cannot remember that conversation," he said.
In a statement to CP, Hickson previously refuted these claims and cited the Atlanta City Code of Ordinances, Section 2-820 (d).
"The Atlanta's Ethics Code establishes the required approval process for city commissioners who wish to engage in outside activities for pay," Hickson wrote in an email. "Consequently, I did not authorize Chief Cochran to write and publish the book, nor did I have the authority to do so."
Cochran believes that his dismissal is symbolic of a growing threat on religious freedoms facing Christians and other people of faith across the nation and has vowed to get justice.
"Our nation was founded on the principle that everyone should be free to not just believe what they want, but to live their lives according to those beliefs," he said. "The city's actions are a threat to that freedom."