Over 15,000 Assyrian Christian Families in Danger From ISIS Following Mass Kidnappings of Hundreds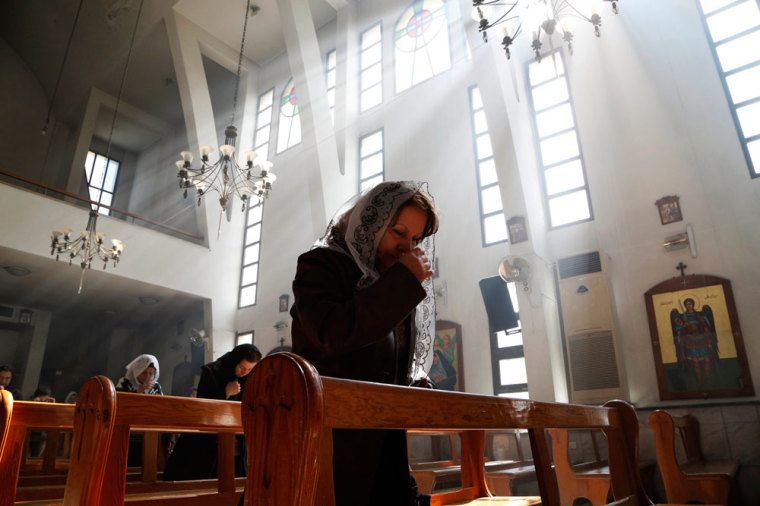 As many as 15,000 Assyrian Christian families might be in danger from the Islamic State terror group and the ongoing conflict in Syria, the Assyrian Church of the East in Lebanon bishop has said. Christians from over 100 families were kidnapped on Friday, with human rights groups fearing they will be beheaded or sold into sexual slavery.
"My personal sources say there are about 15,000 families left in Syria. Of course, they do not live in the villages captured by militants, but were able to temporarily relocate to nearby towns," Bishop Yatron Koliana told RIA Novosti on Monday.
Koliana said the families face uncertainty in the war-torn country, which is caught in a conflict between the central government, various rebel groups, and IS. The latter has conquered significant territory in Syria and Iraq, and has heavily targeted religious minorities, including Christians.
The bishop said that displaced Assyrians have a desire to return to their communities, but that will depend on "strong countries that in one way or another affect the Syrian crisis."
"We very much hope that countries such as Russia and the United States will hear our call for help from their Christian brothers in the Middle East," he said.
On Thursday, IS captured the town of al-Qaryatain in the Homs district of western Syria, taking several Christian families hostage. The Syrian Observatory for Human Rights estimated that at least 230 people have been captured, among whom are both Christians and Muslims.
Diana Yaqco, a spokesperson for A Demand for Action, said in an interview with MailOnline that the captured Christians and other minorities might be facing the same grim fate that has fallen upon other IS prisoners.
"The main concern is sexual slavery, mass executions and beheadings," Yaqco said.
The Archdiocese of Homs, Hama and Environs said in a statement that 200 Christian families were released by IS, but close to 100 families remain captive.
"We received the displaced families in our archdiocese headquarter and gave them the basic and essential needs because they went out of their houses without taking anything with them, neither clothes nor properties. So, we are working on providing them clothing, housing and medication," the statement read.
IS had previously kidnapped 253 Assyrians in massive raids on 35 different villages along the Khabur River back in February, and the majority of those Christians remain in captivity.
An Assyrian Christian woman who was recently released by the terrorists revealed in an interview in July that when the jihadists initially stormed her home, they forced her to trample on an image of Jesus Christ at gunpoint.
"They stormed in the door, their faces not covered. They put a gun to my chest and threw an image of Christ hanging on the wall on the floor. They asked me to step on it. I had no choice. My daughters and grandchildren were there. They took all of us to the river," the woman said.