ISIS Forces Assyrian Christian Woman to Trample Jesus Christ's Image at Gunpoint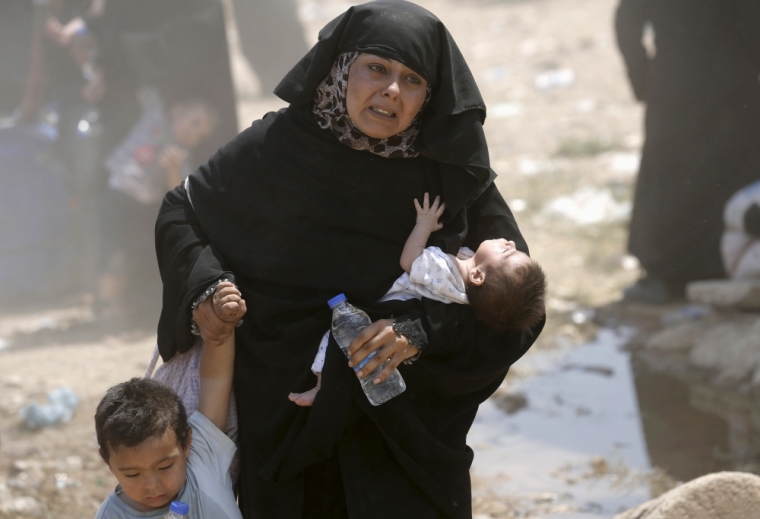 An Assyrian Christian woman who was kidnapped but recently released by the Islamic State terror group has revealed the jihadists stormed her home and forced her to trample on an image of Jesus Christ at gunpoint.
"They stormed in the door, their faces not covered. They put a gun to my chest and threw an image of Christ hanging on the wall on the floor. They asked me to step on it. I had no choice. My daughters and grandchildren were there. They took all of us to the river," the woman, whos name wasn't shared, told Al-Monitor in an interview posted on Thursday.
The woman was one of 253 Assyrians kidnapped by IS in a raid on 35 different villages along the Khabur River back in February.
Though the militants have released some of the captives, they are still holding over 200 Christians in bondage, and are demanding $100,000 each for their release.
The woman said that the rest of her family is still in the IS-held city of Shaddadeh, though she doesn't know what has happened to them.
She explained that IS took 85 people from her village of Tel Tamer alone, and that she saw her house burned down. The Assyrians were then thrown on a boat as they crossed the river, and then put on trucks to Shaddadeh.
"The first thing they did was to separate the men from the women. Children younger than 11 would stay with the women. From that moment on, we never saw the men and boys again. We were allowed, however, to send letters over to the men and receive theirs," she continued.
"They crammed all of us into a room with a single window. There was so little room we would take turns lying down to sleep. We would take turns by the window to breathe better."
She revealed that although she suffered great psychological fear while in captivity along with the other women and girls, they were not beaten or tortured, and escaped some of the horrific tales other captives have shared of their time in bondage.
Still, the woman said, "our lives were destroyed" by the kidnapping.
"I don't know why we were not beaten or worse, but I can tell you that for the entire time we lived in extreme fear. We were constantly threatened verbally," she said.
"They would say to us, 'We know everything about you. You speak and you are dead.' In our group no one accepted IS 'offer' to convert to be freed. But we knew that those who put up physical resistance from other villages were killed."
Western governments have been accused of not doing enough to help the Assyrian Christians, along with the other minorities being persecuted by IS across Iraq and Syria.
Nuri Kino, a worker with the A Demand for Action group, said back in June that Christians are massively being driven out of Syria, much like they are from Iraq.
"There is a gradual ethno-religious cleansing in the Middle East. It started in Iraq and has now come to Syria and we do not know when it will happen in other countries. There is an ongoing genocide in these countries," Kino said.
Jean-Clément Jeanbart, the Melkite Greek Catholic Archbishop of Aleppo, Syria, has also said that Christians are slowly dying in the war-torn country.
"What horrors must IS commit before the world will take greater action to stop the murderers?" Jeanbart asked in June. "Syrian Christians are in grave danger; we may disappear soon."