Over 25,000 People March in Protest of Garner Decision in NY; 2 Officers Injured, Taken to Hospital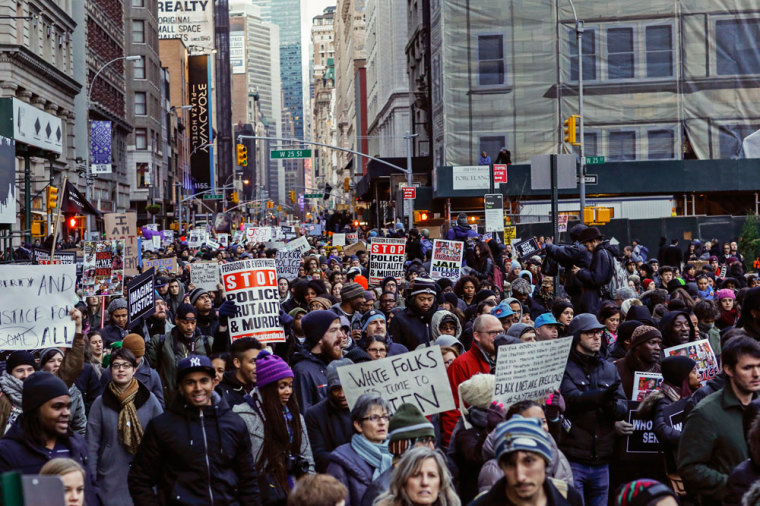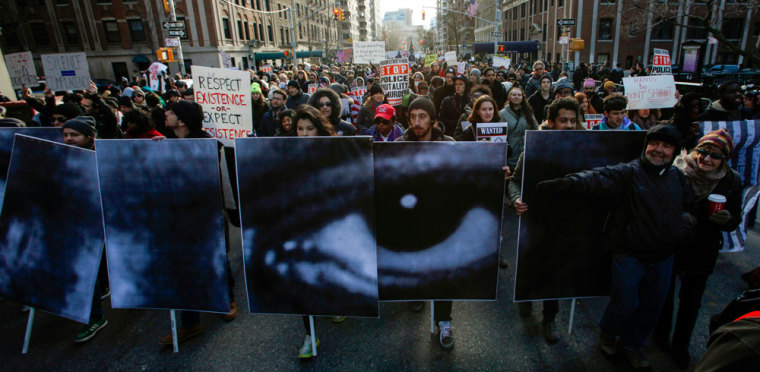 View Photos
Two officers were hospitalized as more than 25,000 people marched through Manhattan Saturday to protest a New York grand jury's recent decision not to indict a white police officer in the chokehold death of an unarmed black man, Eric Garner.
The officers were hospitalized after being assaulted by protesters on the Brooklyn Bridge, CBS News quoted Chief of Department James P. O'Neill as saying late Saturday night.
They were kicked in the face and head as they were trying to arrest a man attempting to throw a garbage can onto the roadway. The windows of a squad car were also smashed.
One person was arrested.
Police found a bag containing hammers and a black mask at the scene.
"We will not allow a small contingent of agitators to bring disorder and violence to these protests. Those who reject peaceful protest and provoke violence can expect immediate arrest and prosecution," New York Mayor Bill de Blasio was quoted as saying.
Marchers chanted "I can't breathe," the last words of Garner, and carried signs reading "Jail Killer Cops" and "Black Lives Matter." It was part of a national day of protest and accompanied the "Justice for All" march in Washington, D.C.
Traffic was closed for nearly an hour as protesters streamed onto Brooklyn Bridge Saturday night, NBC News reported.
Mayor de Blasio called the violence "ugly and unacceptable."
A nearly 3-minute video posted on YouTube earlier showed the encounter between Garner and New York Police Department officers. Garner could be seen screaming "I can't breathe, I can't breathe," repeatedly before falling silent as cops swarmed him when he refused to be handcuffed after expressing surprise that the officers were harassing him for trying to break up a fight.
Garner died in July while he was being arrested for selling untaxed cigarettes.
A second video showed Garner lying on the ground, completely still, for about seven minutes with police officers standing around him. They held him down although he appears to be unconscious. The officers also searched his pockets.
According to an autopsy report, Garner died due to compression to his neck caused by the chokehold, compression to his chest and "prone positioning during physical restraint by police."
On Dec. 3, the NY grand jury failed to charge the officer, Daniel Pantaleo – weeks after a Missouri grand jury also decided not to indict white Ferguson police officer Darren Wilson in the shooting death of a black teen, Michael Brown.
However, protesters said the Saturday's march was not just about the two incidents in New York and Ferguson, but also about the daily indignity of being confronted by the police for little to no reason, according to The New York Times.
"This is more of an everyday frustration that the violence seems to be escalating," Denise Mayer, 64, of Montclair, New Jersey, was quoted as saying. "It's beyond frustration. As an individual, what do I do?" she added as she held a poster of the Rev. Dr. Martin Luther King Jr.
Protesters had earlier given a list of demands to the media, saying that all officers involved must be fired, a special prosecutor should be appointed to investigate all complaints of excessive force and the state Legislature must make chokehold punishable by significant penalties.