Pakistan Christians Called to Protest Police Failure in Rape, Murder of Christian Girl
(Warning: Graphic image)
A group is calling for Christians in Pakistan to unite in protest against the apparent inaction and apathy of police and courts in the brutal murder of Tania Mariyam, a 12-year-old Christian schoolgirl whose body was found in January in a canal with strange froth in her mouth and ripped trousers.
Last month, police admitted that Mariyam did not take her own life by jumping into the Upper Chenab Canal on Jan. 23, as they had claimed earlier, but she was most likely raped and drugged before she was murdered. But little has been done to investigate the case thus far, according to the British Pakistani Christian Association.
"The police and courts of Pakistan have failed my beautiful daughter. Their delay may have destroyed any chance of proving she was poisoned," Mariyam's father, Nadeem Gill Father, said in a statement, according to BPCA. "Despite several attempts to obtain the last video footage of Mariyam alive from the Convent of Jesus and Mary School, I still have not seen it. The footage shows Tania getting into a vehicle with a stranger and they are thwarting our family form identifying the murderer."
In February, judicial magistrate Shagufta Sabir summoned the police and accused officers of failing to recognize "clear evidence" that went against the claim that Mariyam took her own life. Officers were ordered to initiate a murder investigation.
BPCA started an online petition, calling for "a judicial review of alleged willful police negligence and to demand the CCTV footage from the school of Tania Mariyam, which has never been released to her family."
"Though an autopsy was finally approved by legal order on 16th March, the family of Tania hold little hope that what remains of her body will reveal what toxins caused the frothing around her mouth," the group said. "It is believed that the irregular frothing of the mouth is a sign of the use of rape drugs."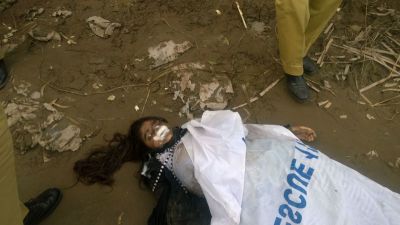 Earlier, BPCA Chairman Wilson Chowdhry told The Christian Post that pressure from Christians and international news media helped put a spotlight on the case in Pakistan.
"In a rare case of international media support for a Pakistani Christian persecution case we have seen over 250,000 hits on our website from people shocked at Pakistan's brutality to minorities," Chowdhry said. "This support, including 24,000 shares by concerned Christians, has led to the opening of a murder case. I am sure a turnaround like this should not be possible."
He warned, however, that the delays in the murder investigation could mean that some crucial evidence has been lost when it comes to the examination of Tania's body.
Gill said earlier, "There was a disgusting police cover up and I fear that they have colluded with the murderer and know more than they are letting on. They do not care about Christians. They have had two weeks to investigate and remain unable to find out any clue to resolve the murder."
"My daughter could have been killed by a student or teacher at the school but the school is refusing to provide the footage from the CCTV cameras to me."
The BCPA-led protest will be held April 1 at the Sialkot Press Club at 2 p.m. local time. After worship and prayer, a video biography of Tania's life will be shown and protesters will then march to her school.