Pakistan police arrest Christians as chief deflects blame for Muslim mob violence on 'foreign conspiracy'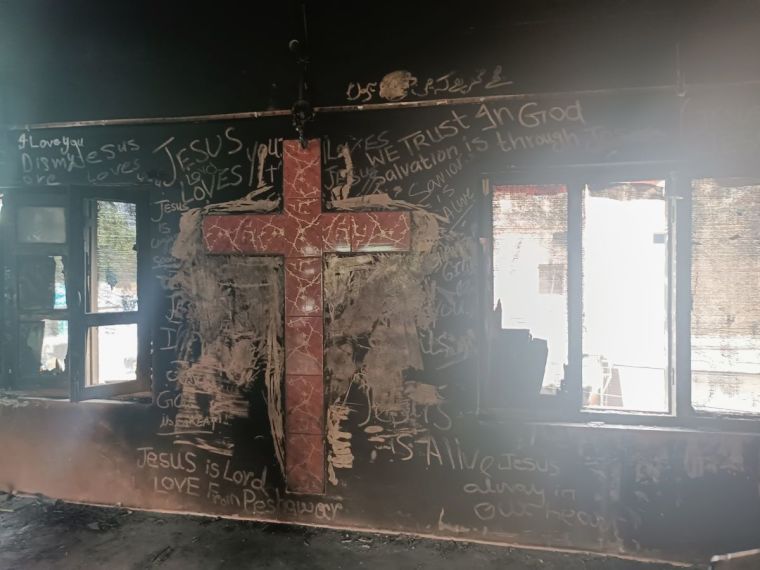 LAHORE, Pakistan — Church and rights leaders in Pakistan are demanding an investigation into anti-Christian rioting in Jaranwala amid illegal arrests of area Christians and a police claim of a "foreign conspiracy" to create religious strife, sources said.
Violent Muslim mobs incited by hard-line Islamist party Tehreek-e-Labbaik Pakistan (TLP) attacked churches and homes of Christian residents in Jaranwala tehsil in Faisalabad District after two Christian brothers were accused of blasphemy on Aug. 16. Multiple churches were set on fire and homes and businesses of Christians were ransacked for hours while police were silent spectators, triggering condemnation across the world.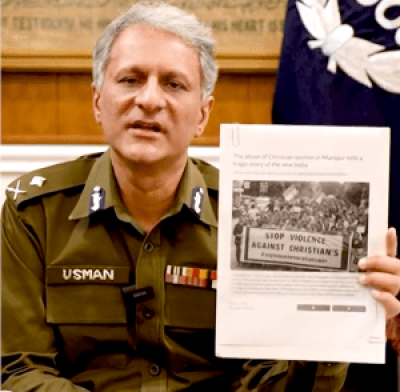 Punjab Police Inspector General (IG) Usman Anwar said at a press conference last week that the riots in Jaranwala and the desecration of a copy of the Quran in Sargodha on Aug. 19-20 were evidence of a conspiracy by officials in India to detract from that country's mistreatment of Christians. Church of Pakistan President Bishop Azad Marshall said the police chief's claim was "ludicrous" and an attempt to "bury the facts, as has been the past practice in all such incidents."
"Instead of investigating the underlying reasons for such attacks and addressing the root cause, i.e. misuse of the harsh blasphemy laws, the police are arresting and harassing innocent Christians and trying to cover up the truth behind the violent attacks in Jaranwala by blaming foreign intelligence," Marshall told Morning Star News.
He added that Anwar's statements insinuate that poor Christians are Indian spies, which he said is dangerous for the entire community.
The senior church leader said he had filed a petition in the Lahore High Court seeking the formation of a judicial commission to investigate all aspects of the attacks, justice for negligent police and district administration officials and measures to protect Christians from mob violence.
"The Jaranwala incident could have been prevented if appropriate steps were taken from the attacks in Shantinagar, Gojra and Joseph Colony, etc., but it seems our state apparatus isn't interested in addressing the root cause that leads to such senseless violence," he said.
Marshall also condemned the arrests of Christians in Jaranwala, saying police were trying to intimidate victims from filing charges against the rioters.
"We hope the Lahore High Court will admit our petition and form a judicial commission for a thorough and transparent investigation of the incident," Marshall told Morning Star News. "We do not trust the joint investigation teams formed by the government, as the police chief's press conference has laid bare the government's intention to sweep the facts under the rug. This attitude is unacceptable to Christians."
Akmal Bhatti, chairman of the Minorities Alliance Pakistan (MAP), also demanded a judicial inquiry into the incident, saying the international community witnessed how police remained passive as frenzied mobs looted Christians' possessions and set their homes ablaze.
"We reject and condemn IG Anwar's press conference," Bhatti told Morning Star News. "Our state needs to reevaluate its policies to eliminate religious extremism and address the sense of insecurity among minorities caused by such violent incidents. This 'foreign hand' narrative is a cliché used by the state to hide its own failures."
Anwar told reporters at the press conference that police had found evidence of a "foreign conspiracy" behind the Jaranwala rioting and two alleged desecrations of copies of the Quran on Aug. 19 and 20 in Sargodha, designed to divert attention from the ill-treatment of Christians in India.
"It transpired during the investigation that the two accused arrested in Sargodha had links to the hostile agency," Anwar said, apparently hinting at India's Research and Analysis Wing without naming it explicitly. "The hostile agency hatched a well thought-out and coordinated conspiracy to divert the attention from their country towards Pakistan."
As he spoke, Anwar waved a copy of a news item regarding mistreatment of Christian women in the Indian state of Manipur and a news report about a European Union resolution against injustices and violence against Muslims and other minorities in India.
"We have busted the anti-Pakistan network," Answar said. "Inshallah [If Allah wills], such incidents will not occur in the future."
The police inspector general said that officers had arrested 180 people suspected in the Jaranwala attacks, including three main suspects. He did not say, however, why Christians in Jaranwala were being arrested and whether they were suspected of being "Indian agents."
Illegal Arrests
The Rev. Khalid Mukhtar, priest of the Catholic church in Jaranwala, confirmed that more than 20 Christians had been taken into illegal custody by police this week.
"We have filed petitions in the high court for their release and managed to free 14 persons," Mukhtar told Morning Star News. "These people were related to the family of the two accused brothers as well as two other Christians whom the police are blaming for desecrating the Quran that led to mob attacks."
Mukhtar said that he also had received reports that police and local Muslims were intimidating Christians to keep them from testifying against the rioters.
"We are not being told anything about the investigation, nor have the police shared what progress they have made against the rioters and instigators," he told Morning Star News. "Instead, our people are being harassed without reason. We have raised this matter with senior police officials, and they have assured us of intervention."
The Human Rights Commission of Pakistan (HRCP) has reported that it suspected the Jaranwala rioters were not a "spontaneous or random crowd" but part of a "larger campaign of hatred against local Christians." In its fact-finding report of Aug. 25, the HRCP stated police officers in Jaranwala had confirmed that some "Muslim religious groups have raised issues that have created communal tension in the near past."
"The mission has also learned that several videos made during the attacks in different localities of Jaranwala are in circulation, showing members of a particular religious political party inciting the crowd to violence," the HRCP reported. "Other factors reported above indicate that there could be larger political and social motives behind the attack."
The fact-finding mission comprised HRCP chairperson Hina Jilani, Centre for Social Justice Executive Director Peter Jacob, Women's Action Forum senior member Neelam Hussain, and historian and rights activist Yaqoob Bangash.
According to the report, several witnesses stated that those who committed arson were not from the city but came from nearby villages.
"One person attested that a tractor trolley full of people as well as several persons on motorbikes had arrived from a village, transporting men who then burned down a church and houses, thus giving more credibility to the notion that the attack was premeditated," the HRCP reported.
The report highlighted that the HRCP mission's inspection of the fire damage pointed toward "planned arson and deliberate desecration of religious symbols," though the looting of homes may have been more opportunistic.
Pakistan ranked seventh on Open Doors' 2023 World Watch List of the most difficult places to be a Christian, up from eighth the previous year.
Morning Star News is the only independent news service focusing exclusively on the persecution of Christians. The nonprofit's mission is to provide complete, reliable, even-handed news in order to empower those in the free world to help persecuted Christians, and to encourage persecuted Christians by informing them that they are not alone in their suffering.