Bishops council calls for UN action against anti-Christian violence in India and Pakistan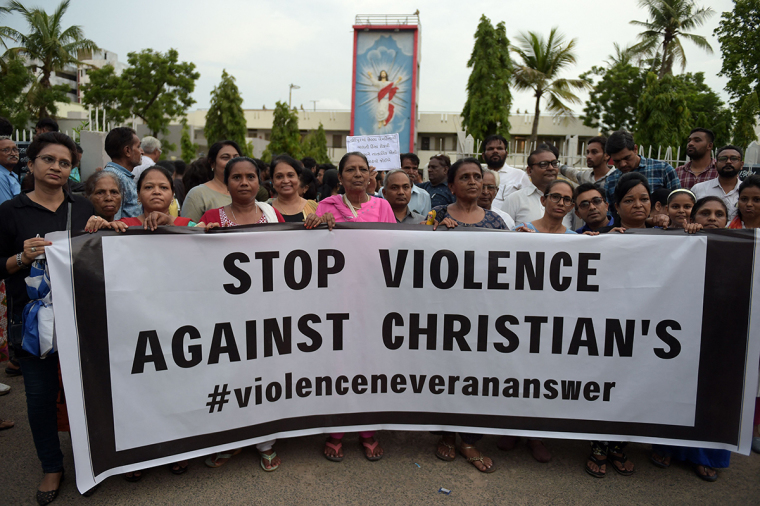 The Kerala Catholic Bishops Council in India has called for United Nations intervention amid escalating anti-Christian violence in Pakistan's Punjab province and Manipur state in northeast India. 
In Pakistan, mob attacks recently targeted over 80 Christian homes and 19 churches in Punjab Province's Jaranwala city. The attacks occurred on Aug. 16, following allegations of the desecration of a copy of the Quran, Islam's holy book. 
Catholic communities across Pakistan observed a Special Day of Prayer last week in solidarity with the victims.
The KCBC issued a statement urging the U.N. to intervene amid the recurring violence against Christians in both countries, Vatican News reported.
In India's Manipur state, ongoing sectarian violence has thus far claimed nearly 200 lives and displaced over 50,000 people in the last three months.
The violence primarily targets tribal ethnic Kuki-Zo Christians. Hundreds of churches and Christian institutions, including schools, and thousands of homes have been burned and destroyed by extremists belonging to the majority Meitei community, which is predominantly Hindu.
The Indian federal government has largely remained silent on the issue.
The KCBC noted in their statement that Christians are increasingly becoming targets of riots and mob attacks in both countries.
For India's Christians, 2021 was the "most violent year" in the country's history, with at least 486 violent incidents of Christian persecution reported that year, according to a report from the New Delhi-based United Christian Forum.
"In almost all incidents reported across India, vigilante mobs composed of religious extremists have been seen to either barge into a prayer gathering or round up individuals that they believe are involved in forcible religious conversions," said the UCF at the time.
The UCF attributed the high incidence of Christian persecution to "impunity," due to which "such mobs criminally threaten, physically assault people in prayer, before handing them over to the police on allegations of forcible conversions."
India recorded 400 incidents of targeted attacks against Christians in the first half of this year, the UCF said. In 2022, 274 were recorded during the same period. The report noted that most attacks were tied to false allegations of religious conversion, which is criminalized in several Indian states.
Christians comprise about 2.3% of India's 1.4 billion population and 1.5% in majority-Muslim Pakistan.
Religiously fueled violence is not new to Pakistan.
In the past, blasphemy allegations have led to mobs killing accused individuals, including a Sri Lankan man in 2019 and a group burning down about 60 homes, resulting in six deaths in Punjab in 2009.
Rights groups have long criticized Pakistan's blasphemy laws, citing their misuse for personal gains. According to the Centre for Social Justice, over 2,000 people have been accused since 1987, with at least 88 killed on such allegations.
This violence follows the recent passage of two bills in Pakistan's Legislature that have stirred concerns among Christian and civil society groups. The Criminal Laws (Amendment) Act 2023 increases punishment for blasphemy offenses, while the National Commission for Minorities Bill 2023 has been viewed as inadequate in safeguarding minority rights.
The ban against blasphemy, which carries no provision to punish a false accuser or a false witness, was expanded in the 1980s under military dictator General Zia-ul-Haq. According to The New York Times, the British government enacted the original laws in the late 19th century colonial era to keep people of different faiths from fighting each other.
In recent years, there have been several high-profile cases that have brought international attention to the issue.
"It is regrettable that the majority population in Pakistan is attacking the minority Christian community on the basis of unfounded accusations," KCBC spokesperson Fr. Jacob G. Palakkappilly said in a statement.
Fr. Palakkappilly warned that terrorist movements feed on sectarianism and communal polarization. "Through their hateful campaigns, they sow riots that force millions of people to flee because they feel unsafe," he said.
The KCBC's appeal came around the International Day Commemorating the Victims of Acts of Violence Based on Religion or Belief, observed annually on Aug. 22. The day was introduced by a U.N. General Assembly resolution in 2019 to support human rights related to freedom of religion.