Women paraded naked, villages burned and looted: Report lists assaults on Christians in Manipur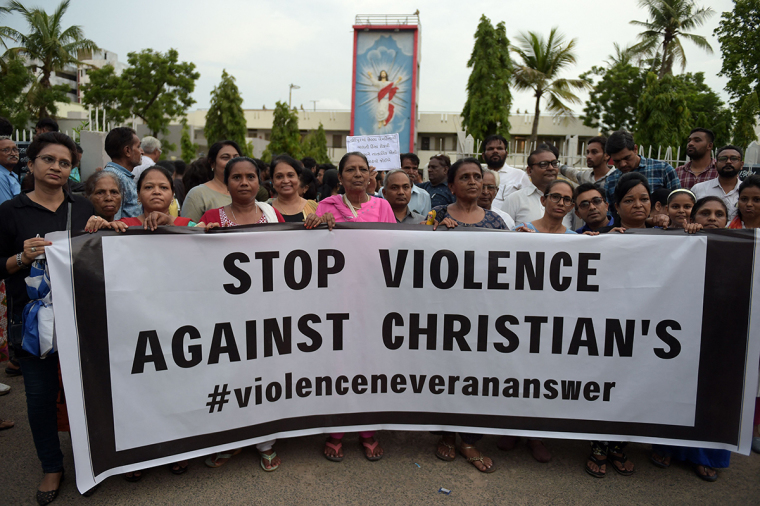 Days after a viral video showed Christian women being paraded naked and groped before one of them was gang-raped in public, drawing the world's attention to the ongoing violence in northeast India's Manipur state, a tribal organization has published a report listing several other physical and sexual attacks perpetrated against women. 
The Indigenous Tribal Leaders' Forum, a conglomerate of recognized tribes based in Churachandpur district of Manipur, has released a list of 12 additional attacks on women from the predominantly Christian Kuki-Zo tribal community. 
The report claims these incidents represent only a fraction of the abhorrent crimes committed against Kuki-Zo tribal women between May 3 and July 6.
The ethnic violence against Kuki-Zo tribes, allegedly by the region's largely Hindu Meiteis, began on May 3, and sporadic attacks continue today.
According to the ITLF, at least 129 Kuki-Zo people are confirmed dead, 292 villages have been burned, more than 4,550 houses have been burned or destroyed, and 357 churches and religious buildings have been destroyed or burned in Manipur since May 3.
The conflict was sparked by an order from the High Court of Manipur in April, which called on the state government to consider including the Meitei community in the scheduled tribe list. This potential move sparked fears among tribal groups, as it would allow the Meiteis to buy land in tribal areas.
On May 3, Mrs. Thangi Hmar's home in the Meitei-majority Imphal area served as a sanctuary for 22 tribal Christians from four households, including two individuals who were critically ill. A mob of about 100 people led by the radical groups Arambai Tenggol and Meitei Leepun arrived, threatening and looting before ordering them to leave.
Meanwhile, a woman, Thari Hmar, went missing. Her son, Sasang, returned to their home only to find her being brutally assaulted by the mob. As he sought to save his mother, he was shoved into a drain. The attack on her persisted until local women enabled a narrow escape. But their home was looted and burned, and their two dogs died.
On the same night, an under secretary with the Manipur government, Mrs. Gouzavung, and her family sought refuge at a relative's house. The next morning, they decided to head to a relief camp. En route, they were intercepted by a mob of 200 to 250 people. Despite showing her government ID, her pleas fell on deaf ears.
The mob set their car on fire and discovered their hiding place. Her son, Goulalsang, was brutally attacked on the road. Gouzavung's brave attempt to shield her son was met with cheers from the crowd. Both tragically lost their lives in this cruel onslaught. Gouzavung's daughter-in-law sustained severe injuries, while Kim, an aunt, her one-year-old grandson, and their cousin escaped via a car trunk.
On May 4, B. Phainom Village was ruthlessly attacked by the Meitei community, equipped with axes, knives and guns. The village was looted and set on fire. The Manipur Police saved a small group of villagers, only to hand them over to the mob. The mob first murdered the men from the group, then forced the women to walk naked and gang-raped them. Among the victims were a woman's father and her younger brother. Video of the incident surfaced online on July 26, triggering widespread outrage.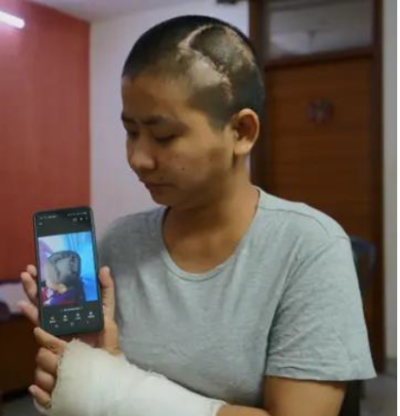 Also on May 4, Mrs. Chingthianniang's family was besieged by a mob of about 200 to 250 people while seeking refuge.
Her vehicle was wrecked, her husband and mother-in-law beaten, and she was separately assaulted, receiving hand, head and leg injuries. Forced to walk, she was mocked and threatened by the crowd.
As she reached a community hall, they dragged her back, continuously pushing and taunting her despite her injuries. Seeking help at the deputy commissioner's office gate, she was threatened with more violence. Sustaining severe head injuries, she was sent to a hospital's ICU, having undergone surgery for a fractured skull, brain blood clots and fractured fingers. The news of her husband and mother-in-law's death reached her only after her discharge from the hospital.
On the evening of May 4, a Meitei mob invaded the Nightingale Nursing Institute in the Porompat area, where Agnes and a fellow Kuki-Zo woman were studying. Identifying them through their identity cards, the mob dragged them out, following calls for their rape and murder by Meitei women, all based on a falsely attributed photograph that went viral at the time.
The students were brutally assaulted; Agnes lost three of her front teeth. After being left for dead at a hospital, Agnes regained consciousness at Jawaharlal Nehru Institute of Medical Sciences in Imphal and was later evacuated to the tribal-majority Churachandpur district with an Army escort.
The same day, another horrific event took place in the Uripok area, leading to the deaths of a Kuki-Zo mother and her two daughters, who have not been identified in the report. The assailants — Meitei militants and mob members — targeted defenseless victims. The violence was incited by false reports about Meitei women being assaulted in Churachandpur, based on a misattributed photo of a young girl killed in Delhi.
On May 5, two young Kuki-Zo women working at Gama Car Wash in the Konung Mamang area were forcibly confined in a locked room from 5 p.m. to 7 p.m. by a Meitei mob, including women. They were silenced, possibly subjected to rape, molestation and torture, which was suggested by the screams heard by co-workers outside. The room was found filled with victims' blood and hair after opening, pointing to the unimaginable brutality they endured.
On the night of May 5, Ms. Nianghoihching, a nurse at Lamka District Hospital, was shot dead in front of Venus Hotel by Meitei insurgents and Manipur Police Commandos accompanying an Army convoy. She, along with other unarmed youths, was questioning the evacuation of Meiteis from Lamka while Kuki-Zo people in Imphal were stranded. In the ensuing chaos, two other youths were killed, and over 10 others sustained bullet injuries.
On May 6, Thiandam Vaiphei, a 45-year-old widow from Kangpokpi district, suffered a heinous act of violence by the Arambai Tenggol, Meitei Leepun and Meitei insurgents, the report says. Her body was dismembered and set on fire. Pastor Thianna Vaiphei Suantak, along with local law enforcement, identified her remains.
On May 15, an 18-year-old Kuki-Zo survivor was abducted from an ATM in Imphal. She was then assaulted and subjected to inhumane treatment by Arambai Tenggol before she escaped with the help of a Muslim auto driver. Her medical examination confirmed rape and assault.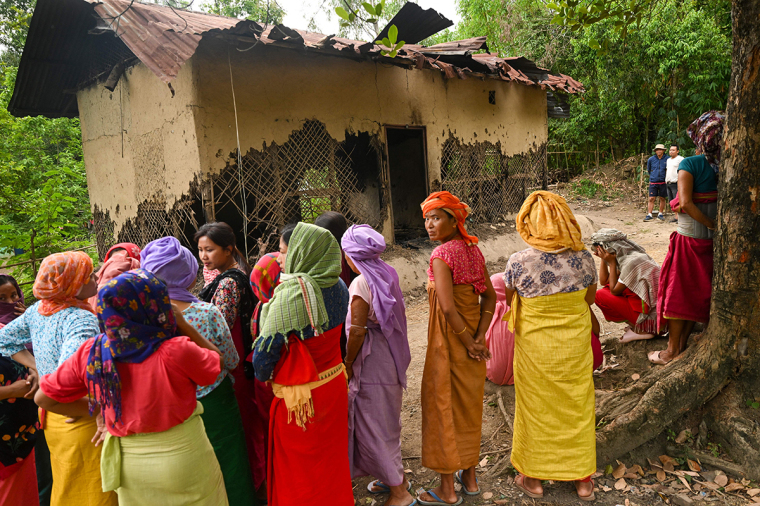 On June 4, Tonsing Hangshing, a 7-year-old boy, was gravely injured by Arambai Tenggol gunfire at a refugee camp in the Kangchup area. While en route to the hospital, a mob misled by rumors attacked the ambulance, leading to the tragic deaths of Tonsing, his mother and another relative.
On June 10, alleged Meitei separatists disguised as the Indian Reserve Battalion force arrived at Khoken Kuki Zo village, taking three innocent lives, including a 65-year-old woman.
On July 6, Donngaihching, a mentally ill Kuki-Zo woman, was brutally killed by Meitei "militants" in Imphal West district. A video clip showing her unattended body exposed the community's disregard for human life. These militants subsequently spread false propaganda, labeling Ms. Donngaihching as a spy and suicide bomber.
As the violence in Manipur continues, the Indian government led by Prime Minister Narendra Modi has faced increasing international and domestic pressure.
Modi's government will face a no-confidence vote in Parliament after a motion was filed by a lawmaker from the opposition Congress Party in response to the government's response in Manipur. Considering that Modi's Bharatiya Janata Party and its allies have a clear majority in Parliament, he is not likely to lose the vote. 
Earlier this month, the European Parliament passed a resolution urging the Indian government to urgently restore peace in northeast India's Manipur state amid the escalating tribal conflict as more than 50,000 people have been displaced. 
"There have been concerns about politically motivated, divisive policies promoting Hindu majoritarianism, and about an increase in activity by militant groups," the resolution states. There are also "accounts of partisan involvement by security forces in the killings have increased distrust in the authorities."
In response to the resolution, India's Ministry of External Affairs criticized the European Parliament, saying the issue was entirely an "internal matter."
"Such interference in India's internal affairs is unacceptable, and reflects a colonial mindset," said in a statement. "Indian authorities at all levels, including the judiciary, are seized of the situation in Manipur and are taking steps to maintain peace and harmony and law and order."