European Parliament calls for peace in Manipur; India accuses EU of having 'colonial mindset'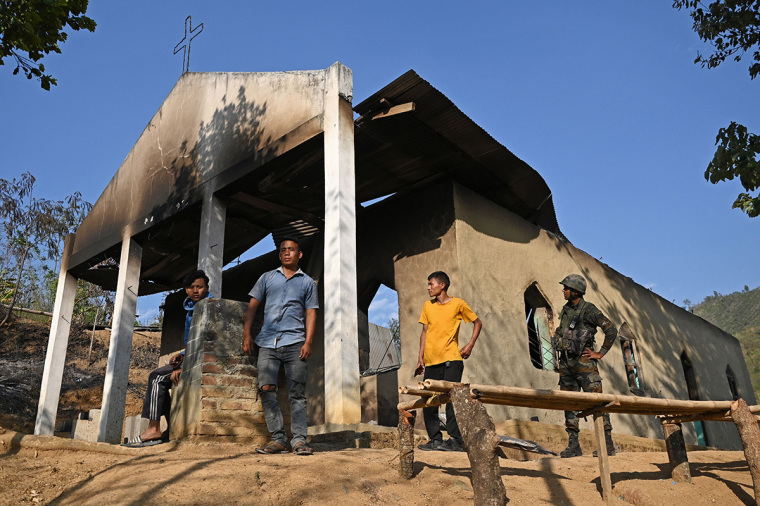 The European Parliament passed a resolution urging the Indian government to urgently restore peace in northeast India's Manipur state amid escalating tribal conflict, leading the Modi administration to accuse the international body of budding into "internal matters."
The resolution adopted Wednesday responds to an outbreak of violence in May, which has resulted in over 120 fatalities, the displacement of about 50,000 individuals as well as the destruction of over 1,700 houses and 250 churches. 
The clashes in Manipur erupted between the region's largely Hindu Meitei and largely Christian Kuki-Zo tribes, the human rights group ADF International said in a statement.
Kuki-Zo communities have accused two Meitei community organizations in Manipur's Imphal area, Arambai Tenggol and Meitei Leepun, of inciting this violence.
The resolution passed by a large majority in the European Parliament calls on the Indian government to combat the impunity of mobs inciting violence and take steps to curb such incidents in accordance with their international human rights obligations.
"There have been concerns about politically motivated, divisive policies promoting Hindu majoritarianism, and about an increase in activity by militant groups," the resolution states. There are also "accounts of partisan involvement by security forces in the killings have increased distrust in the authorities."
It adds, "Manipur's state government has imposed a curfew and issued shoot-on-sight orders to enforce it, and has shut down the internet, severely hindering information-gathering and reporting by the media and civil society groups."
The resolution calls on "all sides to exercise restraint and urges political leaders to cease inflammatory statements, re-establish trust and play an impartial role in mediating the tensions," denouncing "in the strongest terms any nationalistic rhetoric."
It further asks that "those who are critical of the government's conduct not be criminalised."
The Indian government responded to the resolution, saying it was entirely an "internal matter."
"Such interference in India's internal affairs is unacceptable, and reflects a colonial mindset," India's Ministry of External Affairs said in a statement.
"Indian authorities at all levels, including the judiciary, are seized of the situation in Manipur and are taking steps to maintain peace and harmony and law and order."
In an editorial, the Indian newspaper The Hindu wrote, "In an interconnected world, a government that seeks greater economic integration and promotes itself as the representative of a nation committed to democratic, liberal and plural values and the rule of law, cannot dismiss scrutiny by like-minded nations with which beneficial ties are sought."
"India's dismissal of the EU Parliament's resolution on the violence in Manipur as reflecting a colonial mindset and tantamount to interference in internal affairs, was therefore predictably petulant and in line with similar reactions to scrutiny by lawmakers in the United States, for instance," the editorial reads.
Adina Portaru, senior counsel for ADF International in Brussels, expressed her organization's support for the resolution, urging swift action to restore calm and facilitate inclusive dialogues involving civil society and the affected communities.
She highlighted the ongoing religious freedom crisis in India, specifically in Manipur, urging India to address not just the current situation, but also to repeal laws and policies that hinder religious freedom.
During a debate prior to the resolution, Miriam Lexmann and Ladislav Ilčić, members of the European Parliament, voiced their concerns about the state of religious minorities in India.
Lexmann pointed to organized attacks against Christians that have resulted in widespread destruction and shattered lives, while Ilčić emphasized that the European Union will not ignore violence or turn its back on persecuted Christians.
The conflict in Manipur, which took a deadly turn from May 3 to May 6, resulted in significant loss of life and property. The conflict was spurred by an order from the High Court of Manipur in April 2023, which called on the state government to consider including the Meitei community in the scheduled tribe list. This potential move sparked fears among tribal groups, as it would allow the Meiteis to buy land in tribal areas.
The minority of Meiteis who are Christian have also been targeted, with churches being prime targets for damage and destruction, ADF International said, adding that despite the deployment of the military a few days after the initial riots, violence continues on the ground, with aid organizations and volunteers providing much of the victim support.
A human rights lawyer allied with ADF International, whose name has been withheld for safety purposes, provided some insight into the extent of the religious targeting, explaining that mobs often selectively destroyed Christian properties.
The lawyer also emphasized their ongoing efforts to help stop the violence, protect religious institutions, and facilitate compensation for survivors.
Parliament speakers Sven Simon and Bert-Jan Ruissen called for the Indian government to restore order, bring perpetrators to justice, and uphold religious freedom, with Ruissen indicating that a new trade agreement with India would not be possible without guarantees in these areas.
Federation of Indian American Christian Organizations President Koshy George and Chairman John Prabudoss echoed this sentiment, applauding the European Parliament's public response and asserting the importance of international attention to the ongoing crisis in Manipur.
FIACONA also voiced concerns over the increasing persecution of Christians in India, linking the rise in violence to laws at local, state and national levels that are discriminatory towards religious minorities.
FIACONA's Annual Report 2023 highlighted 1,198 confirmed and verified incidents of violence against the Christian community across India in 2022, which were reportedly carried out by groups affiliated with the Hindu nationalist Bharatiya Janata Party, and its parent organization, the Rashtriya Swayamsevak Sangh.