Pakistani Christians Are 'Not Being Targeted by Blasphemy Laws,' Gov't Official Claims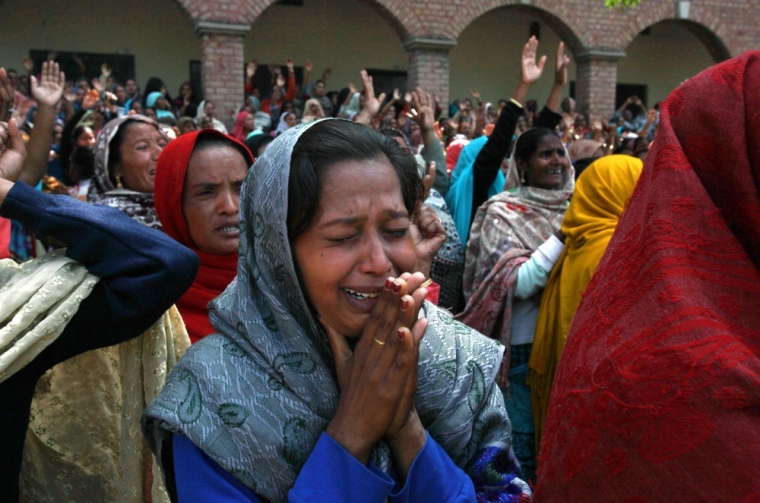 Some members of the Pakistani government are saying they don't believe Christian minorities are being targeted by the country's controversial blasphemy laws despite numerous instances of Christians being beaten, lynched, and even burned alive in mob attacks. 
As the British Pakistani Christian Association reported, Interior Minister of Pakistan Chaudhry Nisar Ali Khan recently denied that religious minorities are suffering because of the blasphemy laws, which seek to punish those deemed to have committed an offense against the Islamic faith.
"The facts and figures reveal that in most blasphemy cases the accused were Muslims," Khan reportedly said, pointing to Senate House Data that looked at 129 cases of blasphemy, 99 of which were registered against other Muslims.
"These facts point toward the fact that religious minorities are not being embroiled in blasphemy cases more than Muslims," Khan argued.
"In essence, religious minorities are not being targeted by the blasphemy laws."
Wilson Chowdhry, chairman of the BPCA, countered that government officials are twisting statistics and ignoring that religious minorities, such as Christians, are indeed being targeted by such laws.
"Sadly, Mr Khan's comments, even when taken at face value, suggest that minority persecution is way above the expected values for such a small percentile of Pakistan's population," Chowdhry said.
"His contrived results have failed to recognize that Christians in recent years have become the number one target of blasphemy allegations. It is our belief that a large proportion of the 26 percent of blasphemy convictions listed against minorities will have sentenced Christians, yet we contribute only 1.6 percent of the entire national population," he pointed out.
BPCA also criticized government proposals that it warned could lead to charges being dropped against Muslims, and only look to penalize minorities.
Several different persecution watchdog groups have pointed out that Christians are often heavily targeted by blasphemy laws. One of the most prominent cases has been the imprisonment of Christian mother of five Asia Bibi, who for seven years has been on death row for allegedly insulting the Islamic prophet Muhammad, though she has denied the charge.
On Saturday, a court in Pakistan acquitted all 115 suspects who in 2013 burned 150 houses belonging to Christians, again over alleged blasphemy against the Islamic prophet.
One of the most violent incidents remains the burning alive of a Christian couple in 2014 who were falsely accused of desecrating a copy of the Quran. Shahzad Masih, 26, and his 24-year-old, five months-pregnant wife, Shama, were attacked by a mob of hundreds of Muslims and were beaten, and burned to death inside a brick kiln.
Five men were sentenced to death over the killings, providing some level of justice for the family of the victims, though dozens of others suspected to also have been involved in the crime were acquitted.
In January, Open Doors USA named Pakistan among the top 21 countries in the wold where it said 100 percent of Christians experience persecution.
What is more, looking at the number of incidents where Christian girls and women were kidnapped, raped and forced into Islamic marriage, persecution watchdog group found that "Pakistan had the most overall violence against Christians" in 2016.
"Cities have been burned to the ground, people have been roasted alive, girls are increasingly being raped and forced into Islamic marriage in attempts by Muslims to gain a special place in Heaven through proselytizing in this manner," Chowdhry told The Christian Post in a previous interview.