Paramilitaries Kill Two Student Protesters During Nicaragua Church Siege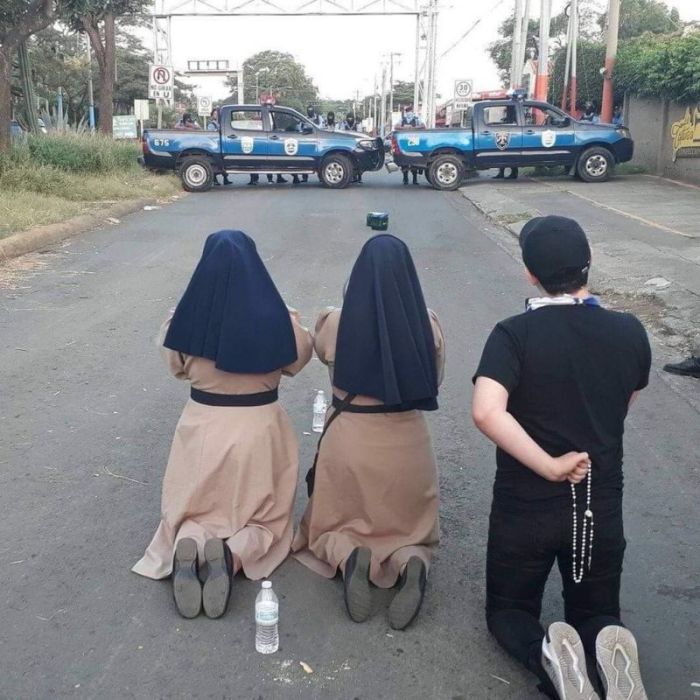 Pro-government gunmen killed two students and injured dozens more before over 200 students and others from the National Autonomous University of Nicaragua protesting against President Daniel Ortega were freed from a besieged church in the Central American country.
About 200 university students, priests and journalists were freed from the besieged Church of Jesus of the Divine Mercy in the capital Managua on Saturday after top Catholic clergy negotiated their release, according to The Associated Press.
The students had occupied the university for two months in protest against the government, and on Friday plainclothes gunmen, or paramilitaries as they are locally known, along with police, forced the students out of the university and holed them in the small church compound for more than 12 hours Friday night.
"It was a really hard night. They discharged their entire heavy arsenal against stones and mortars," an anonymous young man was quoted as saying. "They wanted to kill us all."
Cardinal Leopoldo José Brenes Solórzano, the archbishop of Managua, has confirmed the death of two students, according to The New York Times. "We have said many times, not one more death," he was quoted as saying. "These two deaths hurt."
One of the slain students was identified as a 20-year-old construction student, Gerald Vazquez. The second person who died has not yet been identified, according to Al Jazeera.
Kevin Ryan, a child advocate who leads the Covenant House charity that serves homeless and trafficked children and youth in the Americas, posted on Twitter a picture of nuns kneeling down before police.
"As Nicaraguan paramilitaries fired at a church filled with unarmed priests, students & journalists, ordinary men & women dropped to their knees, pleading to end the violence," he wrote. "This is what light looks like in darkness. It's rising up, kneeling down, praying, marching, persisting."
Protests across the country have been going on for around three months, demanding democratic reforms and that President Daniel Ortega and his wife, Vice President Rosario Murillo, step down as they have allegedly established a dictatorship marked by nepotism and brutal repression.
Over 300 people have been killed since the protests started in April, and the vast majority of them are civilians, according to The Washington Post.
"They are shooting at a church," the Rev. Erick Alvarado Cole, a priest inside the church, was quoted as saying during the siege. "The government says it respects human rights. Is this respecting human rights?"