Parenting Humbles, Humiliates and Crucifies Us: Southern Baptist Leader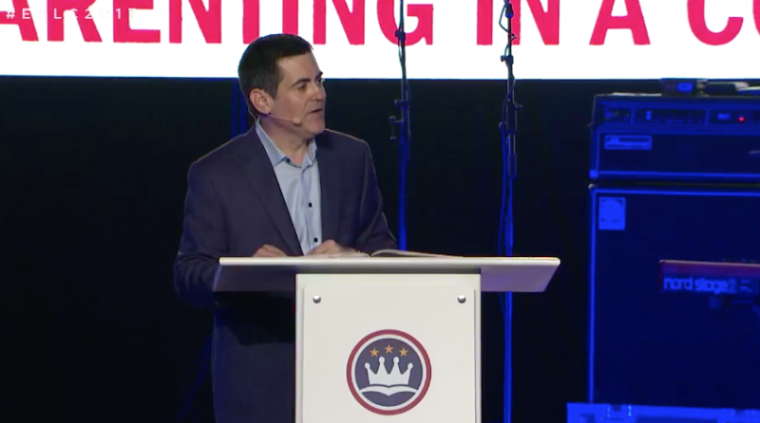 Parenting is "a cross" that will "humble" and "humiliate" you, and the family is the picture of spiritual warfare — one that teaches people to depend on God, said Southern Baptist Russell Moore.
Gathered before 1,300 people in Nashville at the Opryland Hotel for the Ethics & Religious Liberty Commission's conference on Christ-centered parenting, Moore cast a Christocentric theological vision for family life and parenting. He prefaced this with a reading of the gospel account of Jesus' trial and crucifixion.
In an age when people send Christmas letters and publicize their affairs — usually only the positive highlights — on social media, life can seem lonely and harsh, the ERLC president explained.
"In our culture, parenting is about winning and displaying, it's about making sure that people recognize that we are good people and we are doing the right thing with our children, that we're responsible. And we also have this sense that there's something awry with our family, we're afraid that people are going to judge us," Moore said.
In the scary moments of parenting, parents sometime ignore the hard realities and they "smile [their] way through it," he added.
Parenting has never not been difficult, Moore noted. It is a challenge that transcends time and space.
A friend of Moore's told him that he knew parenting would be "humbling" but had no idea it would be "humiliating."
"Anybody who has been a parent for very long will soon recognize just how humiliating parenting is going to be," Moore said.
"Family is not just biological. Family is spiritual warfare. In the family we see a picture, a flash of something that is true about the way that God designed the universe, about what it means to be dependent on God as a father and what it means to be connected to one another and to belong to one another," he said, noting that is the reason why the stakes are so high.
Lest anyone think the Bible is the guidebook for how to have a perfectly put-together family unit, it actually proves the opposite as the text is full of dysfunctional ones, he noted.
But Scripture does have a lot to say about the scary realities of parenting.
"The Bible tells us that we are in Enemy-occupied territory. We are in the middle of a war zone and the powers out there rage against the picture of the gospel that is found in the family," Moore explained.
The conflict is a cosmic struggle that is not new, going back to the Fall of man in Genesis.
The church plays an indispensable role in parenting because it is an extended family.
"We need each other and we cannot be godly parents to our children if we are not brothers and sisters," Moore said.
But something has gone terribly wrong in the church at large, he noted. He recounted a story of a woman in a church who asked him to pray for her daughter, who had gone off to college and had told them she had become an atheist. She had whispered her request because she was afraid others would hear and she was ashamed and others would think "there's the lady with the atheist daughter."
If parenting were easy, we could do it on our own, he said.
"Parenting humbles us, parenting humiliates us, parenting crucifies us. That's because parenting is one of the ways that God gets us small enough to fight the sort of battle that can't be won by horses and chariots but only by the Spirit of God."
The ERLC, the policy arm of the Southern Baptist Convention, has created a parenting curriculum with LifeWay designed to help parents navigate the tough questions appearing in culture. Its Christ-centered parenting conference, which concludes Saturday, is being streamed live on Facebook and its website.