Paris Killers Labeled Pretend Muslims by Brother of Slain Officer; 'They Are Terrorists, That's It'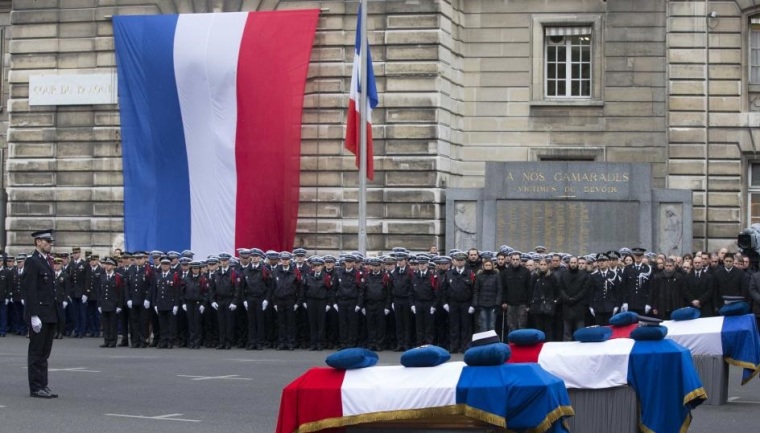 The brother of murdered police officer Ahmed Merabet, who was shot dead by terrorists who attacked the Charlie Hebdo offices in Paris has spoken out and denounced the killers as "pretend" Muslims.
"My brother was Muslim and he was killed by people who pretend to be Muslims," Malek Merabet told the Huffington Post. "They are terrorists, that's it. Islam is a religion of peace and love. As far as my brother's death is concerned it was a waste. He was very proud of the name Ahmed Merabet, proud to represent the police and of defending the values of the Republic—liberty, equality, fraternity."
Ahmed's lifeless body was shown on TV screens across the world as the Kouachi brothers continued their deadly assault. He was reportedly injured and then murdered by Cherif and Said as they moved towards the Charlie Hebdo offices in order to "avenge the Prophet." The two were reportedly upset at the way images of the Prophet had been portrayed in the satirical paper. They were able to elude police and hide in the woods before emerging, taking a woman hostage, and eventually holing up in a print manufacturing building. The standoff came to an end when they came out of the building and fired at police; police fired back, killing the brothers.
"I address myself now to all the racists, Islamophobes and anti-Semites," Malek continued. "One must not confuse extremists with Muslims. Mad people have neither color nor religion. I want to make another point: don't tar everybody with the same brush, don't burn mosques—or synagogues. You are attacking people. It won't bring our dead back and it won't appease the families."
The alleged Islamist mentor of the Kouachi brothers has also spoken out and condemned the attack, stating that "Islam deplores all that was done without exception."
"I'm here to say that all of this should not be attributed to Islam," Farid Benyettou told i-Tele. "If you are murderers, that's your business, do not believe that Islam will legitimize your actions … on the contrary."