Pastor Jamal Bryant Says Instagram Deleted His Call to Boycott H&M for Not 'Promoting Harmony'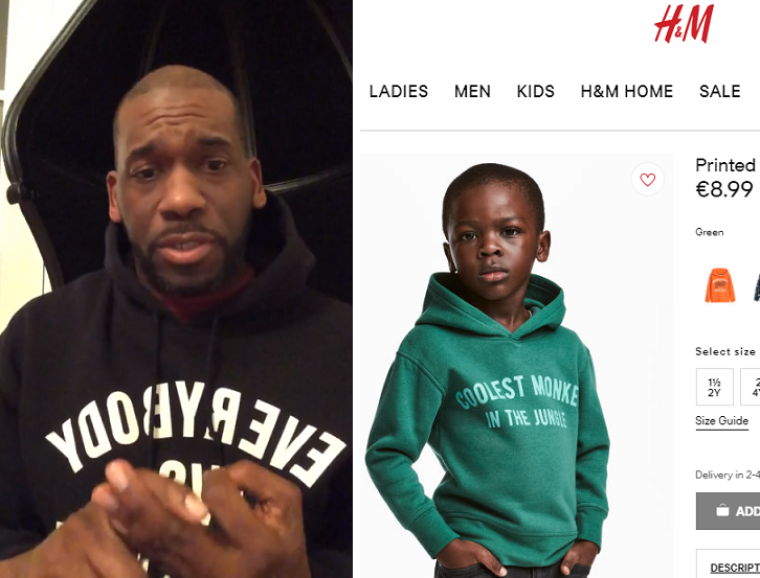 Pastor Jamal Bryant says the Facebook owned photo-sharing application Instagram deleted a post he shared last week calling on his supporters to boycott Swedish clothing retail giant H&M over racist advertising and chided him for not "promoting harmony."
The Empowerment Temple church leader and social activist said he was reacting, like many others on social media including NBA star LeBron James and singer Abel Makkonen Tesfaye, popularly known as "the Weeknd," who took umbrage to the use of a black boy to model a sweatshirt with the slogan "Coolest monkey in the jungle" that was featured on the company's U.K. website.
"I immediately at 6 o'clock this morning (Jan. 8) en route to the gym, posted on Instagram. That every person who is of conscience no matter what your color, should in fact be boycotting H&M because they do not appreciate our dollars and don't understand our depth and don't think highly enough of us to put us on their board of directors. #boycottH&M," Bryant said in a video posted to his Facebook page.
"Within an hour 4,000 had agreed with that post and at that same moment I'm flagged from Instagram with a note saying, 'We have taken the liberty to delete your post because it does not promote harmony,'" he said.
Bryant said of all the offensive things he has seen posted about the black community online which could have been treated as offensive, he was shocked that his stand against racially insensitive advertising was deleted.
"I'm posting about black dollars, no harmony, but it's OK if in fact you post anything barely naked. It doesn't matter if in fact you've got black men putting on blonde wigs under the banner of comedy. It doesn't matter if in fact you're using vulgar expletives or if it's a video of our people fighting. None of those are deleted. But if I call our people to be mindful of where they spend, how they invest, and what they purchase, it's flagged?" he asked.
"I said alright. You shouldn't have sent me a note saying you were gonna do it. So I don't know how long this video will last before it's pulled down," he added before encouraging people to share his message to boycott the retailer.
His message has since been viewed by nearly 800,000 times.
The Christian Post reached out to Instagram on Wednesday to find out why Bryant's post was deleted but a response was not received by press time.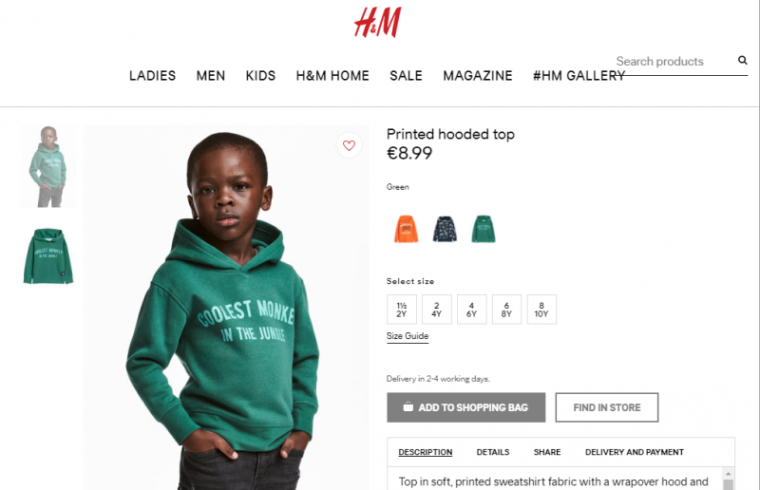 Since the furor over the advertisement H&M has apologized, calling it a "mistake."
"We understand that many people are upset about the image. We, who work at H&M, can only agree," the company told The Washington Post. "We are deeply sorry that the picture was taken, and we also regret the actual print. Therefore, we have not only removed the image from our channels, but also the garment from our product offering globally.
"It is obvious that our routines have not been followed properly. This is without any doubt. We will thoroughly investigate why this happened to prevent this type of mistake from happening again."
On Saturday, the company was forced to close all their stores in South Africa after unrest erupted in that country over the advertisement.
On Tuesday, H&M announced that the company had appointed a "global leader" in addressing diversity and inclusiveness.
"Our commitment to addressing diversity and inclusiveness is genuine, and therefore we have appointed a global leader in this area to drive our work forward. There will be more from us soon," the company said, reiterating how sorry it was for the advertisement.
After highlighting a bit of H&M's history for his supporters, however, Bryant said the company's apology wasn't enough and urged black consumers to support black designers and retailers.
"I want to charge you, I want to challenge you. Don't walk away from H&M just for today. Shut the door. Save your apology H&M. The reason why it is that you are able to do it with clear conscience is that you are developing, you are manufacturing, you are warehousing, you are shipping all at the hands of black people but on your board of 12, you have not one minority sitting on your board," he said.