Pastor John Hagee: Evangelicals Flooded to Vote for Donald Trump Because He Supports Israel (Watch)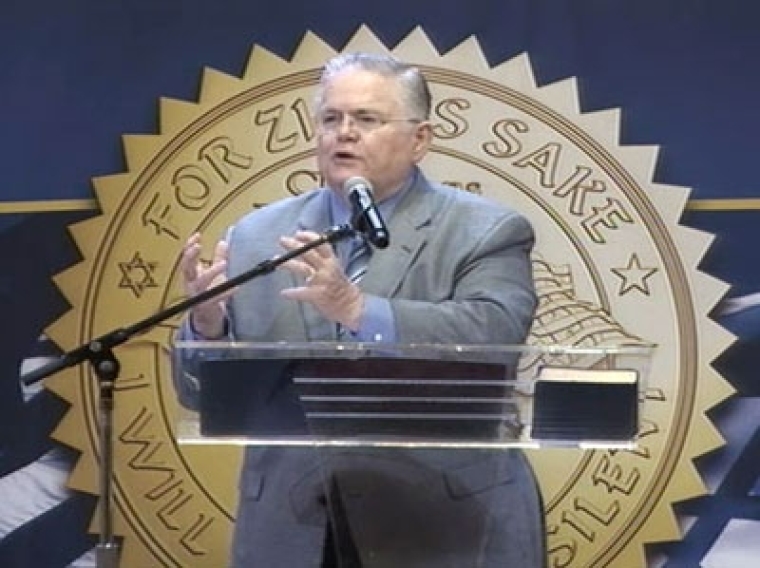 Evangelical preacher and long-time Israel supporter Pastor John Hagee says President-elect Donald Trump won the election because of his support for the Jewish state.
"I have been asked 101 times plus, 'Why do you think Donald Trump won?' and I have an immediate answer: 'Because he was the only one that was blessing Israel,'" Hagee, the founder and senior pastor of Cornerstone Church, said in a video posted to his Facebook page.
Hagee is the founding chairman of Christians United for Israel, a grassroots organization which claims to have 3.3 million members, and says they were all waiting for a presidential candidate that would stand with Israel.
"The evangelicals flooded the voting booths this time like in no time in our history," the Texas native said in the video.
He then proceeded to play 3 minutes of snippets of a speech Trump gave during his election campaign in which he shares his full support for Israel.
"I speak to you today as a lifelong supporter and true friend of Israel," Trump is heard saying. "I'm a newcomer to politics but not to backing the Jewish State."
As the video progressed Trump talked about the United States and where it stands on its commitment to protect Israel.
"I came here to speak to you about where I stand on the future of American relations with our strategic ally, our unbreakable friendship and our cultural brother, the only democracy in the Middle East, the state of Israel," he said.
In the clip Trump maintained, "The United Nations is not a friend of democracy.  It's not a friend to freedom.  It's not a friend even to the United States and it surely is not a friend to Israel."
The real-estate-mogul-turned-politician went on to say, "When I'm President, believe me, I will veto any attempt by the U.N. to impose its will on the Jewish state.  It will be vetoed 100%... When I become president the days of treating Israel like a second-class citizen will end on day one."
Trump also talked about his longtime friendship with the Prime Minister of Israel, Benjamin Netanyahu, and said he wants to bring peace and stability to Israel and the surrounding region.
"Palestinians must come to the table knowing that the bond between the U.S. and Israel is unbreakable... and knowing that Israel is a Jewish state and it will forever exist as a Jewish state," he added.
Hagee captioned the video by highlighting one of Trump's quotes mentioned in the 3 minute recap.
"You cannot achieve peace if terrorists are treated as martyrs. Glorifying terrorists is a tremendous barrier to peace...When the United States stands with Israel, the chances of peace rise exponentially." — President Elect Donald Trump #PrayforTrump," he wrote.