Pastor Matthew Hagee's #JesusOverOscar Tweet Responsible for 'Son of God' Movie's 1st-Place Finish at Box Office Sunday?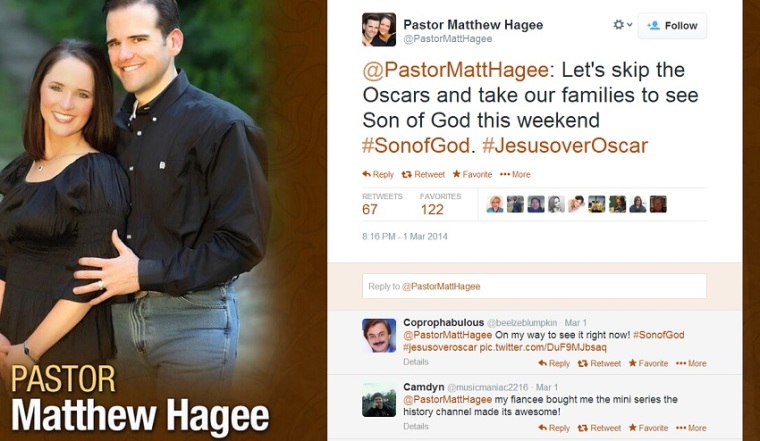 A campaign by Pastor Matthew Hagee to steer people away from watching the Oscars on TV and encourage them to see "Son of God" was largely responsible for a first place finish at the box office on Sunday, according to a Hollywood insider, even though the movie placed second behind "Non-Stop" for total ticket sales over the weekend.
Hagee, who partners with his father, Pastor John Hagee, to lead the 19,000-member Cornerstone Church in San Antonio, Texas, took to Twitter on Saturday evening to express his sentiments about how families should be spending their Sunday evening.
"Let's skip the Oscars and take our families to see Son of God this weekend #SonofGod. #JesusoverOscar," Hagee (@PastorMattHagee) tweeted.
"Son of God" took in $25,601,865 over the weekend (Friday through Sunday) while "Non-Stop," a "suspense thriller played out at 40,000 feet in the air," grossed $28,875,635, according to Box Office Mojo. However, "Son of God" was the box office winner for Sunday-only ticket sales, taking in nearly $6.8 million while "Non-Stop" garnered just over $6.4 million. "The Lego Movie" placed third in ticket sales over the weekend.
A source inside the Hollywood film industry told The Christian Post that Hagee's tweet along with the use of social media by others with a similar message played a major role in the Sunday box office win for "Son of God."
"Hagee's and other campaigns on social media to suggest that people watch 'Son of God' instead of the Oscars had an impact on the box office numbers on Sunday," the source told CP.
Hagee's influence includes his teachings being telecast worldwide through John Hagee Ministries. He is "fervently committed to preaching all the Gospel to all the world and to every generation," according to a biography summary on his website.
Cornerstone Church participated along with perhaps dozens of megachurches nationwide in what were billed as movie theater takeovers last Thursday for special screenings of "Son of God" before opening day on Friday. Churches rented out or bought out screens at multiplex theaters in order to offer screenings of the movie as a method of Christian outreach into the communities.
"We have such a visual generation," Hagee said during the taping of a video about his church's theater takeover. "People don't really understand something until they see it. One of the most important things, if not the most important thing that they will ever understand is who Jesus Christ was and what the message of the Gospel is. So for them to be able to see that Jesus Christ gave His life that they might be redeemed is a very important thing that the whole world needs to understand and see."