Pastor Says 'Prayer Doesn't Work' Atheist Billboards Will Awaken 'Pre-Christians'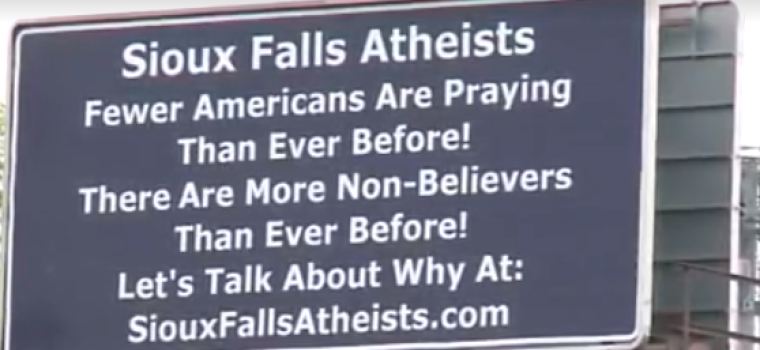 A pastor in Sioux Falls, South Dakota, believes controversial atheist billboards placed around the city might actually benefit Christianity, as they will speak to "pre-Christians" awaiting a spiritual awakening.
Pastor Jeff Hayes of Faith Temple Church responded to 20 atheist-themed billboards in his city that display messages such as "God didn't create man" and "prayer doesn't work," by telling local news station KOTA-TV that atheists who criticize religion might just be "pre-Christian people" who need prayer to experience a personal spiritual awakening.
"I think it's good for Christians to have a reaction and we can be negative toward the Free Thinkers but I think we should just pray for them and just believe that, wow if there is a God, is He big enough to reveal Himself to them," Hayes added.
The billboards were erected by Dale Hemming, founder of the local Sioux Falls Free Thinkers and Sioux Falls Atheists groups.
Hemming told KDLT-TV that he hopes his billboards, which he funded himself, will make people stop and think about their religion more frequently.
"I really want people to start to think about this stuff," he told the local media outlet, "just parroting what you've been taught as a child is not a very good way to go through life. You have to go beyond what you were told at 6-years-old."
This is not the first time Hemming has erected billboards in the Sioux Falls area. As KSFY-TV reports, the atheist leader put up 13 billboards in 2015 with messages that included: "creationism, intelligent design, and earth is only 6,000 years old are all total nonsense!"
Hemming's goal for the billboards was the same in 2015 as it is now, with him telling KSFY-TV at the time: "People are definitely reading them and seeing the information I'm putting out there and that's my objective, to provide this information they probably won't get out of the newspapers or their normal conversations with people."
Another atheist group, the Tri-State Freethinkers, were recently barred from having their controversial billboards adorn highways in Grant County, Kentucky.
The billboards were meant to protest The Ark Encounter, an interactive, biblical-themed park set to open this July.
Jim Helton, president of the Tri-State Freethinkers, told the Courier-Journal that although his group has raised $10,000 for the billboards, it cannot find a company willing to erect the messages, which equate the story of Noah's Ark to genocide and incest.
"We have $10,000 and we cannot find any billboard company in Kentucky to take our money," Helton told the local media outlet. "Anybody."
The group had originally secured a billboard company from Cincinnati, Ohio, to place the signs in the county, but after the plan gained national media attention, the business dropped the project.
The atheist group also failed to convince a mobile billboard truck to display the controversial messages, with the truck's owner telling the Courier-Journal that he was concerned about his safety.