Pastor Resigns From Utah Boys Scouts Board Charging New Membership Policy Endorses Sin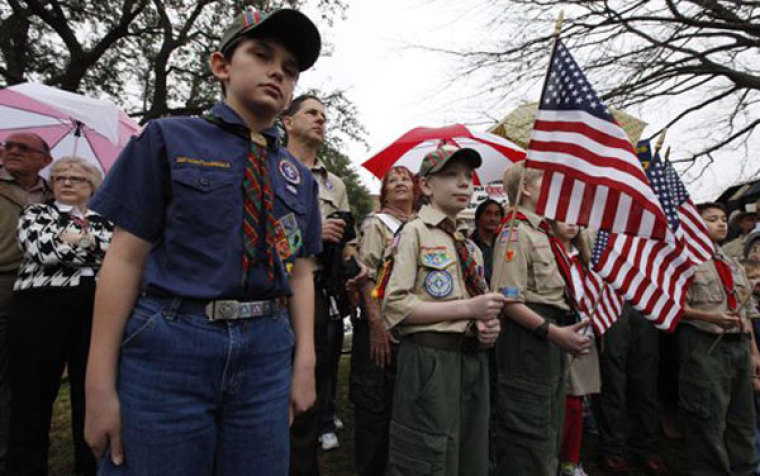 Neal Humphrey, pastor of the Westminster Presbyterian Church in north Utah, recently resigned as a member of the executive board of the Trapper Trails Council, charging that the Boy Scouts' new membership policy excludes evangelical churches and other Christian denominations.
On May 23, after a controversial challenge, 1,400 delegates of the 103-year-old Boy Scouts of America voted overwhelmingly to lift a longstanding ban on homosexual youth in the organization.
"They are asking us to endorse something that the Bible says is sin…And we will not follow the Scouts in endorsing sin," said pastor Humphrey in one report which noted that he delivered his resignation in a letter to Trapper Trails Executive Allen Endicott.
In the letter, Humphrey explained his church's disagreement with the Boy Scouts' membership policy change. He also highlighted that his church would continue operating a Cub Scouts group under the old membership policy.
"Westminster Church, a charter organization within Trapper Trails, informs you that we will not follow BSA, Trapper Trails Council, nor Mormons in endorsing what Scripture and the Church of Jesus Christ through the ages has defined as sin," said Humphrey in the letter. "While we will continue for now as a charter organization, we will not comply with the new policy."
Shortly after the BSA voted to lift its ban on homosexual youth in May, the Church of Jesus Christ of Latter-day Saints supported the move in a statement.
"Sexual orientation has not previously been – and is not now – a disqualifying factor for boys who want to join Latter-day Saint Scout troops. Willingness to abide by standards of behavior continues to be our compelling interest," it read.
"These standards are outlined in the booklet For the Strength of Youth and include abstinence from sexual relationships. We remain firmly committed to upholding these standards and to protecting and strengthening boys and young men."
Humphrey also noted that it would only be a matter of time before gay adults began participating in the BSA as well.
"The LGBT community has already said it — it's going to be the next logical step," he said.
On Wednesday, Endicott told The Christian Post that he respected Humphrey's decision.
"We respect Rev. Humphrey's decision. We also respect the deeply held religious beliefs of all of our members. We're finding that when people read the new policy they see it is reflective of the beliefs of most of Scouting's major religious chartered organizations," said Endicott in a prepared statement.
"This policy reaffirms that doing ones 'duty to God' is absolutely firm and one of the fundamental principles of Scouting and states that sexual conduct by any Scout, heterosexual or homosexual, is contrary to the virtues of Scouting."
"Further, it states that while no youth may be denied membership in the Boy Scouts of America on the basis of stating their sexual orientation alone, Scouting expects appropriate behavior from all members. While people have different opinions about this policy, we can all agree that youth are better off when they are in Scouting," he added.