Rick Warren Remember's U2's Late Manager Dennis Sheehan as 'a Calm and Kind Christian Man'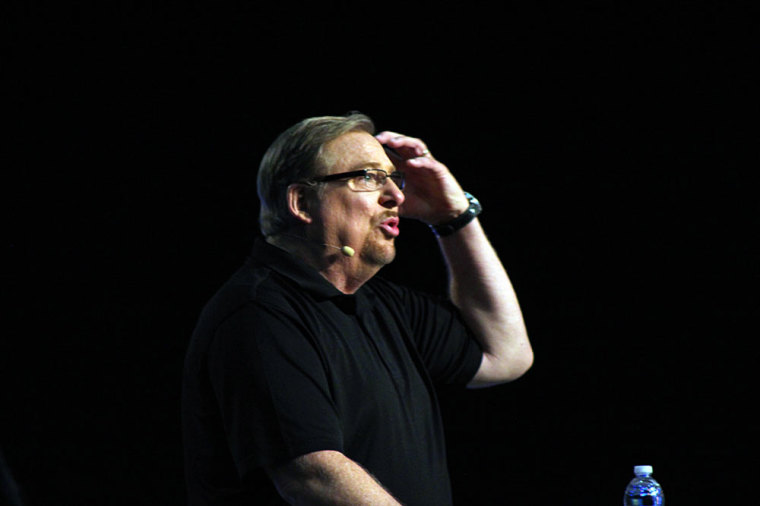 Evangelical pastor Rick Warren remembered U2's tour manager Dennis Sheehan, who died suddenly on Wednesday, as a "calm and kind Christian man" and offered up prayers for him.
"U2's road manager for 33 years, the amazing Dennis Sheehan, died suddenly last night here in LA. Dennis was a calm and kind Christian man," the founder and senior pastor of Saddleback Church in Lake Forest, California, wrote on Facebook in a post entitled "Why I'm asking you to pray for U2 today."
Warren noted that U2 band members Bono, The Edge, Adam Clayton, and Larry Mullen Jr. asked him to share quotes from Scripture, words of comfort, and pray with them before performing at their concert in Los Angeles on Wednesday. Just as the rock musicians were about to take the stage, Warren talked about his wife Kay's book, Choose Joy, which addresses the suicide of their son in 2013. The book encourages readers to find healing in God, and the pastor advised U2 to "choose joy" despite their sadness ahead of the show.
"After sharing the #ChooseJoy story from my son's death, I asked 'So how do you go out and do a concert when your heart is hurting,'" Warren asked in the Facebook post. "Bono said, 'We choose joy!' Right. Pray for [Sheehan's wife] Pam who lost the love of her life."
Sheehan, 68, died after going into cardiac arrest at a hotel on Sunset Strip in West Hollywood on Wednesday, just one day after U2 kicked off their five-night stint in the Los Angeles area, reported The Associated Press. Sheehan joined U2, which is comprised of Christians, in 1982 after having worked with Led Zeppelin and Patti Smith.
U2 is on their "Innocence + Experience" tour, and shortly after news of Sheehan's death broke, Bono posted a message to the band's website in his honor.
"We've lost a family member, we're still taking it in," Bono noted. "He wasn't just a legend in the music business, he was a legend in our band. He is irreplaceable."
During Wednesday's concert, U2 took a moment to remember Sheehan before performing the song "Iris."
"U2 is a kind of family," Bono explained onstage, according to U2.com. "U2 is a brotherhood. Although, there are a lot of sisters in it now that I think about it. The extended family are everything to us. We look after each other. Last night we lost a member of our family."