Pastor Rick Warren to Host Purpose Driven Conference This Month After 10 Years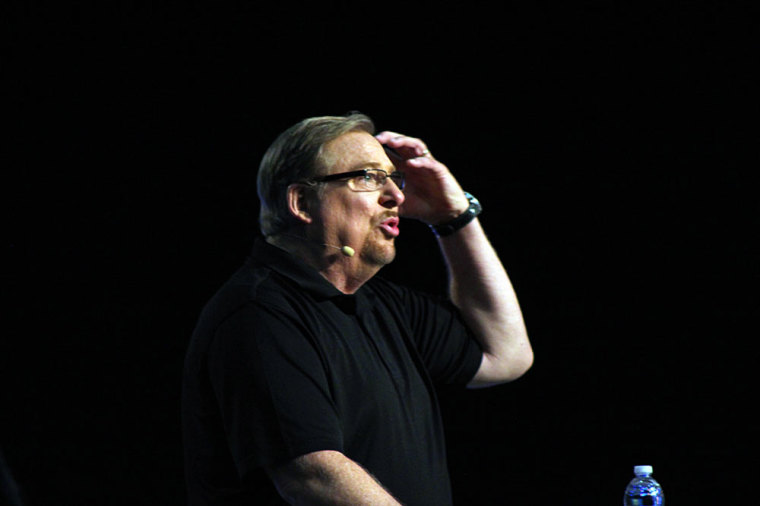 Pastor Rick Warren of California's Saddleback Church will hold another Purpose Driven Church Conference this month, after a gap of 10 years, to help church leaders from around the world to integrate a "Purpose Driven" model, based on his best-selling book, The Purpose Driven Life, into their own church health. "God has shifted my focus from church planting to church renewal," Warren says.
Over the past decade, Warren has focused almost exclusively on ministry around the world through the PEACE Plan, which seeks to involve every Christian and every church in every nation in the task of serving people in the areas of the greatest global needs. But he says, "Now that the PEACE PLAN is mature and impacting millions of people around the world through thousands of churches, God has shifted my focus from church planting to church renewal, beginning in America."
Purpose Driven Conferences, which was last held in the United States in 2006, will update and teach the paradigm for church health and church growth to pastors and their wives from June 28-30 at Saddleback Church in Lake Forest, California.
"We must help plateaued churches and discouraged pastors, and we must train a whole new generation to embrace God's five purposes for the church: fellowship, discipleship, worship, ministry and evangelism," Warren says. "While God's purposes for the church have remained unchanged for 2,000 years, we continue to learn how to apply them in a changing world."
He explains that the Purpose Driven paradigm is like "the operating system for the church, but we have discovered so many new apps over the last ten years."
"We need to introduce a new generation to the paradigm all together, and we need to introduce our old friends to what we've learned in the last ten years," Warren says.
More than 400,000 pastors around the world have been trained in the Purpose Driven paradigm by Warren. "Pastor Rick Warren attributes much of the growth of Saddleback Church to the Purpose Driven paradigm, resulting in more than 42,000 baptisms, 26,000 members serving in more than 500 ministries, and over 40,000 people participating in more than 8,000 small groups," the megachurch says.
Warren's bestseller, The Purpose Driven Church, was published in 1995, and went on to become the second most "helpful" book 10 years later, according to a nationwide study of pastors by The Barna Group. The book was, notably, beaten only by another title by Warren, Purpose Driven Life.
In 2006, the conference drew church leaders and their wives from 51 countries and 46 states.
The highlight of the 2016 conference was the eighth annual Church Health Awards where 46 congregations from 18 states and 13 other nations were recognized for their excellence in adapting the Purpose Driven paradigm to their church life. Nominations were mainly made on the Web with winners awarded on the opening day of the conference. Looking past size, the awards emphasized the balance of worship, fellowship, discipleship, ministry and mission as well as strength – Purpose Driven principles that lead to a healthy church.