Pastor Says 'Look to the Lord' After Conn. Gunman Kills 27 at Sandy Hook School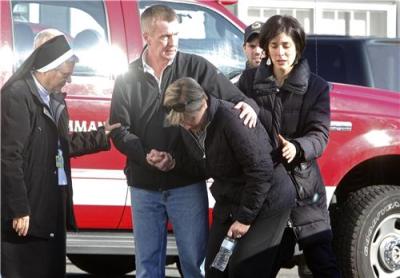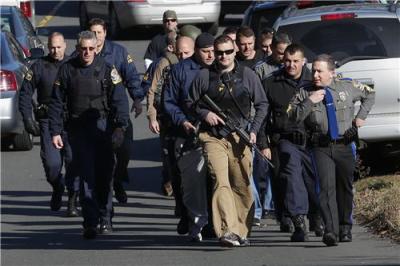 [UPDATE 5:30 p.m. ET]
A local pastor is offering words of comfort after a gunman opened fire Friday morning at Sandy Hook Elementary School in Newtown, Conn., killing 26 people, 20 of them children. An additional victim was found at a residence.
The gunman is believed to have ties to the school, according to an official in Washington who spoke with The Associated Press. The shooter reportedly used a .223-caliber rifle and lives in New Jersey, and police were searching a location in the state related to the shooter.
Pastor Rocky Veach, who oversees TORCH Ministries and leads Connections Church with wife Bobbi Veach in Newton, spoke with The Christian Post Friday shortly after learning about the tragedy. He told CP that at least two families from his congregation are from the Sandy Hook area.
"I don't know if they have kids in that school, but they live in that area," he said.
The pastor, who lived in Denver during the Columbine Massacre in 1999, said Friday's tragedy was "very, very sad."
"I think it's indicative of the condition of our culture in this nation that this kind of thing continues to happen," said Veach. "As a pastor, I think we have to look to the Lord. A lot of people are hurting today and it's very sad when you have to ask God for His help to comfort them, and not only for the healing but just for answers as to why this kind of thing continues to happen."
While an anonymous official with direct knowledge of the shooting shared the death count with The Associated Press, state police spokesman Lt. Paul Vance declined to confirm the number of fatalities in a press conference Friday afternoon.
Vance informed reporters that there were "several fatalities at the scene, both students and staff." Lt. Vance added that "the shooter is deceased inside the building."
It was not immediately clear how the shooter died.
A spokesperson for Gov. Dannel P. Malloy's office revealed that President Barack Obama had called to express his condolences and pledge whatever resources might be needed to assist in the investigation.
"As you can imagine, the governor is horrified by what's happened," the spokesperson told reporters at the Friday press conference. "He's meeting with the families right now."
He and Lt. Vance insisted that once the victims' families were notified more information on the case would be shared.
Meanwhile, residents in the town of Sandy Hook have been sharing what they and their children witnessed Friday morning.
Mergim Bajraliu, 17, told The Associated Press he heard the gunshots ring out from his home. He immediately headed to Sandy Hooke Elementary to make sure his 9-year-old sister was okay.
Bajraliu told the news agency his sister was found safe, and that he witnessed teachers shaking and crying as they streamed out of the building.
"Everyone was just traumatized," the teen said.
One parent whose child is in the second grade at Sandy Hook Elementary relayed that his son heard what sounded like "cans falling." The 7-year-old informed his father that a teacher left the classroom to investigate, and upon returning, locked the door and gathered the students in a huddle in the corner of the room.
"There's no words," father Richard Wilford told AP. "It's sheer terror, a sense of imminent danger, to get to your child and be there to protect him."
Asked what he might tell those parents and others affected by the Sandy Hook Elementary School shooting, Pator Veach said he would remind those hurting that "Jesus is a comforter. Jesus is a healer, and we can look to him even in the midst of a ... crisis situation."
He added, however, "There's not really a good answer, especially if you lost a child today."
"Life can seem unfair, but God is not the author of this kind of thing and He does love people and He does care for people and He wants to be there to help them in their time of need," said Veach.
Watch: Parent and Children recount what happened inside school: